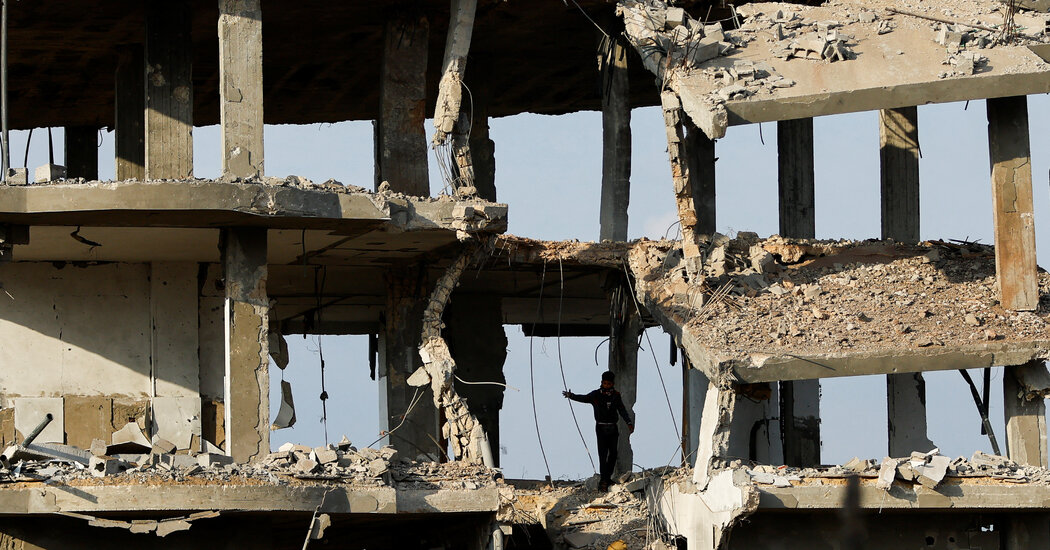 Seeing the big picture is part of two big wars
Israel's War with the West: A Crucial Implication for Security, Security and Democracy in a More Plurality-Driven Middle East
If Ukraine is able to escape Russia's grasp and eventually join NATO and the European Union — with its formidable army, agricultural exports and technology prowess — it would be a giant boost for a Europe whole and free. If Israel can be brought back to the table for a two-state solution with the Palestinian Authority, that would give a huge boost to a more pluralistic Middle East made up of Palestinians, other Arabs and Israelis.
Israel cannot get out of Gaza without the help of the West unless a Palestinian partner is found to govern there, and Ukraine cannot sustain Western support unless it is able to take on Putin's army this winter. That is a territorial compromise with Putin in return for a NATO security guarantee and a path to the European Union. No Western leaders are ready to say that out loud to Kyiv, but they all know it and believe it: Western support for Ukraine cannot and will not be there for an endless war of attrition.
And he's conditioned even the $14.3 billion the administration wants to send to Israel on President Biden agreeing to strip the same amount from funds added to the Internal Revenue Service so it could better collect taxes from cheaters. Israel lobby: don't go with that game. Next time, aid for Israel will be tied to G.O.P. positions.
Source: Opinion | Seeing the Big Picture in Two Big Wars
How Foreign Did President Johnson and the U.S. Armed Forces During World War II End? — The Case against Iran-Baseline Hamas
Johnson might have pressed for the funding of the war against the Germans in Europe but not against the Japanese in the Pacific if he had been the speaker during World War II. If Franklin Roosevelt abolished the I.R.S, they'd agree to lend-Lease assistance for the allies. There are more guns, butter, no taxes, and two fronts.
If it sounds like the American leadership that has shaped a world we've thrived in for the past century is being undermined, it's because it is. And if it feels as if House G.O.P. leaders are small thinkers in a big time, it's because they are. They are dangerous and shameful. We need to try out for Fox News on some other issue.
If these tectonic shifts can happen, the post-post-Cold War world has a far greater chance to handle other global challenges, like climate change, than if these shifts are stymied.
But you don't need to speak Arabic, Hebrew, Persian, Russian or Ukrainian to understand that Iran-backed Hamas launched its war to stymie the Saudi-Israel normalization and prevent Tehran from being isolated and that Vladimir Putin launched his war to stop Ukraine from expanding a Europe whole and free and prevent Moscow from being isolated.
And both leaders are gunning for other countries whose aspirations are the antithesis of Russia's and Iran's poisonous core regime identities. There can be a free, democratic and prosperous country with a Western political and economic orientation, just as long as it is not a military dictatorship like Russia.
Source: Opinion | Seeing the Big Picture in Two Big Wars
Hezbollah's plan to draw Israel firepower away from the Gaza-Israel resistance-forever model: Hassan Nasrallah's remarks
It is thought that if the Jewish state and Saudi Arabia normalized their relationship, it would pave the way for other nations like Israel, Malaysia, and even Pakistan to do the same. It would show that Jews and Muslims don't always have to deal with conflict, and can still maintain good relations in the long run.
And Hamas knew that if Israel was able to normalize with Saudi Arabia on terms that would satisfy the more moderate Palestinian Authority in the West Bank and bring it significant financial advantages and more legitimacy, the Hamas Gaza resistance-forever model would have been totally isolated. Hamas knew it would cause death and ruin to many Israelis and also to many more of its own innocent civilians when it launched this war. Disgusting. Iran was aware of the same.
While Republicans play dangerous games with military and economic aid, here are the two things that U.S. military officials tell me they are worried about: They believe that the Israelis want to take just Gaza City, where the core of Hamas military and manpower infrastructure is, and then use that as a launching pad for more tactical attacks on Hamas's leadership and rocket launchers in the rest of Gaza — without occupying it all. The military advance of Israel is already facing a challenge: getting stuck in the alleys and then using air power to blow away the enemy and anyone else nearby, leading to significant civilian casualties. The U.S. cannot ignore or defend that strategy for much longer, U.S. officials say.
Nasrallah said in escalating attacks along Lebanon's border with Israel, Hezbollah is intending to draw Israeli firepower away from Gaza. He claimed the operations, which have included shelling attacks, incursions and most recently suicide drones, are tying up significant parts of Israel's military and causing psychological warfare in forcing the displacement of residents in the north of the country.
That is not Hezbollah's plan, the group's leader, Hassan Nasrallah, said in a widely anticipated address to his followers on Friday, his first public remarks since the start of the war.
Hezbollah, he said, was already doing what it set out to do: exchanging fire with a portion of Israel's military to keep it tied up along the northern border with Lebanon, reducing the burden on Hamas.
"The Lebanese front has lessened a large part of the forces that were going to escalate the attack on Gaza," Mr. Nasrallah said. Some people in Lebanon think we are taking a risk. This risk is part of a correct calculation.
Early in the speech, Mr. Nasrallah praised Hamas for carrying out the Oct. 7 attack, which included assaults on large groups of civilians and killed more than 1,400 people in Israel. The Hezbollah leader stated that no battle was more justified from a religious, moral and humanitarian perspective than the battle with the Israelis.
Mr. Nasrallah did not rule out anything, however, warning that he was keeping Hezbollah's forces ready should hostilities with Israel escalate. "All the possibilities on our Lebanese front are open," he said. "All the choices are available and we could resort to them at any time."
During one of the most tense periods in the Middle East in recent years, though, Mr. Nasrallah's speech offered a small measure of relief for many, that at least one powerful force was not seeking to plunge the region into even greater violence.
As Blinken addressed the media, Nasrallah spoke for the first time since the war between Israel and Hamas began. The leader of the Iran-supported group stopped short of announcing an all out war with Israel, but warned that the group's actions will depend on developments in Gaza.
During his address, which was live-streamed to large gatherings of Hezbollah supporters around Lebanon, Mr. Nasrallah lashed out at the United States for its staunch support for Israel, accusing President Biden of dishonesty in telling Israel that it had the right to defend itself but that it had to respect human rights.
He also said the group was not intimidated by the two aircraft carriers that the United States had dispatched to the eastern Mediterranean, which could strike Hezbollah targets.
The fleets in the Mediterranean do not scare us, Mr. Nasrallah said. "Your fleets that you threaten us with, we are prepared for them as well."
Should the United States intervene directly in the war, Hezbollah could expect attacks from its allies on its targets in Iraq, Syria and elsewhere.
The carriers were sent to make a statement, the military has said, in order to make sure they do not get involved in a bigger regional war like the one in Gaza, which has left thousands of people dead. Israel has faced increasing international criticism over the dire conditions in Gaza, but has so far resisted calls for either a cease-fire or humanitarian "pauses" to help deliver aid.
The leader of the Hezbollah movement in Lebanon praised the fighters for their daily attacks on Israeli military positions and destruction of communications infrastructure. Those attacks had forced Israeli civilians to flee and drawn Israeli military resources to the north so that they could not contribute to attacks on Gaza.
Thousands of Hezbollah supporters gathered to watch the speech on giant screens in locations throughout Lebanon. The largest site, in Beirut's southern suburbs, was decorated with Hezbollah and Palestinian flags. Celebratory gunfire rang out when he appeared onscreen, and supporters chanted, "We are here for you, Nasrallah."
He said the future of this front with Israel hinges in large part on the development of events in Gaza. He called foreign nations, and on the U.S. in particular, to pressure Israel to end the war in Gaza. He warned: "If you want to avoid a regional war, you must end the aggression on Gaza."
A celebratory shot was fired into the air by a man in Lebanon after the leader of Hezbollah, Mr. Nasrallah, finished his speech. He said he would answer any call by Hezbollah to fight Israel.
Mr. Sbeti was not concerned about the huge damage that Israel could do to Lebanon in a new war.
Then the brutal Hamas-led attack on Israel happened on Oct. 7, and Mr. Abramson found himself turning to an outlet he said he didn't rely on much before: Fox News.
Did I watch it religiously before? No," he said, adding that he found Fox's reporting and commentary on Israel's military campaign in Gaza "less antagonistic for sure" than that of other news organizations. "You don't feel as attacked," Mr. Abramson said.
It is somewhat of an odd alliance. Jews overwhelmingly identify as Democrats. As the Republican Party embraced a more populist style of politics, Fox News hosts and guests promoted those views.
All of this shows that this collision of values is happening not just here in Israel but everywhere and that the terrorist ideology threatens all decent people, not only Jews. According to history, foul ideologies tend to find the Jewish people first. We are on the front lines of this battle and we must realize that we can be next.
Much is at stake at this moment, not just the future of Israel. On October 7, we were presented with a shocking challenge to our morals and hopes. How we meet the challenge will shape the future.
The Prime Minister of Israel and his war cabinet met with the deputy US Secretary of State on a visit to Tel Aviv.
In his own remarks, Netanyahu rejected calls for a pause, saying Israel's military forces will continue its operations in Gaza until Hamas is defeated and the kidnapped hostages are returned. Israel's military says Hamas is currently holding 242 hostages.
"We provided Israel advice that only the best of friends can offer on how to minimize civilian deaths while still achieving its objectives of finding and finishing Hamas terrorists and their infrastructure of violence," Blinken said.
The U.S. has called for a temporary "humanitarian pause" to enable more aid to enter Gaza and for hostages to be released, though Blinken and other U.S. officials have fallen short of a demand for a full cease-fire.
Israel and the Gaza Strip in the wake of the Oct. 7 attacks: "We are not at a tipping point for the world but at the center of what is an existential struggle"
Blinken was set to make other visits elsewhere in the Middle East as the leader of the Lebanese militant group Hezbollah, Hassan Nasrallah, threatened an escalation of skirmishes with Israel along the border between the two countries.
Over 9000 people have died in the Gaza Strip since the beginning of the war. Two-thirds of those victims are children and women, according to the Ministry of Health in Gaza.
On Thursday, 102 trucks carrying humanitarian aid entered Gaza through the Rafah crossing, bringing the total number of trucks that have entered to 374, the U.N. said. They have brought in much-needed medical and food assistance, but Israel continues to block the delivery of fuel, a major problem for Gaza's hospitals.
Despite mounting international criticism on Israel's response to the Oct. 7 attacks, Herzog sought to defend the country, claiming Israel has followed international law in its reaction.
He claimed that the citizens of Gaza received millions of calls and text messages to be aware of upcoming airstrikes and to tell them to leave the area in accordance with international law.
"We are hearing from the outside the demonstration of the families, our heart goes out to them, we understand it, we want her immediate release," Herzog said.
I spent time with some of the families of the people that Hamas terrorists kidnapped on Oct. 7 and wrote these lines from Jerusalem. Jewish Israelis, Muslim Israelis, and foreign citizens of various ethnicities are among the hostages held in Gaza.
In all my years of public life, the meetings with these families were the most difficult and fraught I've ever held. Some of my people who were killed that day, many of them murdered in their living rooms and kitchens at a music festival, have been spoken to by my family. When I returned from one kibbutz devastated in the attack, I had to wash the blood off my shoes.
Against our will, we in Israel find ourselves at a tipping point for the Middle East and for the world and at the center of what is nothing less than an existential struggle. This is not a battle between people of different faiths. And it is not just between Israel and Hamas. It is between those who follow the rules of humanity and those who practise a barbarism that is out of place in the modern world.
Just like ISIS and Al Qaeda, the Hamas terrorists who attacked Israeli homes and families had no qualms about burning babies. They tortured children, raped women and destroyed peace-loving communities. They were so proud of their deeds that they made sure to capture them on video and even broadcast them live. These videos are a stain on those Palestinians who celebrated that day and were inspired by the ideas of the terrorists.
The realization that so many people in the world, including in the West, are willing to support these actions is disturbing for me. In Europe, there have been rallies supporting the destruction of Israel from the river to the sea. Professors and students at American colleges make speeches and sign statements justifying terrorism, even glorifying it.
While Hamas shoots hundreds of rockets at our cities and our soldiers fall into battle, we are making an effort to give early warning to civilians, so they can leave the battle zones and get humanitarian aid through the border with Egypt. Hundreds of aid trucks are now arriving, with more expected each day.
These questions will be on the table when we discuss strategic issues with State Department Secretary Antony Blinken during his visit to the region beginning Friday, as they were earlier this month when President Biden visited Israel.