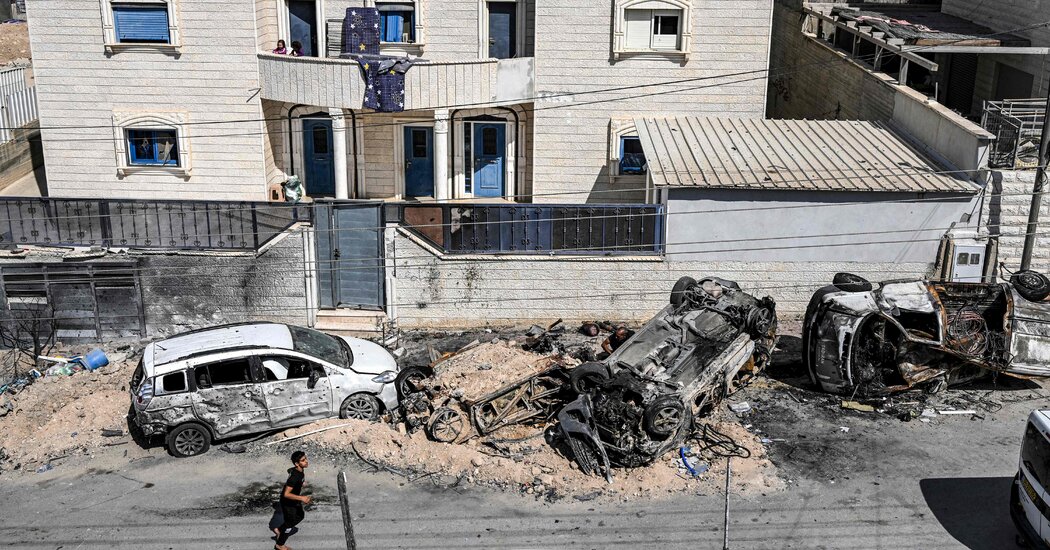 The Israeli troops remain in Gaza
A friend of mine, Raif Wahdan, who died in the battle of Beit Hanoun, Israel, in the midst of Israeli air strikes
I left his funeral last week crushed, knowing we had lost such a righteous soul. To me it's clear. My friend fought against Hamas during his final moments while protecting his friends and family during years of activism against the occupation.
All our casualties and the suffering brought on Palestinians in Gaza accomplished nothing since our leaders refused to work on creating a political reality in which more violence would not be inevitable. While I believe in self-defense, fighting in Gaza taught me that if my government doesn't change its approach from crushing Palestinian hope to committing to Palestinian independence, not only will this war kill an untold number of Israelis and Palestinians in addition to the thousands who already have died, but it also will not decisively end terror. A ground invasion is doomed to failure.
As Israeli troops made incursions into Gaza on Friday and prepared for possible street-by-street urban combat, complicated by the presence of more than 200 hostages still being held by Hamas, I know firsthand the terror they can expect in an landscape of ​​postapocalyptic bombed-out neighborhoods, where Hamas fighters could be lying in wait. There is also fear of coming under attack by missiles and mortars, and the possibility of a madman emerging from the underground network of tunnels.
At one point, I scribbled some thoughts on a piece of paper. I wrote that some members of my team had been tallying the number of soldiers killed and discussing whether this operation was worth the losses. "I think it could be worth it," I wrote, "as long as we decisively eliminate the threat."
During our withdrawal from Beit Hanoun, we had heard the roar of Air Force fighter jets overhead, followed by deafening explosions, and large amounts of smoke coming from Al-Burrah. I later learned that in those moments, the airstrikes killed eight members of the Wahdan family, mostly women and children, whose home soldiers from my unit had occupied for days while the family was there.
The campaign was precipitated by the atrocities carried out by the Hamas terrorists. Hamas killed three Israeli teenagers and a Palestinian teen before the Israelis murdered a Palestinian teen. The exchange resulted in 70 Israelis and 2,250 Palestinians being killed over seven weeks. We were told that we were going to deal a blow to Hamas.
When my Israeli infantry unit arrived at the first village in Gaza, in July 2014, we cleared houses by sending grenades through windows, blowing doors open and firing bullets into rooms to avoid ambush and booby traps. The civilians were told to flee.
Even today, I remember how the ground shook from the constant explosions as we moved into Gaza at dusk at the start of the ground invasion on July 17. The sound and light show we called the sound-and-light show was caused by the bombardment of our Merkava tanks as we moved into the village of Umm al-Nasr.
As I stood over the corpse of an elderly Palestinian woman, I realized this wasn't true. She had been lying on the sand floor of a shack, in a pool of blood.
On Saturday, Israeli troops stayed on the ground in the Gaza Strip as part of what military officials said was an "expansion of ground operations" in Israel's war with the militant group Hamas.
In a statement, Hamas called the operation a "failure" and said Israel took heavy losses. Israel did not have any casualties in Friday's fighting. Neither claim could be confirmed by other means.
At least 17 people killed in the Hamas attacks were Bedouins in and around Rahat, the biggest city in an impoverished, predominantly Bedouin area of southern Israel. A medic from north Israel was one of the victims at the music and dance festival where 260 people were killed.
Hagari said that death and assassination leads to a better advancement in the war's stages, and allow the forces to battle a weaker enemy.
Multiple aid groups, including the International Committee of the Red Cross and the World Health Organization, reported difficulty contacting local staff in Gaza.
"We are still out of touch with our staff and health facilities. "I am concerned about their safety," said the director-general of WHO in a Saturday post.
NPR was also unable to reach local staff in Gaza. The UN's top humanitarian official in the Palestinian territories said they were only able to reach staff in Gaza via satellite phone.
More than 1.4 million people in Gaza are displaced from their homes, the U.N. estimates. Aid groups had reported that shortages of food, water, fuel and electricity were already severe. Hospitals are overrun with patients injured in airstrikes, and at night, their hallways fill with people trying to take shelter from airstrikes.
"Even some of the doctors' medical staffs, they are saying, what is the benefit of the help that we are doing now? We are not able to help patients anymore. He said they couldn't do anything for them.
Since the begining of the conflict, less than 100 trucks of aid have been allowed into Gaza. Israel said Saturday it would allow more trucks to enter through Gaza's southern border with Egypt — but warned that the aid would only be available to people in the southern half of the territory.
Hagari explained that whoever is in the area will be provided with food, water and medicine. Israel has repeatedly struck southern Gaza, including the densely populated areas of Khan Younis and Rafah, with airstrikes.
Israeli officials say that nearly 200 people are still being held in Gaza by Hamas. A group of families of hostages and other missing people demanded a meeting with Israel's war cabinet for assurances that the operation would not endanger the lives of the hostages.
The worst night ever was this one. It was a long and sleepless night, against the backdrop of the major IDF operation in the Strip, and absolute uncertainty regarding the fate of the hostages held there, who were also subject to the heavy bombings," said Liat Bell Sommer, a spokesperson for the group, which is called the Hostages and Missing Persons Families Forum.
Most of us have stayed in Gaza because we refuse to leave our patients behind and it would be dangerous for some of them to leave. Abandoning them right now would be a betrayal of my Hippocratic oath, and basic human decency. My wife and six children have also stayed at the hospital with me since the violence began. I've tried to convince them to head south, but my wife told me that we will either live or die together. Palestinians in northern Gaza risk their lives at home rather than face the risk of becoming refugees in the south.
On Oct. 20, as I finished operating on a girl who had lost her leg, I stepped into the hallway and my wife was there to hug me. She told me that my home had been destroyed in an airstrike while I was in surgery. The only place in which we reside is the hospital. At night, I go to my office and close the door to cry, away from the eyes of my patients and family.
The hospital is nearing total disaster as I write this. The electric generators only have about the last gallons of fuel they need, despite ourStrict efforts to ration it. Lights are off most of the time, elevators are out and patients are carried between floors. When the fuel runs out, we will no longer be able to function at night after the sun goes down. Equipment needed to run a hospital will become useless, because most of the tools and equipment that are needed will become useless. We will be practicing medieval-level medicine when the generators fall silent. Without an urgent resupply of fuel, the lights will go out permanently, and our hospital could turn into a morgue.
Speaking this morning, IDF Spokesperson Daniel Hagari said "The fighting in the north of the Gaza Strip continues and expands… we will do what we must to achieve the goals of the war."
As the barrage continues, the Palestinian Red Crescent said on Sunday it received warnings from Israeli authorities to immediately evacuate the al-Quds hospital in the Gaza Strip.
The raids have been 50 meters away from the hospital. Israel did not comment on the claims.
"We were planning to double the amount of assistance from Egypt in a week's time," said Colonel Elad Goren of Cogat, the Israel Ministry of Defense agency.
In a social media post that was deleted after a fierce backlash, Netanyahu publicly blamed Israel's failures on Oct. 7 on the country's heads of military intelligence and its internal security agency.
"This is a troubling sign that civil order is soon going to break down after three weeks of war and a siege on Gaza," the organization said in a statement.
Thousands of Gaza residents broke into warehouses and distribution centers of the United Nations Palestinian refugee agency, grabbing flour and "basic survival items," the organization said on Sunday.
Many of the victims lived in the Jewish communities closest to Gaza, where the world's sympathies have been focused since the slaughter. Bedouin Arabs are one of Israel's hidden minorities.
A doctor who grew up in Tel Sheva rushed to her hospital in Beer Sheva, where hundreds of patients were being treated, that day, including people who lost limbs and others who were shot. They provided medical care to children, seniors and foreigners.
A relative of a family who went missing after being attacked on the beach said that four of the family are still missing, as are a number of other residents of the area.
During their murderous Oct. 7 rampage, Hamas militants attacked Zikkim Beach near the Gaza Strip where Abd Alrahman Aatef Ziadna and his family had been camping along the coast of the Mediterranean Sea.
Israel said it will expand its war against Hamas by attacking from the air, land and sea. The military urged civilians to move south as troops entered Gaza from the north.
Netanyahu warned Israelis to expect a long, difficult fight when the troops arrive at the second stage of the war. But he did not say that Israel had launched a full ground invasion. The initial ground war in Gaza would correspond with recent recommendations from the U.S. defense secretary, according to Eric Schmitt of The Times.
The bombing campaign that the Palestinians say has killed thousands of people was the first stage of the war. Hamas's fighters were intended to be hit by Israel's airstrikes. The group's fighters and its weapons are underground in a network of tunnels that makes it hard for Israel to hit them from the air.
Details of the fighting are expected to become clearer today as phone and internet service begins to return to Gaza. For most of the weekend the enclave was in a near-total power cut. The Palestinians said that they were unable to speak to their family or share news about the fighting because of the cut off of cell networks.
The blackout also complicated evacuation efforts. Hundreds of thousands of people in the Gaza Strip have been forced to leave their homes because of an order from Israel.
The Israeli military said two of its soldiers were injured overnight in northern Gaza, its first reported casualties of the expanded ground incursion. Follow our updates.
When the man who killed 18 killed himself became paranoid, he was killed, and his army reserve base was alerted to state police
The man who killed 18 people in Lewiston, Maine, had been paranoid and made threats against his Army reserve base last month, prompting an alert to state police, officials said.