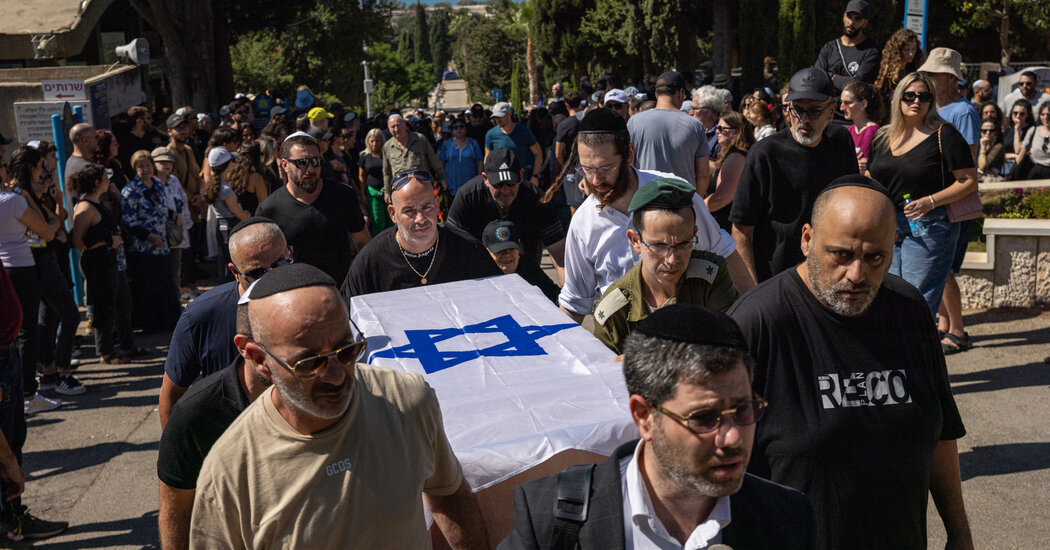 Years of Israeli failure led to a devastating attack on Hamas
Israel's border attack on October 7, 2001, a nightmare for the Gazan people and the security of the Middle East, and its response to the Israeli attack
As time passed that night, Mr. Bar thought that Hamas might attempt a small-scale assault. He discussed his concerns with Israel's top generals and ordered the "Tequila" team — a group of elite counterterrorism forces — to deploy to Israel's southern border.
If they had been listening to traffic on the radios of Hamas, their judgement might have been different that night. Israel's signals intelligence agency stopped listening in on those networks a year earlier because they believed it was a waste of time.
Israeli defense officials claim that before the attack, nobody believed the situation was serious enough to wake up the prime minister.
There has been a terrible nightmare for the people of Gaza since the border fence was broken by Hamas. In response to the attacks, the Israeli military declared a siege of the densely populated territory, cutting off electricity, water and medical supplies as it rained down a relentless barrage of aerial and artillery bombardments.
The most powerful military force in the Middle East underestimated the magnitude of the attack and was completely failed in its intelligence-gathering efforts because it assumed that Hamas was not a threat.
The first stage of the war has been a bombing campaign that Palestinians say has killed thousands of people, many of them children. Israel said its airstrikes were intended to hit military targets, like Hamas's fighters and weapons stores. Experts say that since most of the fighters are underground, it's difficult for Israel to strike them from the air.
The atrocities committed by Hamas against Israeli civilians on Oct. 7 were shocking and evil. The vicious attack, which killed more Jews in a single day than any day since the Holocaust, cries out for an answer.
The Mumbai terrorist attack: The case for a war in Gaza, not the case against Israel in the light of the Mumbai attack, says Manmohan Singh
He said that at the time, he believed that the decision to focus on diplomatic, covert and other means was the right one.
In conclusion, said Menon, "by not attacking Pakistan, India was free to pursue all legal and covert means to achieve its goals of bringing the perpetrators to justice, uniting the international community to force consequences on Pakistan for its behavior and to strengthen the likelihood that such an attack would not take place again."
I am watching the war in Gaza and thinking about Manmohan Singh, the Indian prime minister I admire the most. He was India's prime minister in late November 2008, when 10 Pakistani jihadist militants from the Lashkar-e-Taiba group, widely believed to be linked to Pakistan's military intelligence, infiltrated India and killed more than 160 people in Mumbai, including 61 people at two luxury hotels. What was Singh's military response to India's Sept. 11?
In addition, he wrote, "a war, even a successful war, would have imposed costs and set back the progress of the Indian economy just when the world economy in November 2008 was in an unprecedented financial crisis."
Israel and India have differing responses to the Mumbai terrorist attack.
On a personal level, I am appalled by the reaction of those students and progressives who sided with Hamas against Israel — in some cases, even before it retaliated — as if the Jewish people were not entitled to either self-determination or self-defense in any part of their ancestral homeland. This backlash also fails to take into account that Israel, for all its faults, is a multicultural society where almost half of graduating doctors today are Arabs or Druze. Or that Hamas is a militant, Islamist organization that does not tolerate dissent or L.G.B.T.Q. individuals and has been dedicated to wiping the Jewish state off the face of the earth.
Meanwhile, with some 360,000 reservists called up, Israel's economy will almost certainly be depressed if Israel's ouster of Hamas from Gaza requires months, as predicted. It is expected to shrink by more than 10 percent during the last three months of the year. This is the fourth-best-performing economy in O.E.C.D. countries, according to The Economist.
The Prime Minister of Israel Benjamin Netanyahu had made it clear that there was no mercy for Gaza. He said that Hamas will turn the places they are hiding and operating in into rubble.
Netanyahu doesn't have people in his place of power supporting him. He has people being asked to make long-range decisions while knowing that their prime minister is a person that will blame them for everything that goes wrong and hog all credit for anything that works out.
Israel should allow for a humanitarian cease-fire and prisoner exchange which will allow it to pause and reflect on exactly where it is going with its military campaign in Gaza.
The people of Gaza can take stock of what has happened to them since Hamas launched their attack on Israel and the response was predictable. What does Hamas think it will do to benefit the people of Gaza, with thousands of them going to work in Israel daily, or exporting agricultural products across the Gaza-Israel border just a few weeks ago? Hamas has gotten too much understanding and no hard questions.
I want to see Hamas's leaders come out from their tunnels under hospitals and look their people, and the world's media, in the eye and tell us all why they thought it was such a great idea to mutilate and kidnap Israeli children and grandmothers and trigger this terrible blowback on the children and grandmothers of their Gaza neighbors — not to mention their own.
I have always believed that you can reduce the Israeli-Palestinian conflict since the early 1900s to one line: conflict, timeout, conflict, timeout, conflict, timeout, conflict, timeout, conflict and timeout. The most important difference between the parties is what they did during timeouts.
The Times is committed to publishing a diversity of letters to the editor. We'd like to hear what you think about this or any of our articles. Here are some things to be aware of. Here is our email. [email protected].
As desperation spread during the blackout, thousands of people broke into warehouses to take aid, like flour, according to the U.N. The Israeli military said, without giving details, that humanitarian efforts to send more aid to Gaza — led by Egypt and the U.S. — would be expanded tomorrow.
Benjamin Netanyahu warned Israelis to expect a long fight after troops arrived in the second stage of the war. He didn't say that Israel had launched a full ground invasion. The number of soldiers in Gaza is not known, and a more limited war would fit nicely with recent suggestions from the U.S. defense secretary.
"I felt that I had become blind and deaf, unable to see or hear," Fathi Sabbah, a journalist based in Gaza, wrote on his Facebook profile on Sunday, after phone and internet service partly returned.
Details of the fighting are expected to become clearer today as phone and internet service begins to return to Gaza. The enclave was in a near-total blackout for much of the weekend. Palestinians said that the airstrikes cut off their cell networks, making it hard to coordinate medical rescues, speak to family and share news about the fighting.
They didn't have a way to know whether their loved ones were alive or dead. Emergency phone lines stopped ringing. Desperate paramedics tried to save people by driving toward the sound of explosions. There were people dying in the street.
Even before the recent attacks, Bedouins had long suffered at the hands of Hamas. Because many live in villages not recognized by Israel, they mostly lack the bomb shelters and health clinics that the government has made widely available in southern Israel. The mayor of the city of Rahat, Ata Abu Mediam, told the Israeli media that there were only about 10 bomb shelters in the city.
The people have nowhere to go when Hamas fires rockets. The largely aluminum roofs of the Bedouin homes turn into deadly shrapnel, which she called "knives." Hamas rockets killed several members of one Bedouin community.
Dr. Yasmeen Abu Fraiha, who grew up in the Bedouin town of Tel Sheva, said she rushed to her hospital in Beer Sheva as the staff scrambled to treat hundreds of patients that day, including victims who had lost limbs and others who had been shot, including Bedouins. Children, seniors, and foreigners were all treated by them.
Four members of a family who were attacked at the beach are still missing, though the exact number is not clear, according to a relative of the family.
At least 17 people killed in the Hamas attacks were Bedouins in and around Rahat, the biggest city in an impoverished, predominantly Bedouin area of southern Israel. The medic from northern Israel was one of the 260 people killed at the all night music and dance festival.
During their murderous Oct. 7 rampage, Hamas militants attacked Zikkim Beach near the Gaza Strip where Abd Alrahman Aatef Ziadna and his family had been camping along the coast of the Mediterranean Sea.
In this next stage, the ground war, troops are expected to face bloody urban combat. Hamas is likely to booby-trap apartments and fire at Israelis from rooftops. Despite the stronger military of Israel, the densely packed streets of Gaza make it hard to attack with tanks.
It complicated the efforts to evacuate. For more than two weeks, Israel has been calling on Gazans to move south, closer to the border with Egypt, an order that has pushed hundreds of thousands to leave their homes.
The first casualties of the ground incursion were two of its soldiers who were injured in northern Gaza. Follow our updates.
In a social media post that was deleted after a fierce backlash, Netanyahu publicly blamed Israel's failures on Oct. 7 on the country's heads of military intelligence and its internal security agency.
The story of eight killed attackers in Lewiston, Maine: Israel, Gaza, and the world are watching it happen again, not impossible odds
The man who killed 18 people in Lewiston, Maine had made threats against the Army reserve base last month, prompting an alert to state police, officials said.
We give Israel money to pay for the weapons. Then we give Palestinians money to pay for the damage done by those weapons. We keep doing the same things, repeating the same lines, but the violence just gets worse.
Pretending to think that the cycle might have a different result this time, we are watching it spin around again. It's a game of improbable but not impossible odds.
Source: Opinion | I've Been Under Bombardment. [There Must Be a Cease-Fire in Gaza](https://lostobject.org/2023/10/11/opinion-on-the-gaza-trap/).
What Happens When You Go to the Dead End. Israel, Gaza, and Jerusalem: A Tale of Two Kinds of Persistent Particles
Before I went to Israel, an editor tried to convince me it was a bad idea. "You're a writer, and you like to choose pretty words," the editor said. "In Jerusalem you can't use the pretty words. You have to use the careful words." The editor was correct. Writing about Israel is full of careful words and careless killing. We nitpick until the last point is understood by the reader. The death tolls are not true. We don't understand how to know. What are things happening? We can ask for a cease fire, but we can't ask for it.
I can still feel the rage that surged — in the people who were around me and within my own mind — against a powerful nation that would kill like that, from a distance.
There is a lot of real people in Gaza. The usual types of people are indefatigable, annoying, hilarious, and duplicitous. There are so many kids you sometimes waded through them in the streets, scrambling and touching and yelling, tugging on your clothes, putting your hands into pockets. The children of Gaza, I won't lie, were often a nuisance. But a beautiful nuisance, an untamed burst of irrepressible life in harsh circumstances.
We as Americans ought to have learned this lesson over and over again. All the military might of the United States could not defeat the ragtag bands of Taliban or force a nation of conquered Iraqis to accept a U.S. occupation. We may not want to understand.
Source: Opinion | I've Been Under Bombardment. There Must Be a Cease-Fire in Gaza.
Hamas and Hezbollah in Gaza: How Israel can survive the attacks and how it protects them from the Israeli army and the United States
Getting bombed from the sky is a particular horror: The sense that death hangs quite literally over your head, invisible until it's too late, and maybe it will hit you. Maybe this is the moment. Or this. Or this. Every heartbeat hammering through your skull.
I lived for weeks under Israeli bombardment in Lebanon and watched U.S. warplanes attack Afghanistan. I barely dodged a direct strike from a Russian MiG in Georgia.
White House officials have said a cease-fire only benefits Hamas; that even to ask for the bombing to stop is "disgraceful" and "repugnant." I think these officials could not defend against the attack on Gaza because they have never experienced bombardment or shelling.
"You wanted hell, you will get hell," Maj. Gen. Ghassan Alian of the Israeli Defense Forces warned the residents of Gaza, whom he referred to as "human beasts."
Israel knows this. Hamas is still in Gaza despite Israel bombing it before. Hezbollah is still there despite Israel turning parts of southern Lebanon to rubble.