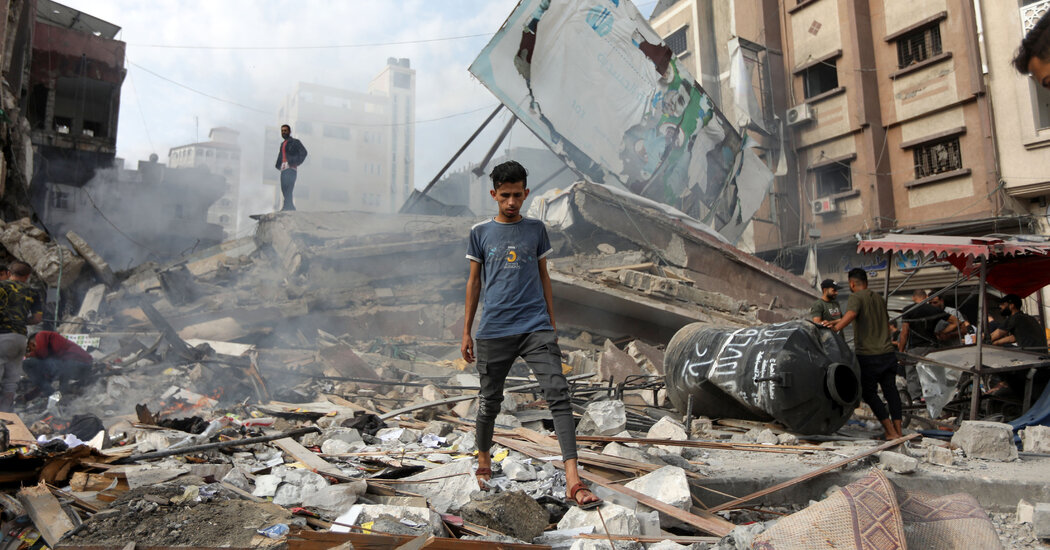 The Israelis support a prisoner swap
TEL AVIV, Israel — Shmuel Brodutch sits under a tent outside Israel's military headquarters every day now, with one demand of his leaders: to strike a deal with Hamas for the release of his three young grandchildren and daughter-in-law.
The U.S. is seeking a pause in the Hamas-Israel war, in order to allow for the release of the roughly 240 hostages taken prisoner inside Gaza during the deadly Hamas massacre of some 1,400 people in southern Israel on Oct. 7.
Many Israelis are advocating a far-reaching idea: a historic prisoner exchange in which Israel would release all its Palestinian prisoners and detainees in Israeli jails.
It's unlikely that troops can free the hundreds of others held by Hamas, with the group believed to be holding them in their underground tunnels and chambers.
A recent opinion poll shows that over two-thirds of Israelis believe in a prisoner exchange. A poll found split opinions, but no strong opposition.
"If the army will go to free them, a big percentage of them will be dead. I don't want to get my grandchildren back as corpses," Brodutch said of his grandchildren, who are four, eight and 10 years old.
"I miss my brother with all my heart, but we know that a ceasefire and prisoner exchange is destructive for our children's future," and could lead to another Oct. 7 style attack, she said in a recent video.
A massive advocacy effort has been formed by the main group representing family and friends of the Israeli hostages. The group is careful to not make a stance on how Israel should be secured their release.
"We're not busy telling government or any other officials how to do that," said Shiri Grosbard, whose colleague, Sasha Trupanov, was taken hostage. "We just want them to be here."
But the families have been ramping up pressure on the Israeli government, demanding meetings with Netanyahu and accusing the government of not prioritizing their loved ones' release over Israel's military bombardment on Gaza, which has claimed the lives of at least 10,000 Palestinians, according to Gaza health officials.
About 6,700 inmates are being held in Israel on what are called security offenses. Qadoura Fares, an official in the West Bank who oversees prisoners' affairs, said there were about 610 life sentences for the killings of Israelis over the last 50 years. He said that there were some 65 women and 250 children among them.
"It's the most despicable murderers that massacred and killed Jews for years, for decades," said Yohanan Plesner, director of the nonpartisan Israel Democracy Institute. "But at the same time, we have never dealt with such a situation of of so many Israeli hostages, so many innocent Israelis, youngsters, kids, that are held in captivity."
He said he believes Israelis "will be willing to go very far in order to get them released, short of one important goal, which is, it's not instead of the goal of dismantling Hamas."
Accords had been signed by some groups to pave the way for a two-state solution. The Palestine Liberation Organization was intended to be a Palestinian government in waiting, but it had limited authority over parts of the West Bank.
The displacement and Israel's occupation of Gaza and the West Bank in the 1967 Mideast war were historical wrongs that had to be righted by force. The group viewed peace talks with Israel as a capitulation to Israel's control over what they considered occupied Palestinian land.
Violence continued to break out. Israeli police raids of the Aqsa Mosque in Jerusalem's Old City in 2021, along with the actions of Hamas, led to the launch of a war by the group.
When Mr. Sinwar became the overall head of Hamas in Gaza in 2017, he sometimes projected an interest in accommodation with Israel. He appealed for a cease-fire in Gaza during an interview with an Italian journalist who works for an Israeli newspaper.
I am not saying I will not fight in the future, he said. I think that I don't want war anymore. I want the end of the siege. You walk to the beach at sunset and see all these teenagers talking on the shore, wondering if the world looks the same from across the sea. He asked what life looks like. "I want them free."
Hamas, a two-state solution, and Israel's right to exist: How Israel tried to get rid of the Palestinian cause
Hamas allowed for the possibility of a two-state solution, while not acknowledging Israel's right to exist.
Israel granted some concessions, agreeing in 2018 to allow $30 million per month in aid from Qatar into Gaza and increasing the number of permits for Gazans to work inside Israel, bringing much needed cash into Gaza's economy.
The Israelis wanted to get rid of the Palestinian cause. Mr. Hamdan said. "They were heading in that direction and not even thinking about the Palestinians. And if the Palestinians did not resist, all of that could have taken place."
People familiar with the assessments say that Israeli military intelligence thought that Hamas was trying to avoid another war.
Many in Israel's security establishment also came to believe that its complex border defenses to shoot down rockets and prevent infiltrations from Gaza were enough to keep Hamas contained.
American and other Western analysts said that by Oct. 7, there was an estimate of 20,000 to 40,000 fighters in Hamas, with the majority of them rockets likely smuggled in through Egypt. The group had mortars, anti-tank missiles and portable air-defense systems as well, they said.
Mr. Sinwar had also restored the group's ties to its longtime backer, Iran, which had frayed in 2012, when Hamas shuttered its office in Syria, a close Iranian ally, amid Syria's civil war.