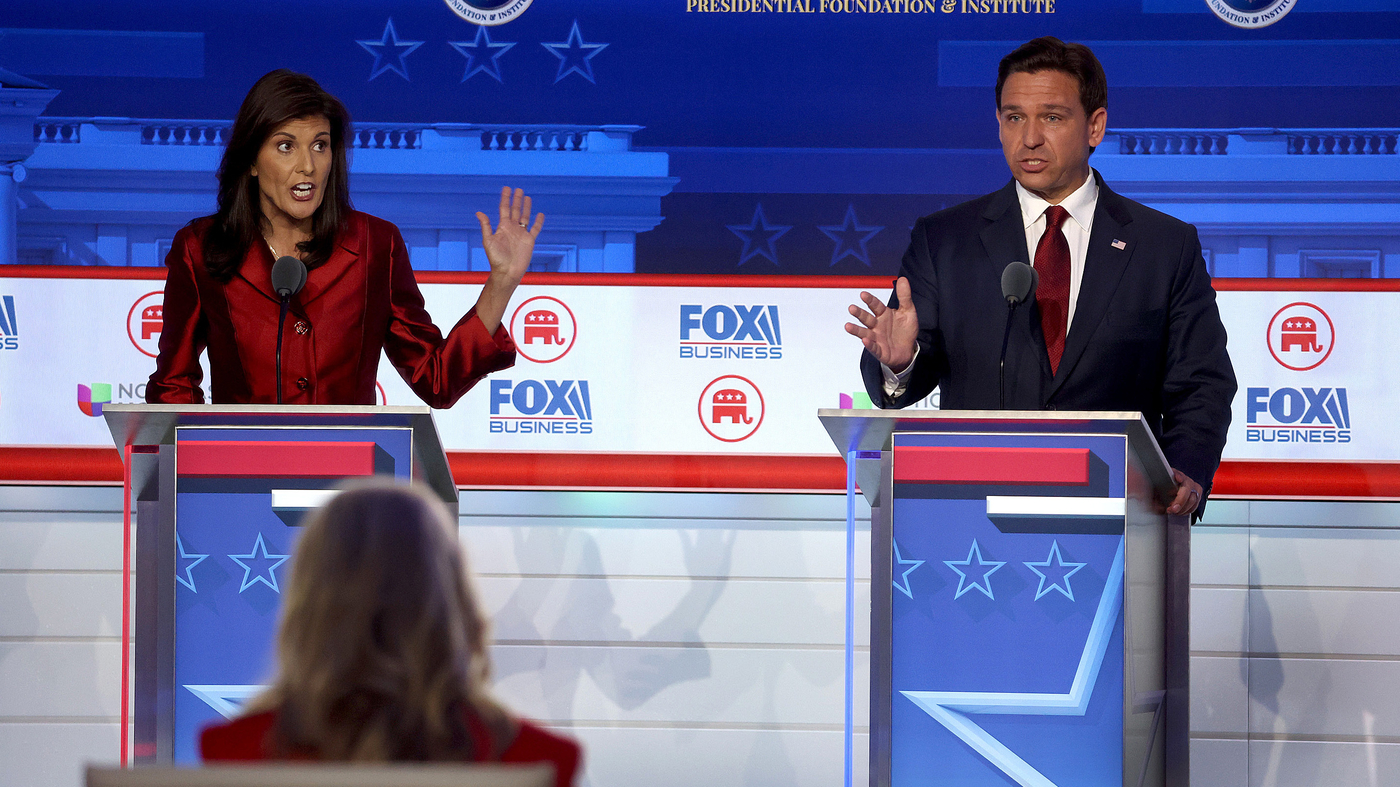 The Republicans are at the debate in Miami tonight without Trump
NBC News' Miami Debate on 2024 Democratic Presidential Candidate and Former South Carolina Sen. Vivek Ramaswamy
Candidates vying for the 2024 Republican presidential nomination are meeting for a third debate in Miami tonight. NBC News will broadcast the debate from 8pm to 10pm at the performing arts center.
Late Monday night, the Republican National Committee confirmed the names of the presidential candidates who will participate, but frontrunner, former President Donald Trump, is preparing to skip — for the third time.
Lester Holt and Kristen Welker of NBC will moderate the debate, alongside Salem Radio Network's Hugh Hewitt. NBC News will carry the debate on air and online.
The debating candidates had to meet criteria set by the RNC, which included reaching higher polling numbers and donor metrics than the last two debates, and meeting Federal Election Committee deadlines. They had to sign a pledge that they would support the nominee of the party.
Republican critics said that the laws signed in the state to limit abortion access and his response to immigrants were bad for the state's economy. He has widely been seen as the most viable GOP opponent to Trump, but his campaign has faced challenges including staffing turnover.
Former South Carolina Gov. Nikki Haley — Haley, ambassador to the United Nations under Trump, has climbed up the polls in some states like New Hampshire in recent weeks. Although Trump is still number one in the polls, voters of New Hampshire warn him not to take their votes for granted. Haley was the first to challenge the former president and in the second GOP debate she sparred with DeSantis and South Carolina Sen. Tim Scott over energy policy and had a memorable quip at fellow challenger Vivek Ramaswamy.
Vivek Ramaswamy — He is among the younger GOP candidates and he has used platforms like TikTok and podcasts to gain notoriety among young voters, although that has drawn criticism from fellow candidates. The former tech and finance executive has been a prominent voice in conservative circles, arguing against the environmental, social and governance (ESG) movement and against "woke"-ism. Ramaswamy received a boost following the first GOP debate.
Sen. Tim Scott —Another South Carolina contender, Scott brings a diverse background and upbringing to the white-dominated Republican party. Scott has focused his attention on border policy in recent months. He has criticized President Biden for not visiting the border, and instead visiting picketing autoworkers, and said that issues at the border should be more pressing than climate change. During the first debate, Scott said he would finish the border wall, increase job creation, and that states like California and New York can't have abortions on demand until birth.
After skipping the first two presidential debates, Trump hosted a rally with non-union autoworkers in Michigan, an interview with Tucker Carlson on X, and also held counter-programming.
There will be a slate of candidates on the stage. Just five candidates met the Republican National Committee's qualifying rules this time around: former South Carolina Governor Nikki Haley, Florida Gov. Ron DeSantis, businessman Vivek Ramaswamy, U.S. Sen. Tim Scott and former New Jersey Gov. Chris Christie.
The Governor of North Dakota wasn't in the first two debates. Former Arkansas Gov. Asa Hutchinson, who appeared in the first debate, hasn't qualified for these last two events. The former Vice President will not be on stage tonight after dropping out of the presidential race.
The former president has not qualified for any of the Republican debates so far, even though he has met the polling and fundraising thresholds. He has not fulfilled a requirement that candidates must pledge to support whoever wins the nomination. Trump refused to sign the pledge because he did not want to elevate his opponents by being on stage with them.
Just like in the last two debates, though, Trump is planning some counter programming. He will hold a rally in nearby Hialeah, Fla., during the debate. Hialeah is a predominately Cuban American area — which is a subset of voters Trump has done very well with. In 2020, Trump outperformed expectations specifically with Latino voters in South Florida.
All eyes will be on Haley as far as possible alternatives to Trump. She has been gaining in popularity. Much of her momentum started with strong debate performances. It was expected that DeSantis would fill that role. He has had a lot of pitfalls in the campaign and has had lackluster performances in the last few debates.
Source: GOP presidential hopefuls meet at the debate in Miami tonight, sans Trump once more
The First Debate on Israel's Response to Hamas and the Status of the Jewish Community in the Light of the U.S. Senate
This will be the first debate since Israel was attacked by Hamas on Oct. 7. The topic of Israel's response and how President Biden is handling the crisis will surely come up. RNC chair Ronna McDaniel said in a statement ahead of tonight's event that the party is partnering with the Republican Jewish Coalition and she said she expects the candidates will reaffirm the Republican party's unwavering support of Israel on stage.