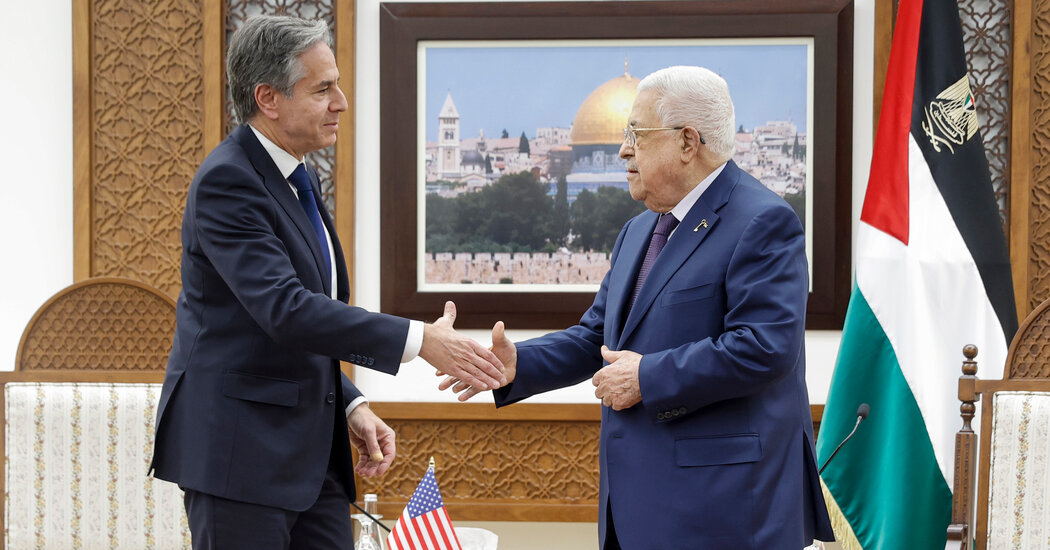 The conflict in Gaza is nearing a 10,000 death toll
Deputy Defense Minister Mahmoud Abbas and Secretary of the Palestinians, Mohammed Blinken, during a visit to the Gaza Strip
The leader of the Palestinians, Mr. Abbas, called for an immediate halt to the war in Gaza, as well as an end to Israeli attacks on Palestinians in the West Bank.
Mr. Blinken, who has been in the Middle East since Friday, early in the day held an unannounced meeting in the Israeli-occupied West Bank with the president of the Palestinian Authority, Mahmoud Abbas. Then, in another surprise visit, he traveled to Baghdad, reinforcing a signal to Iran that the United States is prepared to defend its allies in the region against aggression by Iran or its proxies.
It was important to make clear that anyone who might attempt to take advantage of the conflict in Gaza to threaten our personnel here or anywhere in the region should not do so.
An explosion overnight in a densely populated residential area in the central Gaza Strip destroyed several buildings and appeared to have killed and wounded many people, photos and videos from the scene showed.
This all started nearly one month ago, on Oct. 7, when Hamas attacked several communities in Israel, killing 1,400 people and kidnapping around 240 people.
Israeli forces launched an intense response that included a bombardment on Gaza from the air and ground invasion, with the ultimate goal of eliminating Hamas.
On Sunday, Israeli forces reached the coast of Gaza, splitting the besieged area in half and essentially cutting off the north from the south, the military said.
"In the last 12 hours, the soldiers of the division struck around 50 targets, including combat zones, operational residences, outposts, military positions and underground infrastructure, and eliminated terrorists in close-quarter combat," the military said.
Hundreds of Palestinians flee Gaza after a deadly attack on a Palestinian refugee camp during the IDF/Gazagorabi conflict
Phone, 4G cellular networks as well as internet services were cut off in Gaza for several hours. By Monday morning local time, the networks appeared to have been at least partially restored.
There were bombs hitting refugee camps. One attack on the Maghazi refugee camp early Sunday, killed at least 33 people and wounded dozens, health officials in the region said.
As the Israelis continued its military operations around Gaza City, many Palestinians have been trying to head south as the IDF has urged civilians to do.
The United Nations estimates that of the roughly 300,000 people trapped in northern Gaza, only 2,000 were able to move south this weekend, according to monitors on the ground.
The ones that have managed to flee have mostly traveled by foot for miles — adults carrying babies or pushing wheelchairs with the elderly, and holding the hands of children lugging bags full of whatever belongings they could grab. Some people waved white cloth to show they were not criminals.
NPR spoke with people in Gaza who said they were forced to walk past dead bodies in the street as bombs were dropped near them. They declined to provide their names over security concerns.