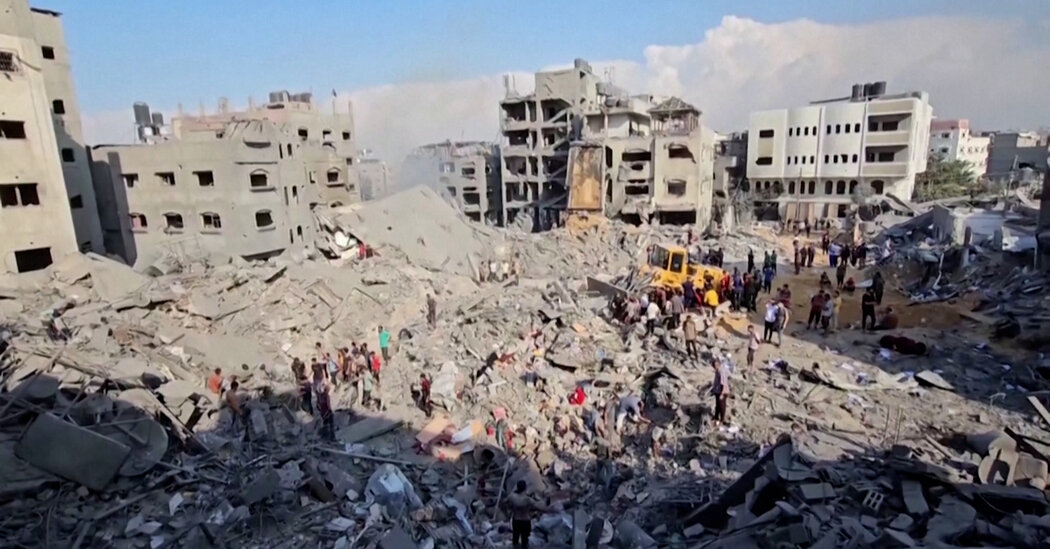 Death and despair were experienced in the Gazan Neighborhood
The Israelis of Gaza: The Amalekites of Israel and the End of the Miserelo-Like Scenarios
I fear that the worst is about to come in the Middle East because the mutual dehumanization is the most savage I have ever seen.
The invasion of Gaza by Israel has destroyed tunnels, ammunition dumps and Hamas fighters. I believe it is also helping to destroy the sense of shared humanity, that in the long run will allow people to live in peace. The United States and other countries around the world are being ravaged by poisonous hatred.
I was thinking about this as I drove the other day to meet some Gazans who were temporarily allowed to visit Israel and became stuck in East Jerusalem. My Israeli taxi driver refused to enter the Palestinian neighborhood ("If I go there, I won't make it out") and finally abandoned me on the side of the road to get a Palestinian taxi. The sweet 57-year-old woman from Gaza told me that she approved of Hamas attacks on Israeli civilians, after interviewing her about the war.
That conversation broke my heart. Such bigotry is nurtured by Hamas propaganda but also by Israeli bombing of Gaza: The woman said she had lost two cousins to Israeli fire, including a young woman married only a year ago, and she weeps daily at the bombardment of family and friends in Gaza.
Meanwhile, when Prime Minister Benjamin Netanyahu announced the escalation of the ground operation on Saturday, he cited biblical references to the Amalekites, who were the target of a divine genocide. The story said that God had told him to put people to death. Netanyahu wasn't advocating that literal policy, but Amalek is a code word that regularly crops up in Israeli politics for a ruthless enemy that must be crushed without mercy.
"You may think you're being merciful" by sparing a child, counsels a far-right rabbi in a chilling video posted online, but actually "you're being vicious to the ultimate victim that this child will grow up and kill." And this too breaks my heart.
There are of course many other voices that are merciful and sensible, and I've highlighted them previously. But when children on both sides are slaughtered and people are fearful, it is extremists who invariably are ascendant.
That is the longtime pattern in the Middle East: It was Palestinian suicide bombers who propelled Benjamin Netanyahu into the prime minister's office, and it has been Israeli hard-liners who fuel extremist Palestinian groups like Hamas and Islamic Jihad.
The aftermath of an airstrike on Falluja, Gaza, triggered by a tragic teenage boy's crying crying in Syria
The New York Times verified videos from Wednesday showing the aftermath of an airstrike on in Falluja, which is half a mile from the site of Tuesday's strike. Several large buildings are completely flattened in the destruction shown. Rescue workers and residents can be seen digging through the rubble and carrying what appear to be injured and dead people, including children.
Dozens of people were killed and hundreds of people were wounded in Tuesday's attack on the devastated neighborhood, and it was hit again on Wednesday. The Gazan Interior Ministry reported that an Israeli strike had killed and wounded a number of people.
Ms. Hammad's last WhatsApp messages to her cousin Ahmed, 31, who had told her he was hosting dozens of people in a four-bedroom apartment, went unread.
Sousan Hammad, 38, a writer and teacher in Brooklyn, said she had been frantically trying to reach family members in Jabaliya. Her father had grown up in Gaza, and in recent days she had been able to stay in contact with his side of the family, relaying their messages to relatives in the United States.
Mr. Hammash said the communications outages were adding to the agony of living amid deprivation and death because he was taking shelter in southern Gaza.
The Norwegian Refugee Council employee Yousef Hammash said that the airstrike was getting more insane every day.
Sometimes, phones rang and weren't answered. When callers called, they were greeted by a recorded message that said that contact with the Gaza Strip was lost because of the ongoing aggression. "May God protect Gaza and its people."
"A little boy crying for his sisters in Gaza," reads a post accompanying the video, which was widely shared in recent weeks on X, the platform formerly known as Twitter.
Yet the boy's cries actually rang out hundreds of miles away, in Syria, nearly a decade before Israel's bombing campaign in Gaza over the past three weeks.
As Israel sends its troops farther into Gaza, vowing to eradicate Hamas in retaliation for a brazen assault in early October that massacred more than 1,400 people, videos and photographs of the conflict offer a powerful record of the costs of war. But online, those accounts are competing with misappropriated depictions of unrelated tragedies — a cycle that experts say not only diminishes the experiences of victims past and present but also risks casting doubt on legitimate evidence of atrocities from the war. The misuse to relay the extent of suffering is particularly egregious because photographs and clips taken out of context are a common form of misinformation.
The human rights institute at Georgetown University wants to know if there's a kind of commodification of violence against a loved one that could be used by others as a depiction of violence. "It's horrifying."