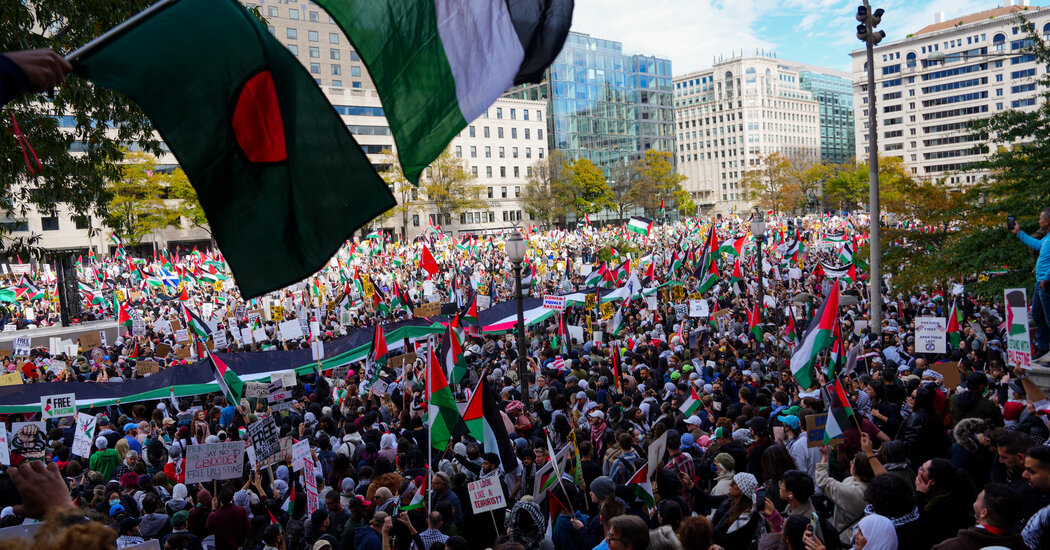 Israel's retaliation in Gaza has sparked protests across the U.S
The Gaza War in Israel and the United Nations: Palestine in the Light of the Hamas Manifestation on Oct. 24, 2015, in New York and Las Vegas
Thousands of demonstrators filled the streets of Washington and other cities across America on Saturday to protest the scope and scale of Israel's retaliation in Gaza for last month's terrorist assault by Hamas.
Saturday's marches, organized in cities including New York, Nashville, Cincinnati, Las Vegas and San Francisco, extended a stretch of loud calls for a cease-fire and lifting of the siege, following vast demonstrations a week ago in Asian and European capitals.
Most Americans express support for Israel in its fight against Hamas, but as Israel escalates attacks on Gaza, U.S. support for Palestinian civilians has surged as well.
Students, labor unions, and antiwar groups are linked to the Palestinian cause and were at Saturday's demonstrations.
My brother was on Oct. 24. and I went to the United Nations to watch an emergency Security Council meeting in response to the war in Israel and Gaza. As the Israeli minister of foreign affairs listed the names and held up photos of some of the Israeli children who were taken hostage by Hamas, a white woman in her 30s stood up near us in the gallery to protest. She held up a handmade "Free Palestine" sign.
Some protesters on the edges of the demonstration sat on a ledge outside the White House Visitor Center, their message to President Biden clear. Their signs read: "Stop U.S. military aid to Israel." One person said that he lost his vote.
I don't feel like I have been watching enough to condemn the atrocities committed by Hamas against Israeli civilians. Even as I sit here thinking of my family and some 240 other Israeli hostages, I scroll through my news feed and cry for the innocent Palestinian children and lives lost in Gaza. I see my pain reflected in Mohammed's expression and he was trying to save his grandmother in Gaza.
An hour after discovering they were missing, I spotted some of my family on a TikTok video. They were surrounded by terrorists shouting "Allah akbar" and being carted away. The pain I experienced in that moment and in so many after has been so sharp, it follows my every breath. Each morning, I remember my family is being held hostage by terrorists.
We hung posters of us and our family around Brooklyn, where we have been a part of for over a decade. Almost all of them were torn down within a day. The posters were written, "Honor the martyr." The behavior feels pointless, even cruel, and it's not the overt acts that make me feel isolated.
I feel most isolated when I see friends and acquaintances, Jews and non-Muslims alike, reposted a protest image from Jewish Voice for Peace in between their fall foliage photos. My stories are watched by these people who do not demand that the hostages be released, or that my 3-year-old cousins be shown the faces of their friends. The silence is not making any noise. What I wouldn't give to not know this pain, to have a different truth from the one I am carrying.
I have witnessed a silence so large and overwhelming that it feels cacophonous, I have seen former co-workers who had only a few words of sympathy for me share fake headlines fed by Hamas and even whisper a few private words of support. It would appear they believe my suffering to be collateral damage in service of some universal truth they hold higher. Is it possible for both Israeli and Palestinian civilians to be suffering at the same time? They might be unwilling to publicly express that. I am not sure which is worse.
So maybe you can imagine my surprise the first time I heard my Israeli family called "white colonizers." When did we become white? How could a family fleeing persecution be viewed as colonizers? Maybe I shrugged off the description too easily because I have heard it for years. But it's not the catchphrases or even the loudest and most inflammatory voices that have made me feel so betrayed. Rather, it's those who have remained silent when they otherwise would never be, like the women who lifted up the #MeToo movement alongside me yet now refuse to cry out against even the violence against women or rape reported by an Israeli military forensics team.
At the beginning of all this, I promised I would scream to the ends of the earth for my family, and that's exactly what I'm doing. Everyone in my large extended family has mobilized alongside me, demanding the safe return of our loved ones and of all the hostages. The Israel Defense Forces said my family is alive in Gaza, which gives us hope for the future. In Israel my aunt Riki, whose core family of 10 has been reduced to four around her Shabbat table, is trying to stay upright while bearing a mother's anguish. People come by daily and bring food as if they were sitting shiva.