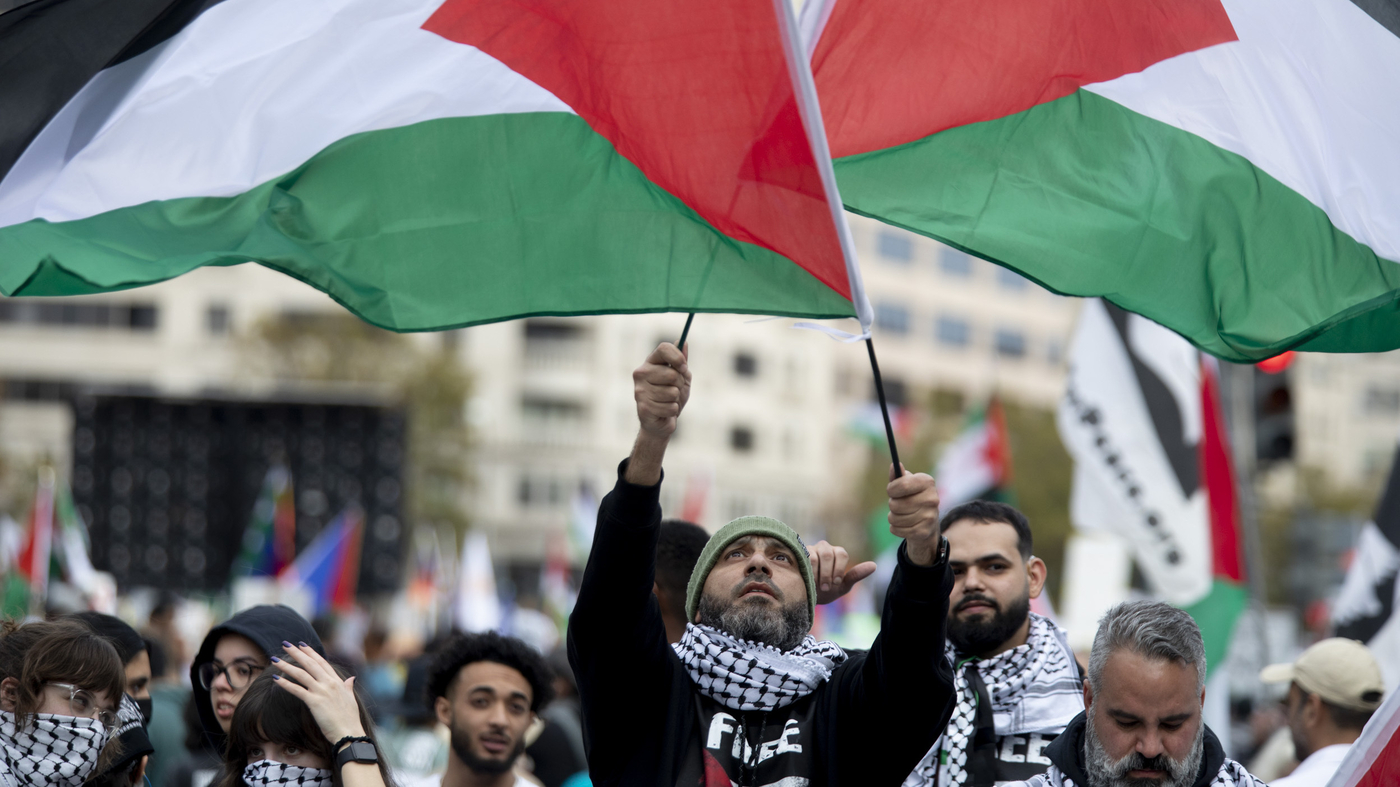 There are many people gathered for a pro-Palestinian march in D.C
A Palestinian protest rally in Washington demanding a cease-fire of U.S. military aid for Israel and its repercussion on the Gaza crisis
The U.S. has given billions in military aid to Israel for years. President Biden last month asked Congress for more than $14 billion in military aid for Israel.
Israel rejected such a pause, saying any sort of cease-fire is contingent on the release of hostages. Later Friday, an Israeli airstrike had hit an ambulance near Al Shifa, a main hospital in Gaza. The Palestinians said more than a dozen people were killed, while Israel said the bombing was aimed at Hamas, whose members it says have been hiding in sensitive areas.
U.S. officials have so far stopped short of demands for a cease-fire, but pressed Israel on Friday for a "humanitarian pause" in its military offensive to allow more aid to enter Gaza and for the release of the more than 200 hostages being held by Hamas.
His stance, questioning Israel's leadership, has created a rift between family and friends, he says — even his best friend, who called him antisemitic. Kremer, who pushed his baby in a stroller during the march, said there's no difference between the value of his son's life or that of a child living in Gaza.
Pedro is originally from Argentina but now lives in D.C. He says he was taught that Jews wanted justice for everyone.
On Saturday, tens of thousands of people gathered in Washington for one of the largest proPalestinian protests in the U.S. since the start of the Israeli bombardment of Gaza.
The event, organized by several pro-Palestinian groups, began with an afternoon rally at Freedom Plaza, before crowds began a march in a loop past the White House a few blocks away.
Some protesters on the edges of the demonstration sat on a ledge outside the White House Visitor Center, their message to President Biden clear. They held up signs that said, "Stop U.S. military aid to Israel." Another said, "You lost my vote."
"Why are we allowed to hear these stories and firsthand accounts from Gaza when the genocide continues?" asked Nour Jaghama. Why do only 18 representatives and only one senator support a cease-fire?"
At Saturday's rally, protesters held a moment of silence for those killed in Israel's response offensive. More than 9,480 Palestinians have been killed by Israel's military attacks over the last four weeks, according to Gaza's health ministry.
Israel has intensified its siege on Gaza City in the northern part of the Gaza Strip which was the focus of its expanded ground offensive after the militant group carried out attacks on Israelis.
The United States Voted For Israel, and America Is Ready To Vote For The Palestinians And Their Governments: The Seattle-based Organizing of a Peace Conference on Saturday
The event drew supporters from cities across the country, selling out bus seats for many departure points including Portland, Maine; Boston; Columbus, Ohio; Miami; and at least 10 buses from New York City.
Younass Barkouch, 24, came from Jersey City, N.J., to attend the march. He said he is protesting first and foremost because his family comes from a different country to the United States.
I was told that the United States condemned atrocities, war crimes, heinous government acts anywhere they saw them. He said that regardless of who committed them.
"The unity is amazing — to see so many Americans come out — and I hope Joe Biden sees what he's losing," Rana said. If he doesn't stop this, he's going to lose the vote.
We voted for him because we wanted equality. If he doesn't give everyone that, then he's probably not going to be our next president.
Saturday will see protests in major metropolitan areas including New York, Seattle and San Francisco, but also in smaller cities like Orono, Maine, which is where last week saw massive demonstrations against Israeli tactics.
84 percent of voters in the poll said they worried that the United States would be drawn into the Middle East conflict. Nonetheless, a 51 percent majority supported sending more military aid to Israel for their campaign against Hamas, and 71 percent supported humanitarian assistance for Palestinian civilians in Gaza.
The demonstrations on Saturday reflected the constellation of causes and groups that have long connected themselves to the Palestinian cause, including student organizations, labor unions and antiwar campaigns.
The crowd was dense in Washington and there was not a clear number of attendees. The areas of the rally that were rowdy were near the main road.
The protesters lifted the placards high before the protest so they could amplify their messages. The coffin covered in a Palestinian flag lay on the ground not far from where adults and children stretched out another flag. A Muslim call to prayer could be heard at 1 p.m.
Washington was anticipated to be a protest hub. As dump trucks and police vehicles blocked part of Pennsylvania Avenue, blocks from the White House, and as a line formed at the Museum of the Palestinian People just more than a mile away, keffiyeh-donning protesters streamed into Freedom Plaza.