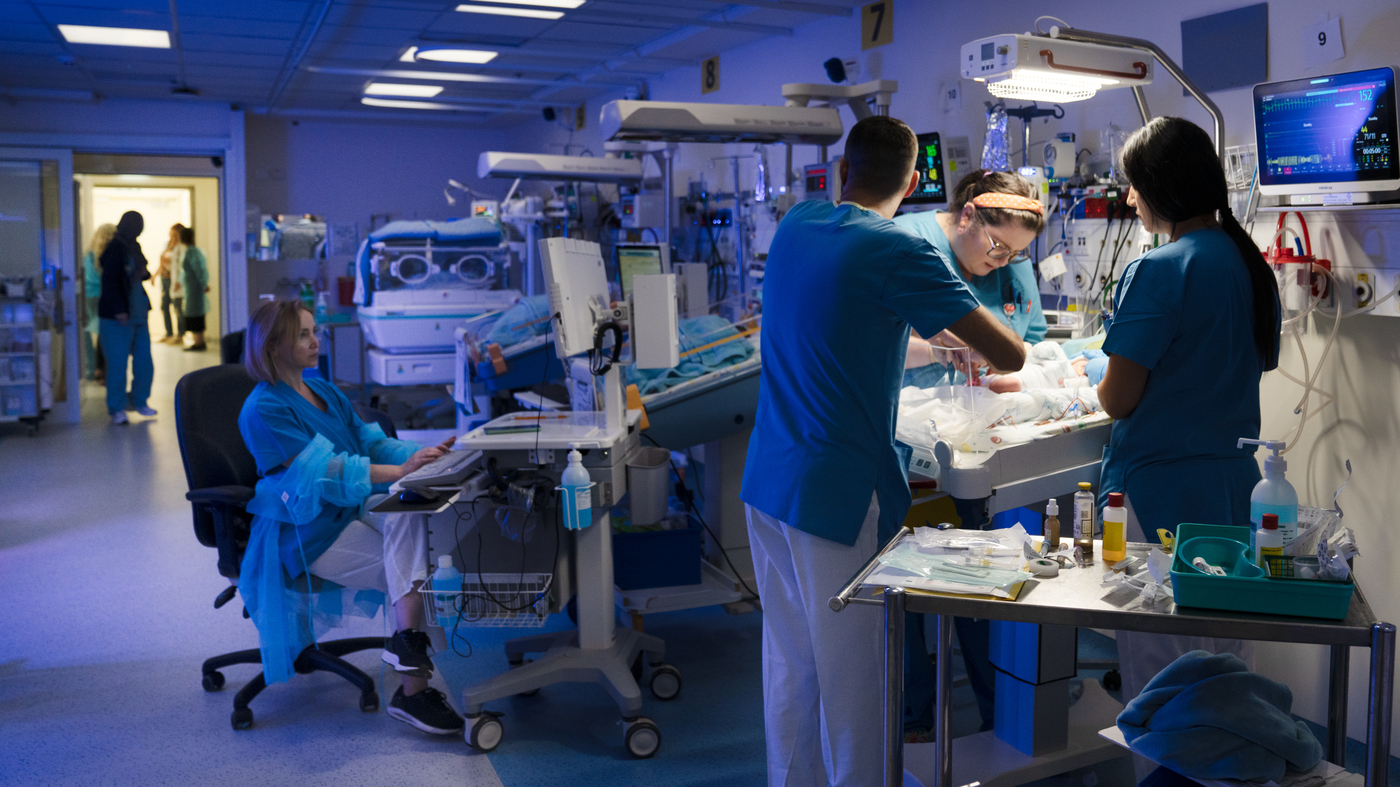 Hospitals in Israel are underground to cope with the rockets from Lebanon
Hospitals in Gaza are facing dire conditions due to a shortage of fuel and overcrowding as staff try to operate amid threats from Israel.
117,000 people, along with patients and hospital staff, are still in the hospitals in Gaza City and northern Gaza, according to the United Nations. Israel has sent messages to people advising them to leave these areas.
The Palestinian Red Crescent Society said on Monday that an aircraft "targeted the vicinity of the Al-Quds Hospital with two rockets, approximately 50 meters from the hospital's gate."
The United Nations and the Ministry of Health in Gaza stated that the Rantissi children's hospital and the Nasser hospital complex have been damaged.
The military in Israel says that it has not hit any hospitals. Israel says that it has information that Hamas is hiding in tunnels underneath the medical facilities in Gaza.
The lack of fuel is making it difficult for these facilities to meet the needs of their patients.
Doctors need electricity in the hospital, and surgical material, to perform surgical operations. Now, both of those things are missing in most of hospitals. The fuel is low. It is the last liters of fuel that are being used in hospitals and they must ration it. You have to provide power to the generators. You also need a source of light. You can't just do surgeries on your phone, that's not possible.
"According to Israel, Hamas has chosen to set up a military base underneath the hospital. If it is true, Hamas is committing a war crime that is morally reprehensible and absolutely incompatible with the principles of international humanitarian law.
Hecht said the Israeli military hasn't attacked hospitals, but rather that the military is considering how to deal with those sites to try "and minimize as much as we can the collateral damage."
Indonesia's Foreign Minister Retno Marsudi stated in a statement that the Indonesian Hospital is built by the Indonesian people for humanitarian purposes and to serve the needs of the Palestinians in Gaza.
Galilee isn't just going underground for safety. The trauma department, ambulance bay and other surgical rooms are protected from an attack by being fortified on the first floor.
A father cares for the feet of his newborn, family members crowded around a sick loved one, and a nurse draws blood.
There is a hospital in Nahariya that is 6 miles away from the border with Lebanon.
"We are underground with the patients because we are preparing ourselves to continue taking care of our patients, even under fire," explains Dr. Masad Barhoum, the director of the hospital. He wears a protective vest over his dress shirt.
It only took a matter of hours to move the first patients underground, after more than 1,400 people were killed by Hamas when it crossed the Gaza Strip into southern Israel.
The war has also ignited what experts are so far calling a "limited spillover" of conflict between Israeli forces and militants in neighboring Lebanon.
There is no need to wait for future escalation says Dr. Bahir Sirhan, who works in the emergency department at the Galilee hospital. "The threat is real," he says. The war is going to start soon. It's here."
Israel used Galilee's wartime protections during its 2006 war with Lebanon. During that conflict, a missile from Lebanon hit the fourth floor of the hospital. Staff had already moved their medical care underground, so no one was injured in the attack.
The leader of the Hezbollah militant group said he is ready to increase the war if Israel goes ahead with its offensive in Gaza. "All scenarios are open on our Lebanese southern front," he said on Friday in his first speech since the conflict began.
The underground hospital in Israel stays underground to keep working amid rockets from Lebanon: A nightmare for a nurse who is not afraid to go back to work
"I'm not afraid myself," says Dr. Vered Fleisher Sheffer, who runs the unit, "but the safety is so important to our parents and our most vulnerable babies." When NPR visited late last month, there were babies being treated who were delivered as early as 24 weeks, their treatment just as seamless as if there wasn't a war.
Heavy steel doors guard the opening to the first floor trauma center and emergency room. Nearby there's a shower ready in case Lebanon uses chemical weapons.
A few weeks ago Sirhan was working when he received a call saying that an ambulance was on it's way in with four people who had been injured in a rocket attack. Some of the patients, it turned out, were his relatives.
He says when the patients recognized him, they called his name, and his presence calmed them down. Their injuries were not life threatening and they have recovered. But the experience still haunts him. "I do not wish to keep treating my family again," he says. "That's a nightmare."
It was the first time many of the staff had been in the underground garage and there was only a few who had previously worked there.
The last month in Israel was one long day for an internal medicine nurse who is part of the training exercise.
She said she looked at her fellow nurses when she toured the facility. "It's hard to imagine how our jobs would look down here," she says. Where is everything? Where are the people going? What is the plan?"
During the drill, dozens of staff members begin to practice triage and treatment of pretend-patients played by their coworkers and members of the Israeli military. Challenges become obvious: The acoustics make it difficult to hear the patients, and hospital sections — the ICU, the operating rooms — are in new locations, so the staff need to practice rolling the beds in the right direction.
But Maister says she's confident they'll figure out what to do in time. We know how to deal with most situations. It's one of the strengths of a nurse.
Source: [Hospitals in Israel move underground](https://lostobject.org/2023/10/24/there-is-a-note-about-gaza-hospital-coverage/) to keep working amid rockets from Lebanon
NPR in Rambam: How the Nurses Make Hadronic Perfection Feel More Relaxed and Safe Down Here, Even During Dialysis Treatment
The playroom at Rambam has full functionality in the garage. There is a section of parking spots with the hum of nurses, children playing games and a father listening to a song with his daughter.
Tal Romano's 4-year-old son Hadar is getting dialysis treatment. "It makes me feel more relaxed," he says, sitting beside his son. "It's very safe down here."
While Romano speaks to NPR, a nurse draws a flower in pen on Hadar's leg to make him laugh. Romano says his only critique of getting treatment underground is that Hadar misses the colorful kid-friendly decor of the upstairs unit.