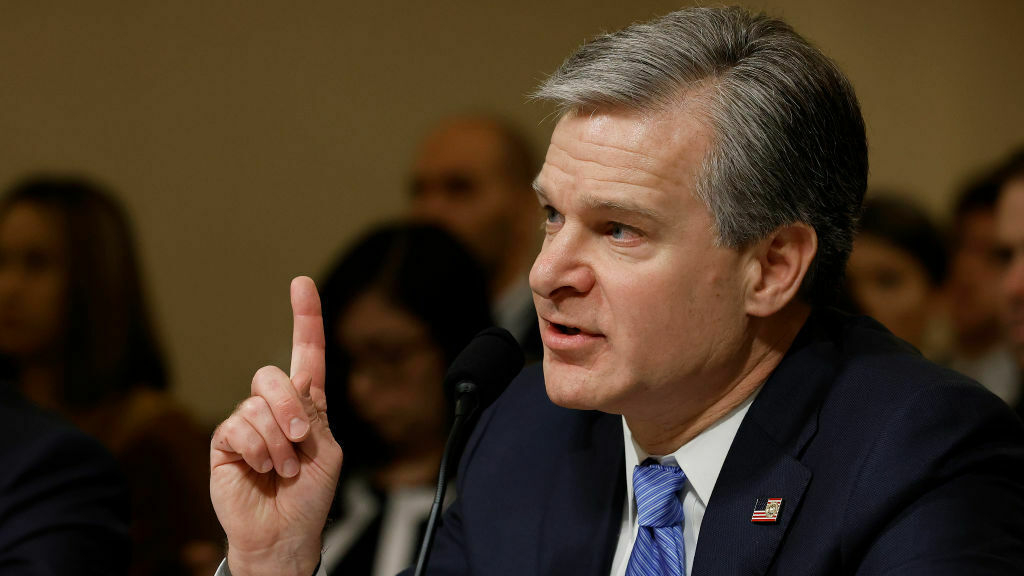 "U.S. is in a dangerous period", says Wray
How to Build Bombs and Post About a Muslim Man's Support for Killing Jews in the Internet: FBI Director Christopher Wray Revisited
FBI Director Christopher Wray said Tuesday the war between Israel and Hamas has led to a spike in threats against the United States, warning that "we are in a dangerous period" as various terrorist groups look to leverage the conflict for their own causes.
The actions of Hamas and its allies will serve as an example of what we haven't seen yet from the Islamic State.
On the home front, Wray said the biggest concern for the FBI is that violent extremists — including people inspired by foreign terrorist groups but also domestic violent extremists — will draw inspiration from the ongoing conflict to carry out attacks against Americans.
Last week we arrested a man in Houston who was studying how to make bombs and posted his support for killing Jews on the internet. The killing of a 6-year-old Muslim boy in Illinois is being investigated as a federal hate crime.
A Palestinian asylum seekers travel visa expired a few months after he arrived in the United States, so he was arrested in Houston. He said that the man, who was identified as Sohaib Abuayyasu, had been studying how to build bombs and posting details about wanting to kill Jews on the internet.
According to the complaint, he was in possession of a firearm and was in contact with others that shared a radical mindset and had trained with weapons to commit an attack.
The Israeli-Hamas War: A Time for Vigilance and a Fine Line to Walk in the United States, in the Correspondence with Israel and Israel
There were over 200 antisemitic acts in the United States between October 7 and October 23. Those include a report on Oct. 15 at Grand Central Terminal in New York when someone punched a Jewish woman in the face because she was Jewish.
Over the same period, the Council on American Islamic Relations received over 700 complaints of bias incidents.
He said the FBI has no evidence of a imminent threat from a foreign terrorist group, but he noted that since Hamas' attack on Israel, al-Qaida has issued its most specific call for violence against the U.S. in years, while the Islamic State has urged its followers to target Jewish communities in the United States and Europe.
Christine Abizaid, the director of the National Counterterrorism Center, told lawmakers that the Israel-Hamas war has featured in messaging and propaganda since Oct. 7.
"We've seen it from al-Qaida affiliates, almost every single one of them," she told lawmakers, referring to terrorist groups in the Mideast and Africa with ties to al-Qaida. "We've also seen it from the Islamic State, which is not aligned with Hamas but uses this current conflict to try to sow the kind of violence that they want and bring in more followers in an exploitative way."
He said it was not a time for panic, but a time for vigilance. "We shouldn't stop conducting our daily lives, going to schools, houses of worship and so forth. But we should be vigilant."
Abizaid said that the U.S. has no intel that indicates Iran or its proxies had a role in the Oct. 7 attack.
The U.S. is still focused on Iranian activities and those of its allies that are targeting American interests, she said. She said that militant groups are aligned with Tehran and have carried out attacks against American forces.
She said Iran, Hezbollah, and their linked proxies are trying to calibrate their activity in order to avoid actions that would open up a second front with the US or Israel.
"This is a very fine line to walk and, in the present regional context, their actions carry the potential for miscalculation thus requiring heightened scrutiny in the region and we monitor for signs that the conflict could spread."
She warned that Iran could call on the "significant escalatory capability" if it decided to ramp up the conflict, though she didn't have any indication of a threat inside the U.S.
The American War on Gaza and the First Day of the 9/11 Attack: The Fate of a Nation and the Impact on American Public Institutions
The comparison, which emerged widely and immediately, seemed apt on the surface: a brutal attack that shocked a nation and changed the course of its history. It was fascinating to observe the same patterns we saw after Sept. 11, 2001 playing out. The rapid bombardment of civilian neighborhoods has interrupted the mourning of a terrorist attack. American officials, pundits and companies have quickly rallied around Israel in its war on Gaza, which has rapidly intensified by the day. The first week of the war was when Israel dropped more weapons on Gaza than the United States did in a year. Civilian casualties in Gaza have climbed exponentially. Palestinians in the West Bank have been tied, blindfolded, stripped and subjected to attempted sexual assault by Israeli soldiers and settlers.
The U.S. government was made aware of a terrorist attack on American soil after Sept. 11. And it bore down on one particular group: Muslims in America. The deportation of thousands of immigrants was the result of mass arrests and the national registry of immigrant Muslims. Police were accused of entrapping people who committed no violent crimes, after being sent to monitor mosques and Muslim neighborhoods. The government focuses on potentially dangerous Muslims and spreads it to American media. According to data, hate crimes against Muslims increased in 2001. Rates have never dipped back to their pre-2001 numbers despite the decline in later years.
Since the Israel-Hamas war started, these long-held suspicions now appear to be seeping into the public debate again over showing support for Palestinians in Gaza, more than 8,000 of whom have been killed since the bombardment began, according to the Gazan health ministry. The false connection between supporting civilians in Gaza and the terrorist activities of Hamas is manifesting across our country's public institutions. People who support Palestinians are punished for being misconstrued as anti- Israel or pro- Hamas. Journalists have been fired for sharing posts, and companies have withdrawn job offers. While Human Rights Watch has not begun to document it, the scale of suppression of speech by social media platforms such as shadow banning of posts and blocking of accounts has been alarming.
The first Friday after the 9/11 attacks, which was holy for Muslims and Jews, seemed to be on high alert because a former Hamas leader called for protests in support of the Palestinians. I intended to visit the Islamic Center in New York City, expecting a crowd tense and nervous. The women around me lined up to pray as the imam finished his speech. As we knelt, I could not hear anything else.
His pained voice turned to anger when he recounted encountering disbelief that Hamas committed terrible atrocities when it attacked Israel. Lavi seemed especially bewildered by people "arguing over the semantics" of whether people were beheaded or their heads fell off, or even whether there were hostages in Gaza.
It has been subject to much discussion since President Biden made a claim about Hamas being responsible for beheading babies, and the White House walked it back.
Israel's war with Iraq, and the Gaza hospital attack: An example from an uproar over the Hamas attack in the 1990s
One key reason for some of the incidents of doubt is the suspicion that horrendous but false or exaggerated claims are being used as a rationale for war — and there are many such historical examples, most notably the Iraq war.
The United States was given deep global sympathy after the attacks. Many Muslims around the world were furious about this blemish upon Islam, even if they opposed U.S. policies: Citizens held vigils, politicians condemned the attacks and clerics repudiated them in mosque sermons. The idea that Muslims widely celebrated the attacks has been shown to be false or questionable at least a few times.
The war in Iraq was launched by the US because they wanted vengeance and false evidence about weapons of mass destruction.
The Bush administration lied in the lead-up to the war, its occupation was a disaster, and the invasion set off bloodshed that has damaged the United States and its allies.
People also saw how occupation policies, like the quick and thoughtless disbanding of the Iraqi Army, contributed to the creation of ISIS a decade later.
To make matters worse, the Israel government has a long history of making false claims and denying responsibility for atrocities that later proved to be its doing.
In one case last year, four children under the age of 13 were killed by Israeli airstrikes in the Gaza Strip and three of them were badly wounded as they fled the initial blast.
Israel tried to get to the bottom of what was happening and cleared itself. Peter Lerner, then a spokesman for the Israeli Defense Forces, said that it had targeted a "compound belonging to Hamas's Naval Police and Naval Force (including naval commandos), and which was utilized exclusively by militants."
Some of the journalists who had seen the bombing said that there had been no attempt to interview them, according to The Telegraph.
One can see how this history plays out in the global upheaval over the Hamas claim two weeks ago that an Israeli missile struck a hospital courtyard in Gaza. Israeli and American officials denied this, and asserted that the missile came from within Gaza. There were also initial claims that 500 people were killed in the hospital blast, leading to headlines and global condemnations. After the number was challenged, there was more uproar and back-and-forth.
It is certainly possible that the hospital may have been accidentally hit by a missile fired in Gaza — such misfires have happened. Large civilian casualties have been caused by Israel bombardment. The evidence isn't conclusive either way, and the truth remains unknown.
Yet to a family that lost members in the hospital blast — which U.S. officials estimate killed hundreds — that squabble over exact numbers might seem as cruel as the skepticism about the atrocities committed by Hamas do to an Israeli family that suffered during the Oct. 7 attack.
But there's still the fact that fabricating or exaggerating atrocities is done to influence the calculus of what the public will accept — including what costs are justified to impose on civilians.
In 1990 after Saddam Hussein invaded Kuwait, the United States resisted the idea of a new war in order to avoid large foreign military conflicts for practical and moral reasons.
It was in this context that a teenager testified before Congress in 1990 that she had seen Iraqi soldiers take premature babies out of incubators and left them to die on the cold floor, a shocking assertion repeated by many high-level officials. The claim was repeated many times by officials and the media.
The witness was a daughter of the ambassador to the US and her testimony was faked by a public relations firm in order to curry favor with the government.
The shocking fabrication played a key role in the effort to sell the war to the reluctant American public. It was not necessary to make sure that oil fields stayed in the grasp of the rulers of the tiny country created in the early 20th century. A more convincing appeal for war is opposed to an army so savage that it commits the most unthinkable crimes.
The terrible outcome of all this is widespread distrust and dehumanization, as ordinary people's loss and pain are viewed suspiciously as a potential cudgel that will cause further loss and pain for others.
There are plenty of echoes of this on social media. One of the people on X said that Saddam had WMD, and that 40 babies were beheaded by Hamas.
I was glad to see that Human Rightswatch verified some of the videos, and called the attacks intentional killings. The group condemned the attacks as "cruel and brutal crimes including mass summary killings, hostage-taking." The attacks should be investigated as war crimes, according to both organizations.
Both organizations have documented Israeli wrongdoings, including treatment of civilians in Gaza and the West Bank, and both have been vilified for doing so by some of the same people.
These are independent voices that need to be heard. Even though the US supports Israel no matter what it does, President Biden might consider elevating such independent human rights voices instead of embracing Netanyahu.
Source: Opinion | The [Memories](https://lostobject.org/2023/10/11/opinion-on-the-gaza-trap/) That Feed Distrust in the Middle East
The Palestinian Center for Human Rights says Kidnapping should be a crime against civilians and non-military prisoners in the Gaza Strip
Kidnapping is a war crime and hostages should be released unharmed, according to the organization. They shouldn't have to endure this suspicion with their families.
But to credibly demand that war crimes be stopped and lives respected requires equal concern extended to all victims, including the two million Palestinians in the Gaza Strip.