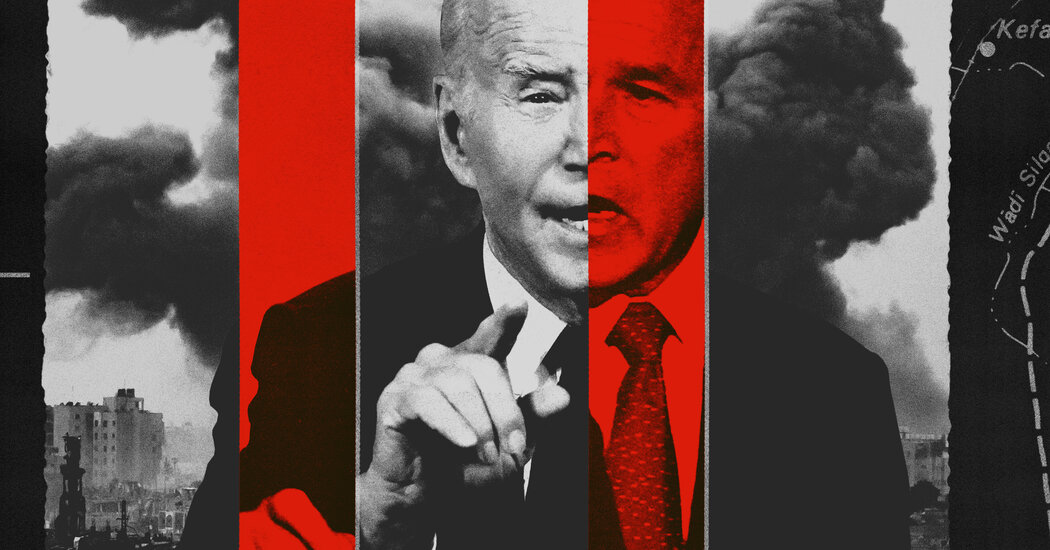 Biden now says he supports Israel with words of caution
Israel's Response to the Sept. 11 Attacks, Hamas's Control, and the Israeli-Israeli-Suffrage Dialogue
Administration officials said the shift in tone and substance was the result of the humanitarian crisis in Gaza, where the health ministry says more than 8,000 people have been killed, provoking outrage in the United States and around the world.
He added, "This is something that we talk about with the Israelis on a daily basis." He then noted that hospitals were not legitimate military targets just as Israel was warning that another major hospital in Gaza had to be emptied out before the next round of bombing.
When President Biden landed in Tel Aviv days after Hamas's Oct. 7 massacre of more than 1,400 people, he told an audience of Israelis that this was not just Israel's Sept. 11, that "it was like 15 9/11s."
"I told him if the United States experienced what Israel is experiencing, our response would be swift, decisive and overwhelming," Mr. Biden recalled saying during a call between the two leaders on Oct. 10.
But the president's message, in which he emphatically joined the mourning that was sweeping through Israel, has shifted dramatically over the past three weeks. While he continues to declare unambiguous support for Israel, Mr. Biden and his top military and diplomatic officials have become more critical of Israel's response to the terrorist attacks and the unfolding humanitarian crisis.
The hopes of the president and his senior aides are that the new conflict between Israel and Hamas will lead to a restart of talks on normalized relations between Israel and Saudi Arabia, and that this will lead to negotiations over a two-state solution. Mr. Netanyahu has been against this move in the past.
But in the short run, American officials have grown more strident in reminding the Israelis that even if Hamas terrorists are deliberately intermingling with civilians, operations must be tailored to avoid nonmilitary casualties. The United Nations' Secretary of State said last week that humanitarian pauses must be considered, a move that Israel has rejected.
The way that Israel defends itself is important, even though it means food, water, medicine and other essential humanitarian assistance must be able to flow into Gaza.
On Sunday, just a day after Israeli military leaders said Hamas terrorists were using a hospital in Gaza as a command center, Jake Sullivan, the president's national security adviser, was more blunt. Mr. Sullivan said on CBS's "Face the Nation" that Hamas's use of civilians as human shields "creates an added burden for the Israeli Defense Forces."
Though communities were braced for what was to come, no one could have predicted that the first hate crime would be the killing of a 6-year-old Palestinian Muslim boy, Wadea Al-Fayoume, whose mother was rushed to the hospital after also being repeatedly stabbed. Joseph Czuba, their landlord, was charged in the killing. He has pleaded not guilty. According to the boy's mother, Mr. Czuba had become violent after the news of Oct. 7 and yelled, "You Muslims must die," before stabbing Wadea 26 times. A religious leader wondered if something had been learned from 9/11 while speaking at Wadea's funeral. Do we really want to live those dark years again?"
Today, many Muslims in the United States fear a new outbreak of violence. Local and federal law enforcement officers across the United States are closely watching for threats after the attacks in Israel, according to the Biden administration. There were scattered reports made to the Anti-Discrimination Committee within a week.
Since the beginning of the Israel-Hamas war, long held suspicions about showing support for Palestinians in Gaza seem to be back in the public consciousness, according to the Gazan health ministry. The false connection between supporting civilians in Gaza and the terrorist activities of Hamas is manifesting across our country's public institutions. From college campuses to places of work, people are facing repercussions for expressing their support for Palestinians who are wrongly portrayed as pro-Hamas. Companies, journalists, and students have lost their jobs as a result of sharing posts, making statements, and doing other things. The scale of suppression of speech by social media platforms, such as the shadow banning of Gaza-related posts and the blocking of accounts on Instagram, has been alarming enough that Human Rights Watch has started to document it.