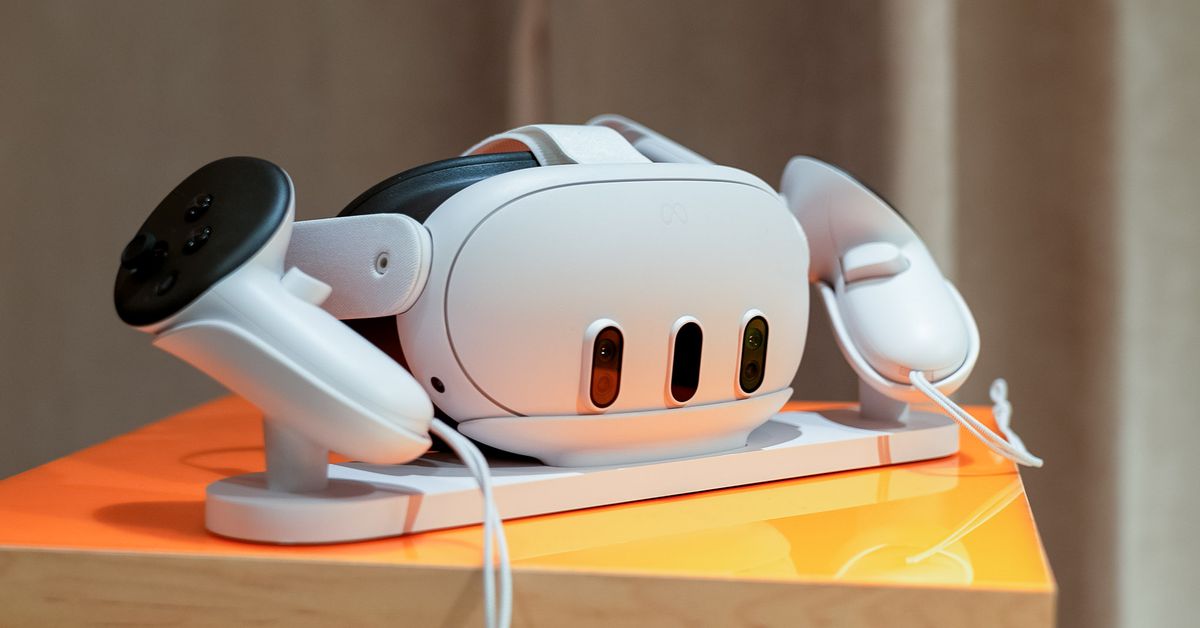 The Meta Quest 3 is still working to make mixed reality a reality
The Quest 3: a step in the right direction for holographic augmented reality, and what can you expect from an upgraded headset?
The new virtual reality headset will be shipped by Meta on October 10th. You would expect an upgrade to the top-selling Virtual Reality games console, like a higher-resolution display and an upgraded processor, from the $299 Quest 3. But Meta has also made the Quest 3 part of the company's plunge into "mixed reality" (MR): a term that, right now, typically refers to a video feed overlaid with digital objects passed through to a headset display. Meta's mixed reality seems to be getting better, but it's still struggling to demonstrate that the new feature is worth buying into — at least before launch.
The announcement fills out the details of the device in a big way. The flagship device, the Quest3 is powered by the newest version of the mid-range chip, the svelte but still powerful XR2 Gen 2 and Meta thinks it's a better device than any of the others, especially in terms of graphics performance. The cheapest Quest 3 comes with 128GB of internal storage, and for $649.99, you get 512GB. The battery life is the same as Quest 2 and is between 90 minutes and three hours, according to Meta.
The cameras on the front of the headset are full-color, and they vastly improve the passthrough video. The average passthrough time for the XR2 Gen 2 is just 12 milliseconds, on par with Apple's Vision Pro but it could be that it depends on how far away partners are from the scene. You can choose to use the Quest 3 in a fully immersive VR mode or in what it calls a "blended" mode that lets you see both your real-world surroundings and whatever game or content you're looking at.
This isn't full holographic augmented reality yet, but it's a step in the right direction. The Vision Pro has a system that allows you to switch between modes by using the controller or double-tap gesture, which seems to be the agreed upon way to operate a headset.
Mixed Reality of the Quest 3: The Quest 2 vs 515 grammes, and the Status of the Meta Platform
The headset itself is a little smaller and actually slightly heavier than the previous model (515 grams to the Quest 2's 503). We have to wait and see what the redesign will be like, but Meta says it will be more comfortable to wear.
The Quest 3's Touch Plus controllers, as expected, do away with the large tracking ring in favor of infrared sensors that track your position. They also have improved haptics, so you should be able to get more visceral vibrations as you play games — and, of course, the Quest 3 supports hand tracking, so you can ditch the controllers entirely if you so desire.
The device is a little more sporty than its predecessor. The Quest 2 originally shipped with a foam face mask that was annoying to clean, but I used the Quest 3 with a soft rubber mask that seems decently wipeable if you've just sweated through a Beat Saber session. The default head fixture has been changed to accommodate hair buns and ponytails with a Y-shaped top strap, and you can still purchase a version of the Elite Strap without a supplemental battery. (It's not interchangeable with the Quest 2's version.) There is a mask and strap in Blood Orange, orElemental Blue, that you can get with the black face mask and white cloth strap. It is a hair heavier than the Quest 2 but still more light than the 722- gram Quest Pro, which is probably going to add more heft.
Meta has simplified the setup process with its new tech, and it had some cool mixed reality apps, like a painting workshop, that could show up on the Quest 3. A stark contrast to how Meta presented the productivity-focused quest pro was found in the demo day which was almost exclusively focused on games. Meta works to push virtualreality development forward, while its demos make the medium seem like a solution looking for a problem.
There was little promise in the mixed reality demos. One of the great ones involved me and another person putting on headsets and sitting at a coffee table, where we went to a virtual floating arena and steered tiny robot around punching each other. It felt like a board game when we saw our surroundings and each other thanks to the passthrough video. That's neat — but the experience wasn't something I'd do for more than a few minutes.
Other MR apps were simply frustrating. A Stranger Things game used the hand-tracking feature that all current Quest headsets support, letting me open portals and move bat creatures with hand gestures. But the game's use of these gestures felt awkward and unreliable, and the experience was short and on-rails. The minigame was a good one but it was not like the demo I played in 2015, where you blast aliens to capture them.
I'm not confident that theQuest 3 is a viable substitute for your other screens just yet. As with most VR headsets, I spent my demo time struggling to find a comfortable fit — because no matter how well designed they are, current-gen devices are just unavoidably bulky. The Elite Strap might help with that, but this still isn't something I want to wear all day for work or slip on to watch some TV during dinner.