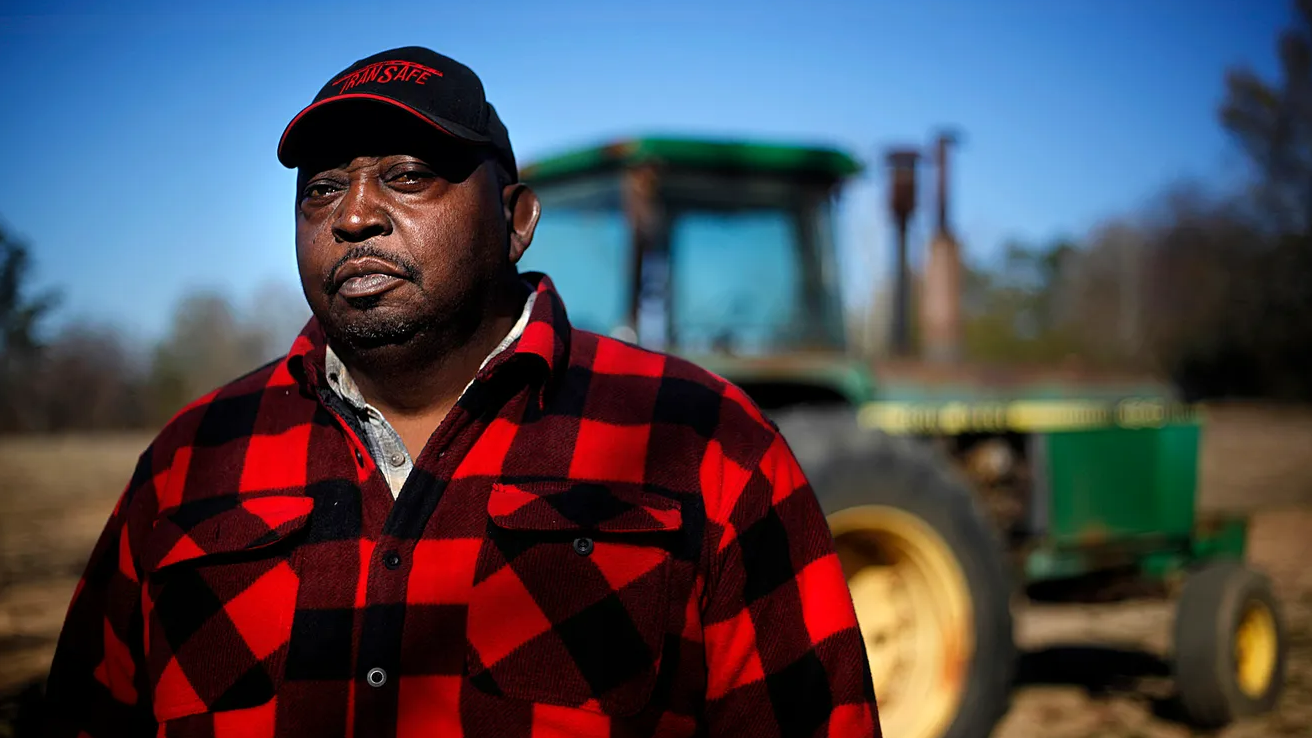 Black farmers were left behind in the USDA's loan system
Agriculture Department request for information on USDA's approach to addressing systemic injustices against Black, Hispanic, Asian, and Native farmers
The department was directed by Congress in the recently passed Democratic reconciliation bill to create a brand new program to give out the money. It was also directed to select one or more third parties, or nongovernmental organizations, to carry out the program instead of USDA itself. A Democratic staffer said that the legislation was done to address farmers' concerns of USDA bias in the program.
"For more than 100 years the USDA did little to alleviate the burdens of systemic inequality for Black, Brown and Native farmers and was often the site of injustice," the then-candidate stated in his plan for rural America. Referencing class action and large lawsuits brought by farmers, Biden vowed to bring equity to the Agriculture Department's methods of supporting farmers.
Over the course of 100 years, the amount of Black-owned farmland dropped by 90%, according to Data for Progress, due to higher rates of loan and credit denials, lack of legal and industry support and "outright acts of violence and intimidation."
Some $5 billion was approved towards debt relief and cancellation for minority farmers by lawmakers as a part of the American Rescue Plan. The legislation was specifically targeting what was labeled "socially disadvantaged" farmers, or African Americans, Hispanics, Asian Americans and Native Americans, Alaska Natives and Pacific Islanders.
In response to the concerns, USDA said they worked quickly to dole out the funds to farmers most at risk of losing their farms. The department is now in a more complicated phase, it said.
Thursday's move – known as a request for information – offers an opportunity for farmers, advocates, lawmakers and more to provide advice on selecting the third-party program administrator and to provide recommendations, conducting outreach to farmers who borrowed from USDA and how the department should even identify who has been discriminated against.
There is a 30-day comment period for the public along with weekly listening sessions hosted by the department. A USDA official stated that the department would design the program while recruiting organizations to run it after the comments are collected and reviewed.
A request for information has a lot of questions, but what we want to know is the thing that would make the program work for someone, according to a USDA official. "We want the farm-focused program that will work in ways that others have not done."
It has a farming population of 8,230 of which 7% identify as Black, 90% identify as white, .8% as other and 1% as more than one race, according to the self-reported 2017 Census of Agriculture. Even though they identify with Hispanic or Latino ethnic origin, they are socially disadvantaged.
There are some people who are still living in Pigford that have never been made whole. "And a lot of times when people talk about Pigford, they think that Pigford addressed all of the racial discrimination that Black farmers faced, but it was really for a finite period of time."
Ducheneaux was the first Native American to lead the Farm Service Agency. Prior to being at the department, he served as the executive director of the Intertribal Agriculture Council, an advocacy group for Native American farmers. Indigenous farmers were also a part of their own lawsuit alleging discrimination against USDA and they have long been left out of programs despite having high direct loan acceptance rates.
The ARPA Extension Program Cannot Be Continued Without a Hearing deadline: A lawsuit by Stephen Miller and Sid Miller filed against the USDA
It is difficult to access programs because of a variety of barriers, including incorrect denials, cumbersome paperwork, and a lack of knowledge of what applicants could qualify for.
The program was stopped by about 12 lawsuits, including one from Texas, led by former President Donald Trump's adviser Stephen Miller and current state Agriculture Commissioner Sid Miller. They said the program discriminated against them because they were white.
In an unusual move, the Justice Department let the deadline to appeal the injunctions that froze the program slide, opting to continue the court battle at the local level.
"The government vigorously defended this program in the courts but because of these injunctions, the $5 billion provided in ARPA remained frozen," said Marissa Perry, press secretary at USDA. "This litigation would likely not have been resolved for a long time."
For some farmers, that means complete cancellation. It means partial assistance, even though they were promised full cancellation one year ago.
The family Georgia farm has been run by the third generation for over a century, and Lucious is the heir to the throne. He joined the Pigford class action lawsuit against the USDA when he did not get a loan in time to purchase seeds and supplies.
Farming on the Edge: Farmers are Persistently Left Behind From the Usdas Loan System, and Why they Walk Away with Nothing
In 2010, Congress appropriated an additional $1.2 billion in a second round of payouts. Many did not receive them due to denials of claims and processing issues. Their credit and bottom line will be hurt for a long time due to their behind on payments and legal fees.
The way people are farming is changing. The loan system was designed for large, one-Crop farms, but other farms are challenging this system as well.
By and large, across the first two years of the Biden administration, Black and Asian-identifying farmers were the least successful in acquiring a direct loan, data shows.
In Minnesota, Hmong farmers may lease land but not have a written contract in place that would allow them to get loans, said Hang.
Farmers do not keep records or file taxes in a way that is suitable for the Farm Service Agency. There are no bilingual federal employees, documents and training materials.
"They can enroll in a farm business management course, but it's all conducted in English. So this constituency doesn't read, write or comprehend English, so they pay $2,000 a year for this course here and then walk away with nothing, what did they walk out with? Stress," Janssen said. They walk out without adequate information to really enhance or fund operations, because it is done in a language they aren't familiar with.
Source: https://www.npr.org/2023/02/19/1156851675/in-2022-black-farmers-were-persistently-left-behind-from-the-usdas-loan-system
Rebuilding trust in the United States: How American farmers are seeing the uasda loan-system as a tool to help rebuild trust in Indian Country
Ducheneaux has been trying to get them in the door since he got here, and he takes that very personally. "My personal goal is to get all of these to as close to 100% as we can."
He credits the lessons that have been learned in Indian Country with the department's solutions. Using agreements with organizations on the ground that represent different producers, USDA is trying to work through them to get information to farmers.
"We see this as a chance to leverage the trust that we don't have in these communities. Ducheneaux said in many cases it was rightfully so. Agreements are spread around veteran and young farmer groups like the American Farmers Association.
As a result of the agreements, these organizations report being able to increase staff, expand outreach, and increase their ability to give feedback to USDA.
The first step in rebuilding trust is acknowledging the fact that we have treated people badly in the past and discriminated in the past, and still have practices that feel like discrimination today," he said. "There is that inherent, intrinsic trust in that NGO or that nonprofit that probably in our lifetime, we're never going to rebuild it at the agency or department level. We need to begin somewhere and that's a great place to start.
Source: https://www.npr.org/2023/02/19/1156851675/in-2022-black-farmers-were-persistently-left-behind-from-the-usdas-loan-system
USDA Extension Programs for Racial Equity: Plan, Approval, Results, Status, and Potential Impact on Landowners, Farmers, and Farmers' Markets
In order to reduce the paperwork, speed up decisions and get payments out the department announced this month its plan to shorten the applications from 29 pages to 13.
Last year, the department also launched an online program to help producers understand which loans they may qualify for in an effort to reduce the rates of denials and withdrawals. The USDA Equity Commission was born out of Biden's executive order to address racial equity.
The group met earlier this month to vote on over 30 recommendations ranging from reducing the number of years of experience needed to participate in conservation programs to making the language in FSA loans more accessible – actions they believe the department can get a head start on. A final report is due at the end of the year.
"We haven't gotten any relief as far as these lawsuits or debt relief, and that will impact me severely," said Rod Bradshaw, a farmer in Kansas, adding that the rising costs of fuel and production are thinning his margins.
"They were promised something by the government and then put on hold for over a year and a half," Smith said. Money was allocated for them during the Pandemic. They weren't able to use the funds. Now the Inflation Reduction Act was passed, they added more money to that pool but they aren't doing debt forgiveness. They just had a couple of payments."
As of Jan. 30, the USDA paid out more than $823 million for the Inflation Reduction Act program to farmers who were either delinquent on payments or on the verge of foreclosure.
The USDA Extension of Loan Assistance Program for Black Farmers, and the Impact of Loan Inequality on the Rural Poverty Law in the U.S.
The first senior advisor to racial equity at the USDA Dewayne Goldmon said that they need to be open-minded to see if some solutions can be found that would address some of the cumulative impacts of discrimination. "That has to be an important part of the process."
I would consider the efforts successful if my position is no longer needed. When you don't need an adviser for racial equity," Goldmon said. "And I'm not being naive, but I have to keep that as a goal."
And since this new program is now race-neutral, those who are particularly concerned about the disparate impact of lending practices on Black and other farmers of color say the move could hide the scope of the problem and lead to further disenfranchisement.
"You lose a lot of the trust when there was very little trust in the beginning," said Brandon Smith, a cattle rancher in Texas who received a payment and is an outreach coordinator for the Federation of Southern Cooperatives/Land Assistance Fund. "No one's trying to be ungrateful, but it's just the trust and what was promised to them."
The steps taken so far are to stop the bleeding and not a better analogy, says the administrator of the Farm Service Agency.
"As far as I know, we haven't had any foreclosures in our guaranteed loans since we started providing this assistance. That's an ongoing process to clean up those complex cases," Ducheneaux said. "And, of course, having a bankruptcy judge and other creditors make those even more complex."
The Most Inflation Reduction Act of the U.S. for Financially Distressed Borrowers: Oklahoma, Arkansas, Texas and Puerto Rico
Oklahoma, Arkansas, Texas and Puerto Rico are receiving the most money from the inflation reduction act towards financially distressed borrowers according to data obtained by NPR.
Oklahoma, Arkansas and Texas also happen to be the largest states for FSA lending for what USDA labels "socially disadvantaged" producers – which are people of color and white women. Oklahoma leads the way in financing those types of borrowers.
"Both Oklahoma and Puerto Rico have a large share of farm loans. The rates of payments made toward both states has more distressed borrowers relative to other states, says the press secretary for USDA. A number of natural disasters have contributed to delinquencies in Puerto Rico.
"Economically, they are (also) disadvantaged. That's not surprising to me," said Iris Jannett Rodriguez, president of the coffee sector of the Puerto Rican Farm Bureau. The land that is producing crops is small and many farms have a lot of land.
USDA officials say that since Congress did not make race a consideration for payments, it does not track that data. Some states with high percentages of USDA loan borrowers who are socially disadvantaged get the most of IRA payments.
"It was very difficult to swallow the overturn of the American Rescue Plan, even though some results have improved," says Dnia Davy, director of land retention and advocacy at Federation of Southern Cooperatives/Land Assistance Fund. I feel that a lot of farmers have been very positive about the benefits that they have received as a result of the Inflation Reduction Act. So it's actually been a surprisingly positive response."
Smith said farmers who received notice in 2021 that their debt would be forgiven sat in limbo for a year, leading to many of them feeling like the department slow-walked the rollout of the original program, giving time for lawsuits to stall it.
Eddie Lewis said he was delinquent $600,000, and that it was a complex case. While he was poised to lose his job under the first program, the delay to get any payments under the new one is making it difficult for him to get capital he needs.
"I would be the perfect candidate for a case-by-case basis. I'm an excellent farmer. I got good yields and good character. I got good credit," he said. Lewis is in limbo, unable to secure other loans he needs because of the outstanding delinquency.
In June 2022, Rep. Alma Adams, a North Carolina Democratic member of the House Agriculture Committee, sent a letter to USDA asking them to use money appropriated in another section of the COVID-19 relief package, also aimed at tackling inequity, to cover the costs of debt to Black farmers while litigation on the debt relief program continued.
The number of white farmers who benefited from subsidies and COVID benefits will probably be underestimated because we have been so shortchanged. "I think that program can't truly be called a success for civil rights because you have to really intentionally address racial discrimination if you want to call it a success for civil rights."
In defense of the original race-targeted program, the government argued in court that white farmers were far less likely to be delinquent on their loans. The ratio of white borrowers who are delinquent on FSA loans in 2021 was 11%, compared to 38% of Black borrowers, 15% of Asian borrowers, 17% of American Indian and Alaskan Natives, and 68% of Hispanic borrowers.
Source: https://www.npr.org/2023/02/26/1159281409/black-farmers-worry-new-approach-on-race-neutral-lending-leaves-them-in-the-shad
An Inflationary-Inspired Farmer in North Carolina, Rod Simmons, explains how a farmer's loan payments and inventory problems helped the department overcome the pandemic
Rod Simmons, a farmer in North Carolina, at first struggled with the department. He cited familiar problems, like a confusing application process and deadlines, as barriers he faced getting involved with the department's programs.
When the pandemic hit, he lost 22% of his inventory. He was on the verge of liquidating his assets in order to get money to make the loan payments And then the Inflation Reduction Act loan payment came through, it amounted to two years worth of money he owed.
"My granddad had never seen any type of program in his time that made an impact for farmers like this one did," Simmons said. "Now, the programs can be designed in a manner that will cater to those that need it versus those that want it. There's a huge difference.