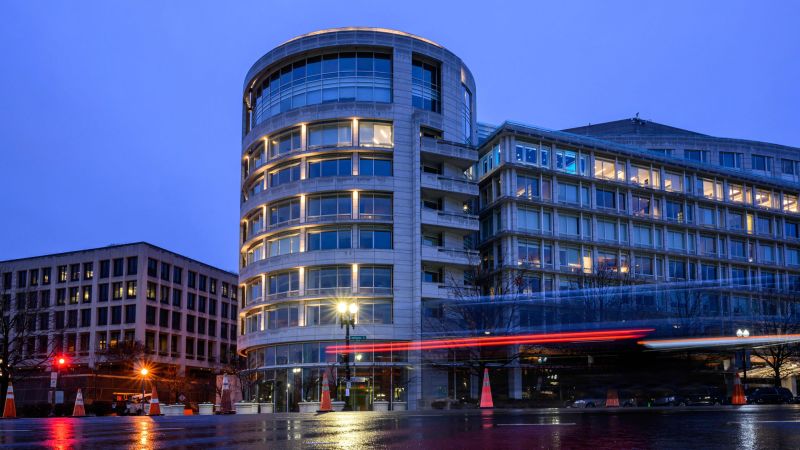 A Trump lawyer says searches have been completed for classified material at his properties
On the investigation of Donald Trump's actions after a subpoena for classified documents at Mar-a-Lago by an employee of the Trump Organisation
According to a source familiar with the witness, an employee of the Trump Organisation was instructed by the former President to move boxes from a basement storage room to his residence at Mar-a-Lago after Donald Trump's lawyers received a subpoena for classified documents at the estate.
The witness account of Trump actions after the subpoena was served in May could be important to the federal criminal investigation that is looking into a range of potential crimes, including obstruction, destruction of government records and mishandled classified information.
FBI agents executed a search warrant at Mar-a-Lago in August and seized thousands of documents, including about 100 marked as classified. The Trump Organization was also subpoenaed by the FBI.
Prosecutors said in August that that some documents were likely removed from a storage room before Trump's lawyers examined the area, while they were trying to comply with the subpoena.
On two separate days, investigators retrieved material from two different locations. The material did not appear to have classified markings, according to the source, but they are now being reviewed by the FBI.
The search team went to Trump Tower in New York, the Bedminster golf club and an office location in Florida, as well as the storage unit where the two documents were found.
The Justice Department was concerned that not all documents had been returned to the federal government. Carried out in recent weeks, the searches were overseen by Trump's legal team, another source familiar with the matter told CNN.
One of Donald Trump's lawyers said Sunday they have completed their searches for classified material at the former president's properties and handed over what they found to the Justice Department.
The FBI searched President Joe Biden's former think tank office in Washington in November after his team notified the National Archives that they found classified documents there, according to a Justice Department official and another source familiar with the matter.
This latest revelation raises additional questions about how transparent the White House and Biden's legal team have been about the government's investigation into the president's handling of classified documents, which is now being overseen by special counsel Robert Hur.
A former Justice Department official said that the visit was likely to make sure that nothing remained in the office and that documents were properly stored.
The FBI was informed of the discovery of classified materials by the Archives on November 4, a source familiar with the matter said.
A source said the Biden team gave the Archives several boxes of unclassified material from the Penn Biden Center office out of an abundance of caution. There were more boxes given to the archives which contained all the documents from the Penn Biden Center.
In all three cases, sensitive government materials were found in places where they shouldn't have ended up. Each situation has a key distinguishing feature, such as how Biden, Trump and Pence reacted to the discovery of documents and how aggressive the Justice Department is currently investigating.
For Trump, more than 325 classified records have been recovered. This includes documents returned voluntarily to NARA, turned over to the Justice Department, and found by the FBI.
At least 60 of the Trump documents were labeled "top secret," including some files with SCI markings. There were also some documents with "SAP" designation, which stands for "special access programs" and is used for documents that are closely held with special protocols for who can access the material.
The Garland Investigation of the Biden and Hur Investigations of the U.S. Senate, Senate Minority Democratic Committees, and the Attorney General's Office
Attorney General Merrick Garland brought on special prosecutors to investigate Biden and Trump. The Trump matter is being investigated by special counsel Jack Smith, who was appointed in November. And the Biden matter is being investigated by special counsel Robert Hur, who was appointed in January.
The Trump investigation has progressed the farthest. Federal prosecutors subpoenaed Trump, demanded the return of classified documents, and tried to hold him in contempt when he did not comply. Investigators also got a judge to approve a search warrant for Mar-a-Lago and CNN has reported that there is an active grand jury based in Washington, DC, that recently heard testimony from witnesses.
There has not been a subpoena or search warrant issued in the Biden inquiry, and the FBI interviewed some of the people who handled documents.
Pence would give the FBI full access to look throughout his home, Short added, just as President Joe Biden's legal team said he had done during a search of Biden's home in Rehoboth Beach, Delaware, last week.
CNN previously reported that representatives of Vice President Mike Pence were talking with the Justice Department about the searches of his home and office. They have said that they want to completely cooperate, though they do not believe there are additional classified documents in either place.
Short believes that the man does not hear concerns about the documents when he travels across the country. "I think he hears encouragement from people as he travels."
He said that there was a benefit to waiting until the end of the process because it would be more beneficial to him.
CNN's Timothy Parlatore: "It's not a Classification Marking" of the Ex-President's Bedroom
In an exclusive interview with CNN, Parlatore said that his client was willing to cooperate with the criminal investigation after searching all relevant places.
He also confirmed that Trump's team handed over to DOJ an empty manilla folder marked "Classified Evening Summary" after receiving a subpoena for that item, which was found in the former president's bedroom.
Trump had used an empty folder as a shade to block the light on his telephone at night, so he wouldn't get up at night.
There's a blue light on a phone next to his bed that keeps him up at night. So he took the manilla folder and put it over so it would keep the light down so he could sleep at night," Parlatore said. It is just this folder. It says 'Classified Evening Summary' on it. It isn't a classification marking. It is not something that is controlled. There is nothing illegal about it."
Source: https://www.cnn.com/2023/02/12/politics/trump-lawyer-timothy-parlatore-classified-material/index.html
A White House Investigation of Pence's and O'Brien's Investigations into a Special Counsel Investigating Joe Biden and Mike Pence
"When you have DOJ go into these things, they are automatically going in with all the criminal processes and trying to threaten people to go to jail over something that is a procedural failure and an institutional procedural failure that has nothing to do with Mike Pence, Donald Trump or, quite frankly, Joe Biden," he said.
The DOJ should bebenched for matters relating to classified material and it should be left up to the Office of the Director of national intelligence to conduct an administrative review of the White House procedure for handling such documents.
Parlatore confirmed Sunday that Trump intends to assert executive privilege in an effort to limit the testimony of Pence and former national security adviser Robert O'Brien after both were subpoenaed in special counsel Jack Smith's other investigation related to January 6.
The University of Delaware is the alma mater of Biden, who was in the Senate from 1971 to 1972 and has papers there.
An archive of materials from Biden's time in the US Senate and documents Biden sent to the university were examined during the searches.
The spokeswoman for the president's personal attorney did not comment and referred inquiries to the Justice Department. A spokesman for the White House also referred inquiries to the Justice Department.