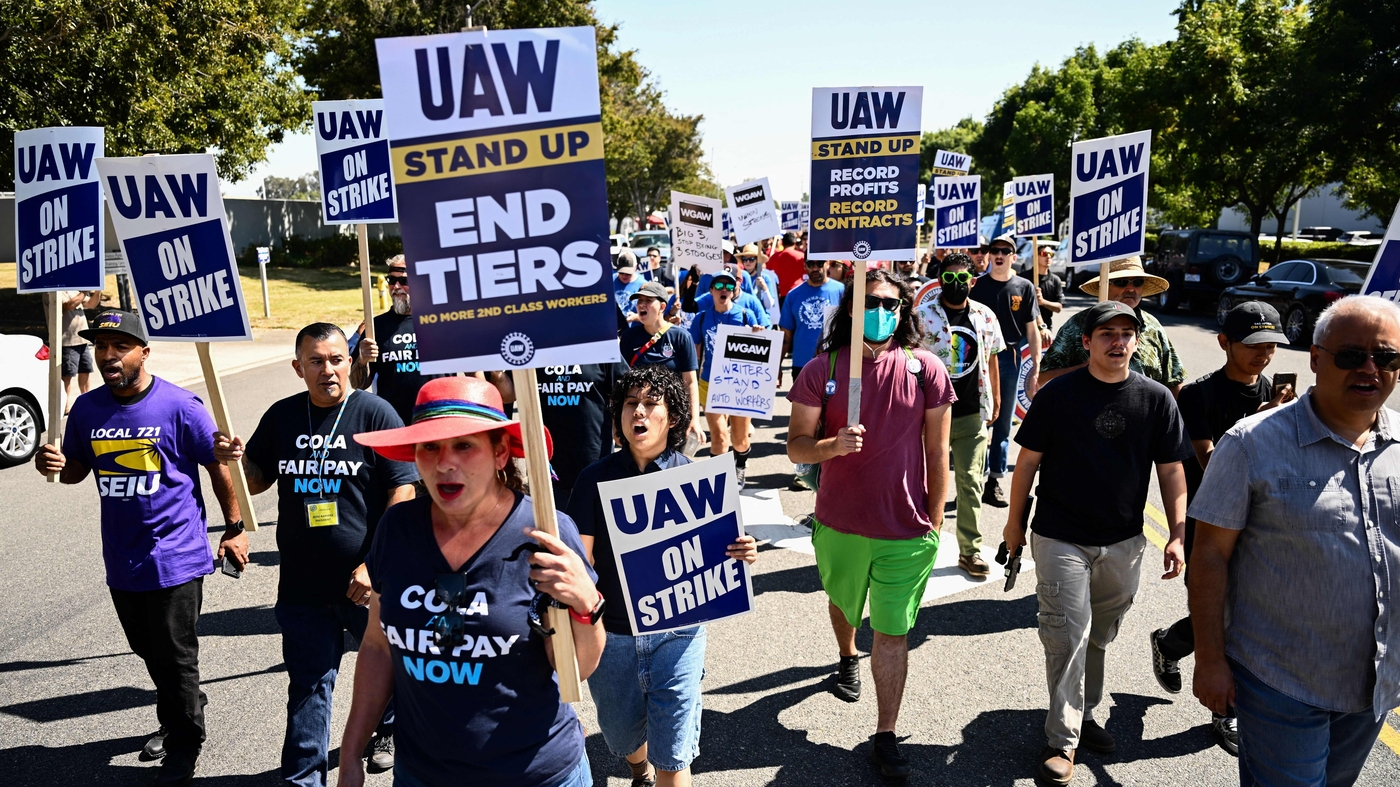 Why the Obama era car czar thinks striking autoworkers are doing themselves a disservice
The United Auto Workers is expanding its historic strike against General Motors and Ford by adding two additional assembly plants, ramping up pressure on the companies to come to a new contract deal.
Workers at Ford's Chicago Assembly Plant and GM's Lansing-Delta Assembly Plant are set to walk off their jobs at noon, barring any surprise negotiating moves from the targeted automakers.
Surprise moves are not out of the question. The announcement of strike targets by UAW president Shawn Fain was delayed by nearly half an hour — because, Fain said, just "moments before the broadcast" Stellantis made a significant offer that persuaded the union to spare the company from the strike expansion.
The Ford Explorer, Lincoln Aviator and police vehicles are made in Chicago, while the Buick Enclave and Chevrolet Traverse are made in Lansing-Delta. A plant that makes stamps will not be shut down.
The automakers' most profitable vehicles, full-size pickup trucks, continue to be unaffected, and the plants that would have the biggest ripple effects on supply chains are also not yet targets for work stoppages.
The UAW's strike comes at a time of heightened union activity across the U.S.. with some workers winning big new contracts, including UPS drivers and airline pilots.
A week later, the union expanded the strike to the parts distribution centers of GM and Stellantis – but not Ford, citing significant concessions Ford had been willing to make at the bargaining table.
The UAW says that it wants to increase the pressure on the automakers gradually, rather than having all of them walk off at the same time.
While Kaiser Permanent health care workers are threatening to walk off their jobs, Hollywood actors are also on strike.
The list of things requested by the UAW goes beyond what reality has to offer. It's unfortunate in many ways, but it is what it is.
The UAW's strike, centered in the pivotal swing state of Michigan, is also a political flash point. President Biden made a visit to the strike line on Tuesday to support the union's demands, including a 40% raise over the next four years.
Meanwhile former president and Republican front-runner Donald Trump spoke at a non-union auto plant on Wednesday, where he criticized the transition to electric vehicles.
He was the lead adviser for the Obama administration when the government bailed out auto companies in 2009 — following the global financial crisis. He is talking about the union strikes against the American auto industry.
The Problem of Compensation, Wage, and Pensions in the Autonomous South, the GM, Chrysler, and Toyota Can't Compete
It's normal in negotiations for the party to try and get something that they don't think they'll get, or that they could possibly get. It's normal to start with relatively low proposals and work your way up. That's all totally normal.
They asked for a 32-hour week. To work four days and be paid for five, has one personal day week off. They had 40% wage increases. I think they're down to maybe around 30 or 35 at the moment, and that's a fair place to be bargaining.
They asked for changes to be made and the retiree health care programs to be more in line with usual practice, but they wanted those to become overly generous again.
Because you have to put the whole thing in context. GM, Ford and Chrysler are doing well at the moment. They have money and profits, but they have to compete against other companies. And in the South, you have companies like Toyota and Honda that don't have unions at all.
If the Detroit companies have too much wage and fringe benefit costs they can't compete. They lose car sales. The jobs move to other places when workers lose their jobs.
But you can narrow that gap two ways. Either you can bring the workers up or you can bring the CEOs down. I'm proposing a combination of both. A question of aggregate dollars isn't a question at all.
You can't take away the pay of the C-suite executives, you have to create a pool of money that will make a difference to workers, since they have more workers than CEOs and CFOs.