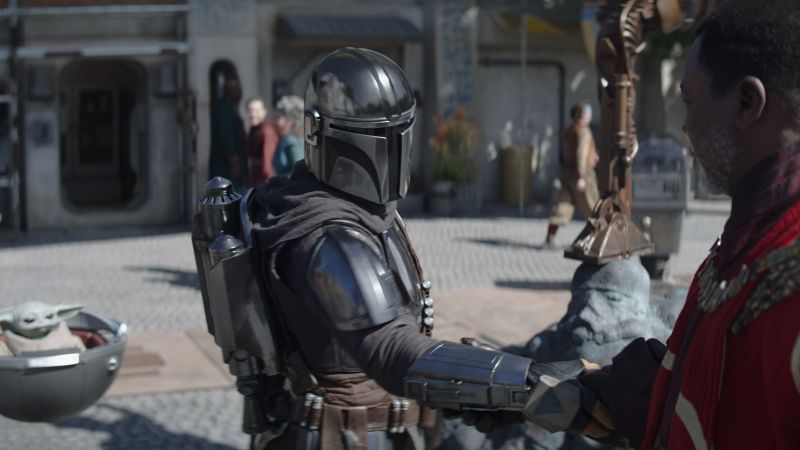 The premiere of the season, 'The Apostate' eases into the latest adventure
The Apostate: Getting Closer to the Mandalorian and the Birth of a New Mandalor (with an Introduction by Emily Swallow)
It doesn't feel entirely fair to assume that "The Apostate" alone speaks to how The Mandalorian's entire third season's going to turn out. But in things like the episode's overlong repetition-based jokes and action pieces that feel like pitches for future theme park attractions, you do get the sense that The Mandalorian's going for quick, easy thrills and not necessarily telling the most engrossing tale at this point.
In one of the stranger aspects of Mandalorian tradition, taking his helmet off and leaving his home world has resulted in him being branded an apostate.
First there is a muscular action sequence involving a giant creature that he has to perform, followed by a visit to his friends Bo-Katan and Greef Karga, both of whom he does not know. (Karga did explain the absence of Cara Dune after Disney opted to part ways with the actor who played her, Gina Carano, due to offensive social-media posts.)
There were a few small bits of humor in the episode, including one about Grogu, a.k.a. Baby Yoda, who amused himself in a variety of ways, from mistaking a small alien for a pet to exploring the wonders of a swivel chair.
Disney+ didn't make the episode available to critics in advance, which fed expectations the first episode might contain some kind of revelation or surprise, perhaps like the major cameo that capped off the second season.
"The Apostate," however, was really the opposite of that, more a case of easing into the season than blasting into it, while setting the stage for a dive into Mandalorian politics – relying upon the impression, seemingly, that a year after "Book of Boba Fett" the show's fans, like Grogu, are ready to simply sit back and enjoy the ride.
After two seasons of teasing out new facets of Mandalorian culture in bits and pieces, the way "The Apostate" opens on the Armorer (Emily Swallow) overseeing a young Mandalorian's induction ceremony feels like a signifier of how the show's entered into a new chapter of its existence, defined by providing more information instead of leading with intrigue. Similar to how it was sort of wild to see an infant of Yoda's species, it's interesting to see how young Mandalorians are brought into the fold and given their first child-size beskar helmets (which they presumably have to reforge as their heads get bigger with age).