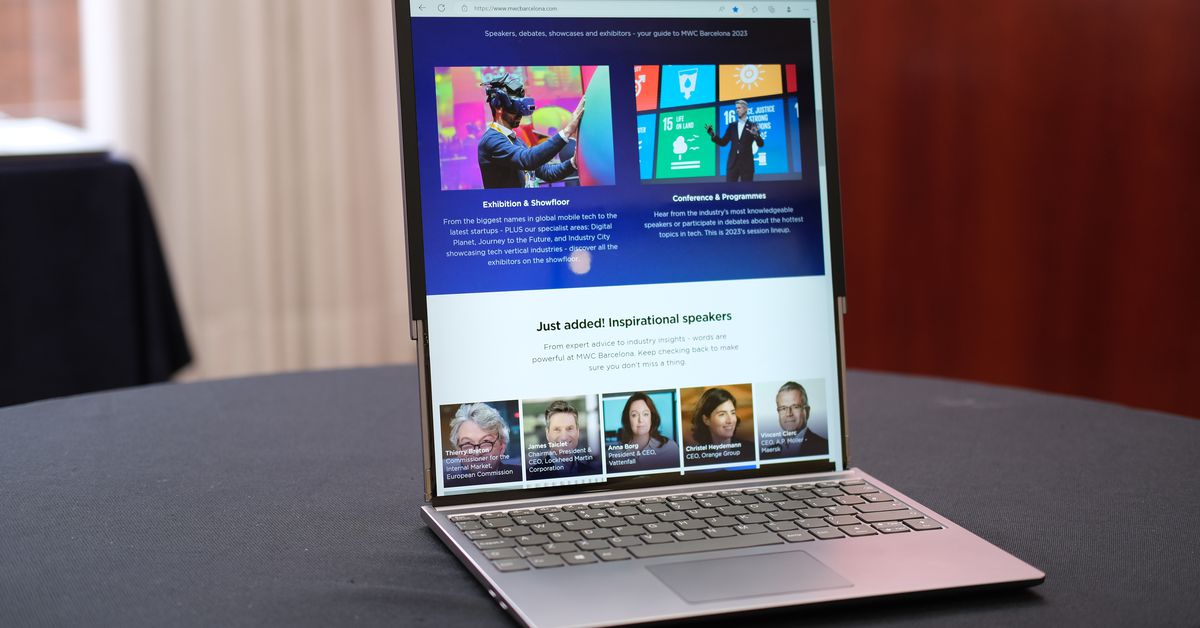 A rollable concept phone is being teased
Lenovo rolls a laptop and launches a dual-screen tablet as a low-key consumer device – A case study at the Consumer Electronics Show
There are things that are not obvious in the device. Because the rollable screen is rolling around the bottom of the phone rather than disappearing inside its chassis, you're left with a small secondary display on its back when it's rolled up. Software features for this include using it as a viewfinder when you're taking selfies with the phone's rear cameras. The rear display of the phone plays cute eye-catching animations to get a child to look at the phone when they want to take a photo. It can be a challenge to find genuinely useful things for small screens like this because of the cover displays on foldable flip phones from the likes ofsamsung andoprah.
When fully unrolled, Lenovo's rollable laptop has a weirdly tall display with an 8:9 aspect ratio, which the company points out is like having two 16:9 displays on top of one another. It's not dissimilar to the dual-screen Yoga Book 9i We tried out a new product at the Consumer Electronics Show in March and it is due to be released in June. It's a form-factor that could be useful to anyone who struggles to work on a single small laptop display and has considered buying an external display (or, indeed, iPad) to work as a portable second monitor.
Lenovo's other rollable device it's demoing at MWC is a Motorola smartphone. We have seen many rollable concept devices show up over the years, but we are yet to see the technology break through in a consumer device.
We need to point out just how low-key the device looks before we get into its signature feature. Lenovo had the device sitting alongside its other laptops in a conference suite, and not a single one of the dozen-or-so journalists in attendance clocked that it was anything other than a standard ThinkPad. It has a regular looking 12.7-inch display with a 4:3 aspect ratio.
That all changes with a flip of a small switch on the right of the chassis, at which point you can hear some motors whirring and the screen extends upwards. That switch causes a couple of motors in the laptop to spring into action, pulling the screen out from underneath the laptop's keyboard to hoist it up more or less vertically in front of you. It takes over ten seconds to fully extend the concept device, but eventually you get a 15.3 inch display with an 8:9 aspect ratio.
If a tall display like that is helpful for office workers and creative professionals alike, it would be a boon to have the ability to write code on the top half of the display, as well as keeping notes and sources visible in the top. Windows has no problem stacking windows above and below one another, and a lot of people prefer to use vertical monitors with their PCs.
I also had questions about weight and battery life. Lenovo wouldn't tell me how much the laptop weighs, and I wasn't allowed to pick it up myself (trust me, I asked). Ideally you'd want this thing to be both lighter than carrying around a laptop plus a portable monitor, as well as being more compact, but we'll have to wait and see on the former point. And apparently the rollable laptop's unrolling mechanism draws a couple of watts of power while in motion, which doesn't sound ideal at a time when many laptops' batteries can still struggle to make it through a day's use.
When all neatly rolled up, Lenovo's Motorola rollable offers a 5-inch display with a 15:9 aspect ratio. Then, with a small double tap of a side button, the screen unfurls to give you a remarkably tall 6.5-inch display with a 22:9 aspect ratio.
The display can hide the camera and earpiece that are part of the selfies, and roll to reveal them when you call or take a selfies.