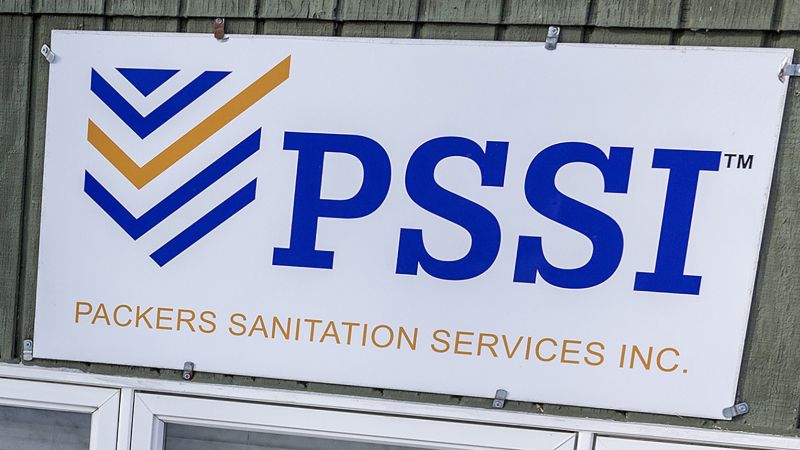 Child labor violations have gone up as some states look to loosen their rules
Investigations into the Case of a Child Laborer at a Food Processing Plant: The US Dept. of Labor reveals more violations of the Child Labor Law
The Kieler, Wisconsin, based company employed the children to clean meat processing equipment including back saws, brisket saws and head splitters. investigators said at least three children were injured
The US Department of Labor found that Packers Sanitation Services paid a total of more than one million dollars for having minor workers work at their meat processing plants in eight states.
The company was fined the maximum amount allowed by federal law for every employee who was in violation of the law.
"We have been crystal clear from the start: Our company has a zero-tolerance policy against employing anyone under the age of 18 and fully shares the DOL's objective of ensuring full compliance at all locations," a spokesperson for Packers Sanitation said in a statement Friday.
As soon as we discovered the DOL claims, we conducted multiple more audits of our employee base and hired a third-party law firm to review and strengthen our policies. We have done additional training for hiring managers, including on spotting identity theft.
"These alarming violations are occurring, with kids being employed where they shouldn't even be in the first place, so there's nothing excuse for that," he says.
Some states have introduced legislation to make it easier for kids to work in the most dangerous jobs.
"We're doing more outreach and education," which helps people recognize violations, says Jessica Looman, principal deputy administrator of the Wage and Hour Division. "We also are doing more investigations."
It's not clear why more minor cases have been found, but it is happening. Investigators are also finding more minors working in hazardous occupations, where children could get seriously injured.
Child labor negatively affects the education and health of children who engage in it, experts say. The child labor laws make employers responsible for a safe workplace.
Part of the division's focus is on prevention — educating teens about their rights and employers about their responsibilities and strategies to ensure compliance. There are a range of mechanisms that the division can use to respond to different levels of severity.
Looman says most violations occur in places where it's appropriate for minors to work, meaning teenagers are working too many hours at a grocery store or operating a fryer and staying too late at a fast-food chain. More than 100 kids were scheduled to work too many hours or late at night at a Mcdonald's in Pennsylvania in just five years. The Subway, Burger King, and Popeyes restaurants in South Carolina have been fined for similar violations.
The U.S. generally has good child labor laws, except for agriculture, says Reid Maki, director of child labor advocacy for the National Consumers League and coordinator of the Child Labor Coalition, which works to end abusive child labor. Minors as young as 12 can work long hours, and agriculture's hazardous-occupation orders don't seem to be that strict.
The Immigrant Child Workers' Rights and Freedoms in a Growing Workforce: What Happens When Kids Get The Chance to Work?
We walk a lot. It's hard. Sometimes your hands hurt," a 13-year-old boy who picked tomatoes told the researchers. "And your back, sometimes it will be hurting."
But immigrant children are vulnerable to other kinds of labor, too, from construction to meatpacking. The children of migrant workers who worked in meatpacking plants were inadvertently revealed by immigration raids in the early 2000s, and advocates have been concerned ever since.
In a tight labor market — like the current one — employers sometimes prefer to fill jobs with minors, who tend to be cheaper and more docile workers, Maki says.
"At a time when they were saying there are labor shortages, they were finding kids that would do the work," Maki says of the recent Packers Sanitation case. They felt that if they could get children, they would take them.
"Having kids get the opportunity to work is important," Jessica Dunker, president and CEO of the Iowa Restaurant Association, said in testimony to Iowa lawmakers. She also said minors who want to work deserve the same level of choice as those who want to participate in other after-school activities.
But he says that allowing children to work longer hours increases the risk they'll get into car accidents — driving in the dark, exhausted — and that the jobs these bills allow minors to take are dangerous.
There isn't a safe part of a loading dock. The provision in the Iowa bill that would reduce civil liability if child laborers get injured or die on the job could be seen as a way for businesses to be sure that they're not going to get hurt.