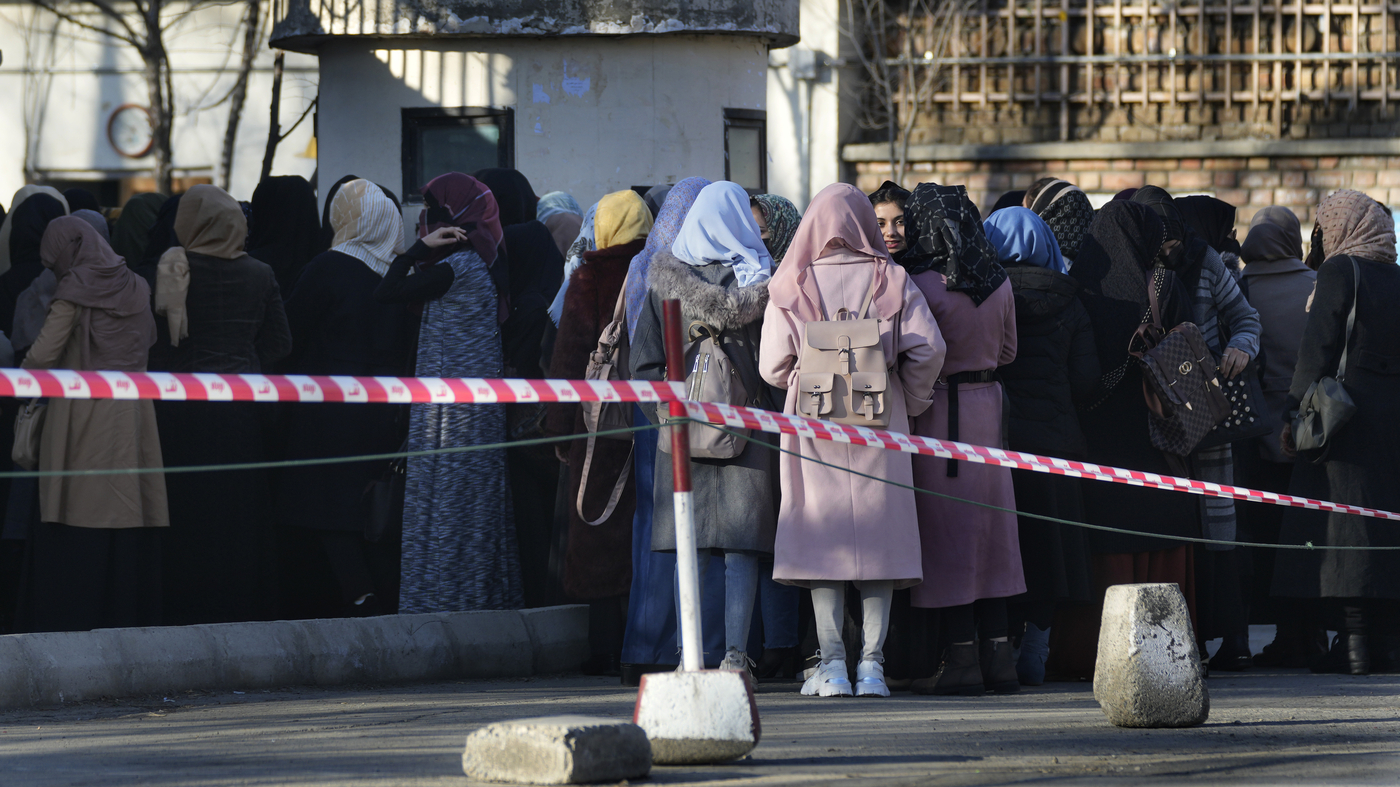 Taliban starts to enforce education ban, leaving Afghan women with anger and tears
Nilaab and the Taliban in Kabul, Afghanistan: The first year of freedom in a country where the Taliban were willing to retake power
KABUL, Afghanistan — She was a girl of just 5 when the Taliban took over Afghanistan the first time, and her parents did not hesitate: With the militants bent on imposing a puritanical form of Islam, the family packed their bags and fled.
The new government was quick with assurances that this time would be different, that the Taliban of the 2020s was not the Taliban of the 1990s, and that there would be no brutal campaign of repression against the women of Afghanistan.
Maybe they were telling the truth, Nilaab thought. She hoped so. She had returned to her homeland as a teenager after a decade in exile, and she was not eager to repeat the experience.
After a tragic event, the visuals editor for the story went to Rome to see a demonstration by Afghans.
The Afghanistan friend who sent me the poster called for a protest against attacks on the Hazaras, who are mostly Shia Muslims.
The protest was emotional and intense. A white smoke flare was set off, young women hit the ground and played dead. They were re-enactment the suicide bombing. A mother clutched her child and sobbed into his hair. I saw tears everywhere I looked. It was so sad.
I noticed two men holding a large poster with pictures of the young women who were killed in the suicide bombing, and I recognized two of the faces right away: Marzia and her best friend and cousin, Hajar.
Just a few days before, I was reviewing photos of the girls sent to us by Marzia's family. I pulled the story up on my phone and showed it to the men holding up the poster. The man in the blue sweater looked at me, paused and said, "I was their teacher."
He told me he escaped from the Taliban. Taliban members showed up at the private school for girls where he taught. It was Oct. 19, 2021 – shortly after they re-took power in Afghanistan.
Hussaini left school after the Taliban banned women from working – an Afghan hero's last lecture with a teacher whose mother was an economics teacher
They asked the principal to show them surveillance footage from inside the classrooms; there were cameras everywhere throughout the school for security reasons. The principal agreed to it.
The Taliban saw one of Hussaini's lectures. He was a math teacher but had degrees in economics and business management. In the footage, he talked about how bad the economy was since the Taliban banned women from going to school and being able to work.
He stopped teaching and left through a back door. He left Afghanistan the next day. He was forced to take refuge in Afghanistan because he did not want to stay in the capital.
He last saw Marzia and Hajar on a day he abruptly left school. The two young women had come in to pick up books to study at home because the Taliban didn't allow them to attend school anymore — that's how much they wanted to keep learning.
He remembered the girls said something to him at Teachers Day. The date was Oct. 5, 2020. Marzia and Hajar told him: "We will make your face white."
It was a saying I'd not heard before. It's a phrase that's used in Afghanistan. It means they were going to make him proud with all of their future accomplishments.
A journalist's perspective on Taliban suppression of women and girls in the country, and the fate of girls in higher education – a case study
M.H., who requested anonymity fearing Taliban reprisal for speaking to the press and criticizing their policy, was inches from reaching her goal this past December. But days after she completed requirements for a civil engineering degree, the Taliban banned women from universities. Her gender was the cause of the problem.
The Taliban took over the country in August 2021 and has since cracked down on the liberties of Afghan women.
The Taliban were ousted in 2001 by a U.S.-led coalition for harboring al-Qaida leader Osama bin Laden and returned to power after America's chaotic departure last year.
The decision was announced after a government meeting. The Ministry of Higher Education's spokesman shared with private universities a letter that told them to implement the ban as soon as possible and to inform the ministry once the ban is in place.
Western diplomats said lifting the Taliban's ban on women and girls seeking education is a must for discussions to begin.
"I can't fulfill my dreams, my hopes. "I can't find anything to do about it, it's gone before my eyes and I don't have anything to do about it", said the third-year journalism and communication student. She did not want to be identified for fear of reprisals.
Is being a girl a crime? If that's true, I wish I wasn't a girl. My father was a journalist and dreamed his daughter would become one. That is no longer standing. How will a person feel in this scenario?
"God willing, I will continue my studies in any way. I'm starting online studies. And, if it doesn't work, I will have to leave the country and go to another country," she said.
It's hard to imagine how a country can grow and deal with all the challenges without the active participation of women and the education.
The U.N. Ambassador to the United Nations and the Taliban: Implications for human rights and gender equality in the country's higher education
Robert Wood, the deputy U.S. ambassador to the United Nations, said the Taliban cannot expect to be a legitimate member of the international community until they respect the rights of all Afghans.
Afghanistan's U.N. seat is still held by the previous government led by former President Ashraf Ghani, despite the Taliban's request to represent the country at the United Nations, which was recently deferred again.
Afghanistan's charge d'affairs said the announcement was a new low in violations of most fundamental and universal human rights.
The spokesman for the ministry of higher education confirmed the announcement to NPR and then announced it on his own with the words " important news."
"What news could be worse than this?" said Zahra in a voice message to NPR, left in response to a question about how she felt. She wanted her family name not to be used because of Taliban officials. "I've been shaking with anger. I can't even cry."
In March they broke a promise they had made to the international community that most girls would be allowed to go back to school. Many female students returned to class as their teachers were forced to kick them out due to the sudden decision. Many students broke down in tears.
Taliban officials have given many excuses for the continued ban, including wanting to review the girls' curriculum and discussions over their uniforms.
But because of a quirk in the decision-making process, women were still allowed to attend university, albeit with strict conditions: They had to cover their hair and faces at all times, wear long, loose black robes and abide by strict gender segregation. It is not clear how many women were still attending university.
The Taliban's "Theoretical Consequences of a Gender Apartheid": A Viewpoint on Women and Girls in the Islamic World
He believes that certain Taliban officials spread the rumor, hoping it would trigger international pressure that would "be enough reason for the leadership to reconsider such a ban."
The lecturer at the American University of Afghanistan says he believes that the man in charge thinks of an Islamic society that looks like it. He told NPR that Akhundzada had a viewpoint of where women or young girls should be in the society. This is a gender apartheid for all intents and purposes. It is nothing short of that.
The international community refused to recognize the Islamic group's takeover of Afghanistan, after the Taliban's move.
"Anything that tries to educate Afghan girls and women is appreciated," says Sahar Futrat, an assistant researcher at Human Rights Watch. She cautions, however, that online education can reinforce the Taliban's attempt to remove women from public spaces. "We must push and regain the presence of women and girls in all spheres of life that have been taken by the Taliban."
On the struggle of women in higher education: The example of a Taliban leader who begins to enforce education ban leaving Afghan women with tears and anange
Now, she said, "everything is over for me. To get educated, be a good person, and serve people were all what I wanted to do. I can't do that anymore. Life doesn't mean anything to me.
In one instance, a teacher reported that security forces in his class screamed at girls to go home. Some students started arguments with them, but they wouldn't listen. Waheed Hamidi, English-language teacher at a tuition center in Kabul said his students left their classes crying.
The move was expected – and dreaded – by observers as the Taliban's supreme leader Mullah Haibutullah Akhundzada imposes his vision of an Afghanistan which is ultra-conservative, even by the hardline group's standards.
The former minister of higher education allowed women to attend universities even though they had to adhere to strict segregation and wear face coverings. Haqqani was replaced with Nida Mohammad Nadim, a well-known hardliner, who voiced his opposition to women getting an education. He is very close to Akhundzadan.
Another woman who runs three free-of-charge tuition centers for high school-aged girls said she was waiting for Taliban education officials to rule on whether she could keep operating.
Source: https://www.npr.org/sections/goatsandsoda/2022/12/21/1144703393/taliban-begins-to-enforce-education-ban-leaving-afghan-women-with-tears-and-ange
"I don't sleep," said Mohammadi, a former Afghan diplomat in the wake of the Taliban's return to power
" I don't sleep," said Mohammadi in broken English. She said that she would stay for them, and defend their interests. She went into tears.
The Taliban government in Afghanistan ordered foreign and domestic non-profit groups to stop employing women due to the fact that some of them didn't wear the Islamic headscarf correctly. Women weren't allowed to go to religious classes at the mosques in the capital of Kabul.
The Taliban's return to power was the brainchild of Zalmay Khalilzad, a US envoy who described the move as shocking and incomprehensible to a Pakistani newspaper. Afghans were angry at it on social media. It appeared to rouse the ire of senior diplomats.
NATO's last senior civilian representative to Afghanistan, Stefano Pontecorvo retweeted another former Afghan diplomat, Jawed Ludin, saying, "I'm shocked by how so many people are shocked. What did you think would happen? Really?"
The Taliban: The Misleading Unfair Treatment of the Afghan Girl's Rights and Their Implications for Education and Careers in the 21st Century
"It was a terrible scene," she said. How would you feel if you lose all your rights and don't have any recourse?
Though the insurgent group has repeatedly claimed that it would protect the rights of girls and women, it has in fact done the opposite, stripping away the hard-won freedoms they have fought tirelessly for over the last two decades.
She always believed that we could overcome our fear by getting educated. "However, this (time) is different. It is just unacceptable and unbelievable."
In a statement on Twitter, former Afghan President Ashraf Ghani – who fled Kabul when the Taliban seized power – called the group illegitimate rulers holding "the entire population hostage."
The current problem of women's educational and employment in the country is the most sad and cruel example of gender apartheid in the 21st century. "I have said it again and again that if one girl becomes literate, she changes five future generations, and if one girl remains illiterate, she causes the destruction of five future generations."
Hamid Karzai, a former president of Afghanistan, expressed regret over the suspension. Every child, girl, and boy of this land has to be educated and trained in order for this country to grow and prosper.
The British Prime Minister, the US State Department, and the US Ambassador to Afghanistan all made similar statements.
Source: https://www.cnn.com/2022/12/22/asia/taliban-bans-female-students-afghanistan-reaction-intl-hnk/index.html
A Kabul girl's fate depends on the friends of her best friends, my friends, who died before my eyes," said the UN mission in Afghanistan
"Preventing half of the population from contributing meaningfully to society and the economy will have a devastating impact on the whole country," said the UN mission in Afghanistan in a statement.
At least 25 people are thought to be young women, most of whom are believed to be from Afghanistan, when she narrowly survived a suicide attack at the Kaaj education center in September. Dozens of women protested in the streets of Kabul after the attack sparked public outrage and horror.
She missed the explosion by a few seconds, she's being identified by one name. She was met with the bodies of her friends when she ran into her classroom.
Each brush with death cemented her determination not only to pursue her own ambitions – but the "dreams of all those best friends of mine who died before my eyes," she said.
Though she was accepted into a bachelors program weeks after the September bombing, she decided to defer her university plans for a year, instead returning to rebuild the destroyed education center from scratch. She said she wanted to encourage other girls to continue their education.
I am lost. I don't know what to do and what to say," she told CNN. "Since last night, I have been imagining every friend of mine who lost their lives in the Kaaj attack. What was their sacrifice for?"
The Taliban Have Banned Women from Working For Non-Governing Organizations in Afghanistan: A Brief Letter from Economy Minister Qari Din Mohammed Hanif
Since the Taliban took power, Afghan women have protested against the ban in major cities. The international outrage has been caused by the decision.
The NGO order came in a letter from Economy Minister Qari Din Mohammed Hanif, which said that any organization found not complying with the order will have their operating license revoked in Afghanistan. The spokesman of the ministry confirmed the letter's contents to The Associated Press.
The ministry said it had received complaints that female staff for NGOs did not wear the correct hijab. The order might not apply to all women or only Afghan women at the NGOs.
More details were not immediately available amid concerns the latest Taliban move could be a stepping-stone to a blanket ban on Afghan women leaving the home.
"It's a heartbreaking announcement," said Maliha Niazai, a master trainer at an NGO teaching young people about issues such as gender-based violence. "Is we not human beings?" Why are they treating us with this cruelty?"
The 25-year-old, who works at Y-Peer Afghanistan and lives in Kabul, said her job was important because she was serving her country and is the only person supporting her family. "Will the officials support us after this announcement? Why are they taking food from our mouths?
She wouldn't give her name because of her safety, but said that the job gives her a representation of all the efforts she's made.
Source: https://www.npr.org/2022/12/25/1145465257/the-taliban-have-banned-women-from-working-for-ngos-in-afghanistan
The Education is Our Right: The U.N. Indictment of a Crime against Women in the Afghan High School System and the Realization of Women's Rights
The U.N. statement said taking away the free will of women to chose their own fate, as well as removing them from all aspects of political life, endangers efforts for peace in the country.
He gave no further details, and did not elaborate on the ages affected with the ban or how it would be enforced. It was also not explained why the measure only applies to Kabul mosques.
The Taliban security forces used water cannons to break up a group of women protesting in the western city of Herat.
According to the witnesses, about two dozen women were heading to the Herat provincial governor's house on Saturday to protest the ban — many chanting: "Education is our right" — when they were pushed back by security forces firing the water cannon.
Video shared with the AP shows the women screaming and hiding in a side street to escape the water cannon. The protesters continued their protest, with chants of "disgraceful!"
One of the protest organizers, Maryam, said between 100 and 150 women took part in the protest, moving in small groups from different parts of the city toward a central meeting point. She gave her last name for security reasons.
The street, the square, armored vehicles and armed men were protected by security. The Taliban beat us when we started our protest in Tariqi Park. We continued our protest. They made their security presence more visible. They put the water cannon out around 11 a.m.
An official in the Taliban government, Minister of Higher Education Nida Mohammad Nadim, spoke about the ban for the first time on Thursday in an interview with the Afghan state television.
They have banned girls from middle school and high school — and now universities — and also barred women from most fields of employment. Women have been banned from parks and gyms for being in public in head-to-toe clothing.
Afghan society, while largely traditional, had increasingly embraced the education of girls and women over the past two decades of a U.S.-backed government.
She's a young student in Afghanistan who graduated high school 3 years early at age 15. For years, she's dreamed of becoming an engineer, both to rebuild her country and to prove that women could work in what's often seen there as a male field.
Though the regime allowed women to continue university education at first, "I did not trust them," M.H. said. After the takeover, women were only allowed into universities every other day to ensure total gender segregation, so she searched for online coursework to fill the rest of her time. She secured a scholarship for University of the People in 2021. The University of the People is accredited by the U.S. Distance Education Accrediting Commission, making its degrees equivalent to a U.S. college degree that is accepted by employers and other institutions of higher learning. Unless electricity or internet are not available, M.H. studies online seven days a week.
Other organizations are experiencing similar demand. "I get more than 10 messages on social media every day asking about courses for girls. "I have been getting another dozen requests for starting university level online courses since the university ban," said Pashtana Durrani of the nonprofit Learn Afghanistan, which is based in the south of the country.
Vocational training is available for software development skills, but not university degrees. More than 400 students are currently attending it. Online courses are almost always conducted. The rooms with computers hooked up to generators are discreet to avoid detection by the Taliban.
Afghanistan lacks reliable internet, electricity and infrastructure, and Durrani says this arrangement is designed to circumvent those problems.
Her organization launched in 2018, and she says power was intermittent in southern Afghan provinces even before the 2021 Taliban takeover. "It is so hard to convince the donors why we're spending so much on [portable] batteries because in the West such luxuries are often taken for granted," Durrani said.
There are bureaucratic obstacles in the way. In Afghanistan, the government hasn't ever recognized online degrees. It's not clear whether the courses will benefit Afghan female students if, or when, they are allowed back into universities and industries, unless a future government in Afghanistan moves to accommodate the many online course graduates in the country, she adds.
Durrani believes that women's education and careers are not restricted to the fields that they can study online. Some women, she says, "might want to be engineers or doctors which cannot be studied online."
M.H. is focused on majoring in computer science after missing out on an engineering degree. While it is difficult for women to leave to study abroad, it has been possible for some to secure visas in neighboring countries. Women can in fact leave, with difficulty. They're expected to have a male guardian accompany them but often are able to leave without one.
M.H. hopes that her cumulative grade point average of 3.84 will get her into a master's degree program. "It doesn't matter to me which country," she says. "I just want to go to a better country where at least I have electricity and internet so I can study something and be someone who can contribute to my society."