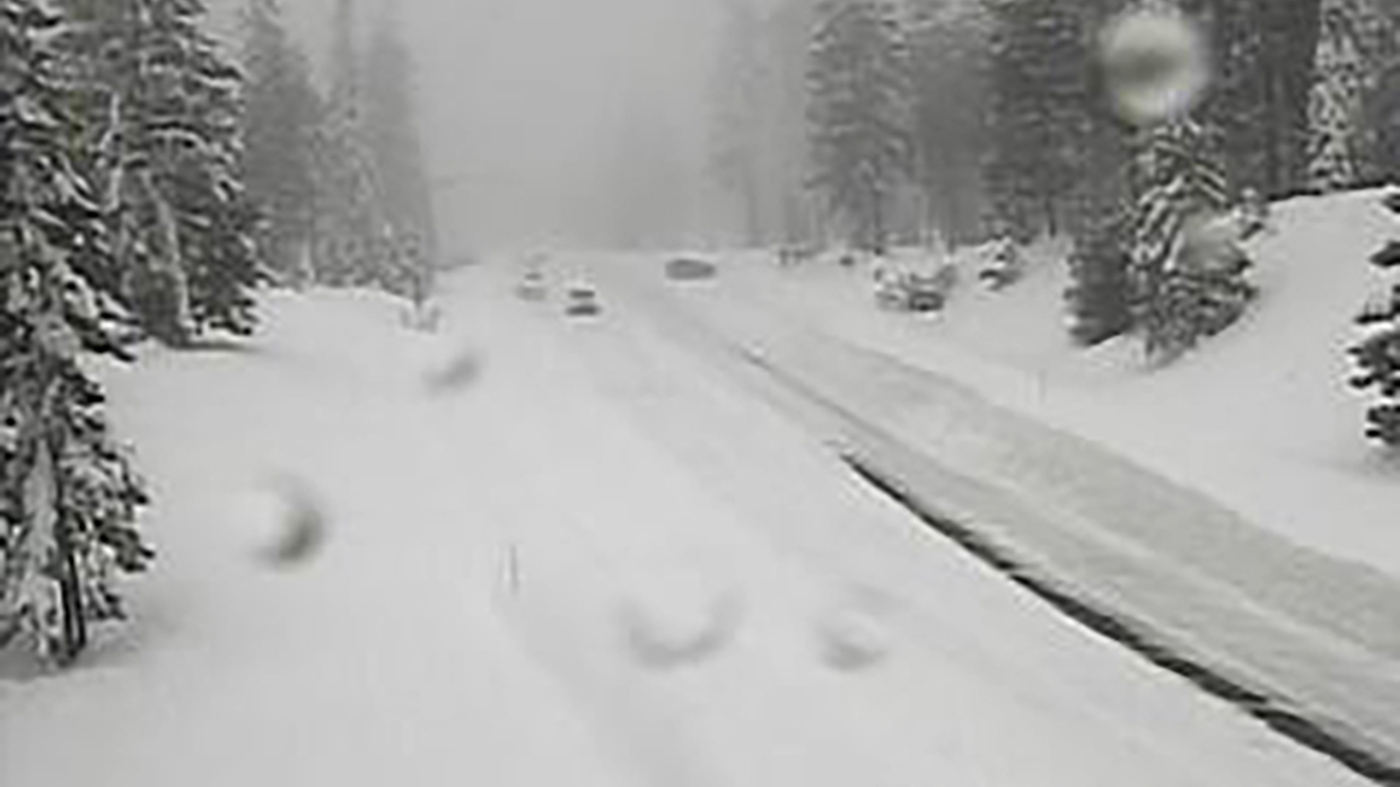 Heavy snow was brought to Northern California by the winter storm
Avalanche and Flood Warnings in the Sierra, Sacramento, and Northern Nevada, and the Los Angeles, Tahoe, Sierra, and Carson City Valleys
On the Sierra's eastern slope, a winter weather advisory runs from 10 p.m. Saturday to 10 a.m. for Reno, Sparks and Carson City, with snow accumulations of 1 to 3 inches (2.5-7.5 cm) on valley floors and up to 8 inches (20 cm) above 5,000 feet (1,524 meters).
In the Sierra, about 10 inches (25 centimeters) of snow already had fallen Saturday afternoon at Mammoth Mountain ski resort south of Yosemite where more than 10 feet (3 meters) of snow has been recorded since early November.
The stretch of interstate that was closed was from northern California to the Nevada state line. Chains were required on much of the rest of I-80 in the mountains from Reno toward Sacramento.
The U.S. Forest Service issued an avalanche warning for the backcountry in the mountains west of Lake Tahoe where it said "several feet of new snow and strong winds will result in dangerous avalanche conditions."
Gusts of wind up to 50 mph (80 kph) that sent trees into homes in Sonoma County on Saturday could reach 100 mph (160 kph) over Sierra ridgetops by early Sunday, the National Weather Service said.
In the Los Angeles area, light rain was forecast for the weekend with stormy conditions expected to return Monday with the potential for up to 8 inches (20 centimeters) of rain in the foothills. High surf was expected through Tuesday, with large waves on west-facing beaches, the National Weather Service said.
The weather service issued a flash flood warning on Saturday when several inches of rain fell on burn scars from the fires south of Monterey.
Power Outages and Falling Trees in Sacramento, Calif., during the First Big Pacific Rim Storm on Dec. 26, 2012: Los Angeles County, California
More than 30,000 customers were without power in the Sacramento area at one point Saturday morning, but it was restored to all but a few hundred late in the day. five cars, which were trapped between downed power lines, escaped unharmed, the Sacramento Bee reported.
Power outages and falling trees damaged cars and homes in the Bay Area. In Monte Rio, a small town along the Russian River in Sonoma County, firefighters responded to several reports of downed trees crashing into homes in 50 mph wind gusts.
The Chief of Monte Rio Fire Department told KRON-TV that there were no injuries and that four different down trees had damaged houses in the area.
"This is our first big storm, we've had several years of drought and all these trees were dry. Now they're filling up with water and starting to topple over," Baxman told the television station.
The National Weather Service predicted a huge amount of rain and snow over the next week. Atmospheric river storms are long plumes of moisture stretching out into the Pacific and are capable of dropping staggering amounts of rain and snow.
The weather has been wet in California from the Pacific storms. A series of recent weather systems have knocked out power to thousands, flooded streets, battered the coastline and caused at least six deaths.
San Francisco received more than a quarter of a century of rain since December 26, while Mammoth Mountain in the Eastern Sierra received over a foot of snow.
Mammoth Mountain is already snowing. Snow and skis are forecasted by Monday's storm, according to state climatologist Brianna Tardy
State climatologist Michael Anderson told a news briefing late Saturday that officials were closely monitoring Monday's incoming storm and another behind it and were keeping an eye on three other systems farther out in the Pacific.
"This isn't a matter of if it'll rain or snow, but how much," Tardy said, noting that the region is expected to see significant snowfall until Friday night, as well as a possible atmospheric river.
By the weekend, Mount Baldy could get up to 4.5 feet of snow. Mount Baldy Ski Lifts General Manager Robby Ellingson is concerned.
The snow plows will be ready to clean the roads, bike trails, and sidewalks of snow. And their first priority is ensuring emergency vehicles can get where they need to go.
The emerging storm, she said, is "not anything unusual" – and the city anticipates it won't be the same kind of "non-stop, all hands-on deck situation" they experienced earlier this year.
Mammoth Mountain, home to a thriving winter tourism scene, is already six inches over its annual average of 400 inches of snow, said spokesperson Lauren Burke.
The first couple of weeks of January brought 17 feet of snow and caused a number of road and ski lift closings.
The National Weather Service predicts that the summit will get between 15 and 21 inches of snow Friday, but this February's storm should be manageable for the region. Burke said that the storm would bring the "perfect amount of snow for ski and ride."