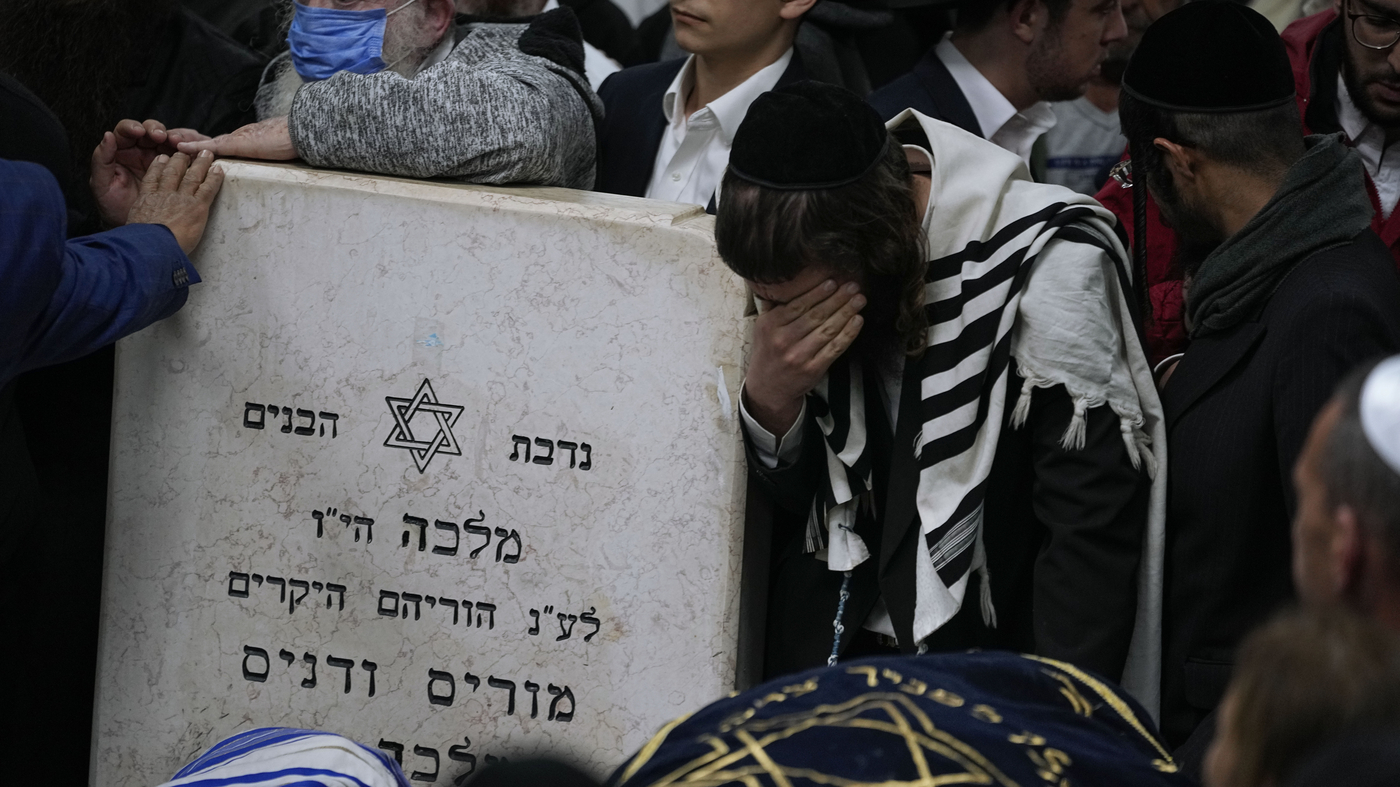 Four Palestinians were killed in the West Bank, while an Israeli soldier was killed in Jerusalem
Israeli army soldier killed by a shooting at the Shu'afat checkpoint and its connection to the Shuafat Refugee Camp in East Jerusalem
An army soldier died as a result of his injuries from a shooting attack at the Shu'afat checkpoint, the army said in a statement. The woman was declared dead after she was taken to a hospital for further treatment. Our deepest sympathies go out to the family.
According to a Border Police spokesperson "a suspect arrived at the Shuafat crossing and fired at the security forces, in addition, a shot was fired from a passing vehicle. Border Guard forces are searching for the suspects."
Israeli emergency services said a male in serious condition was transferred to a hospital, and another female was treated at the scene and is in mild condition.
The shooting happened at a checkpoint of the normally quiet area near the Shuafat Refugee Camp in East Jerusalem, an area considered occupied by most of the international community.
Many forces are deployed to protect the citizens of Israel, as Prime Minister Yair Lapid said in a statement. Our hearts go out to the victims and their families. Even on this difficult evening, terror will not defeat us.
Daoud, 14, had been killed in clashes with Israel in the last 10 months: a Palestinian man killed in the occupied West Bank
The Palestinian Ministry of Health said a 14-year-old boy was shot on Friday near the separation wall with Israel.
When asked for comment about Daoud's death, the Israel Defense Forces said "during IDF routine operational activity, IDF soldiers spotted a suspect who hurled Molotov cocktails at them adjacent to the city of Qalqilya. The soldiers fired live fire. A hit has been identified. The incident is being reviewed.
This attack is the latest amid a period of heightened violence. There have been several Palestinian attacks in Jerusalem in recent weeks, including a deadly shooting two weeks ago outside a synagogue in Jerusalem that left nine Israelis and a Ukrainian citizen dead. There have also been more than 10 months of deadly Israeli army raids in the West Bank; on Thursday, Palestinian officials said Israeli troops killed a 22-year-old Palestinian.
Last year, as the Israeli military intensified its arrest raids following a string of deadly Palestinian attacks within Israel, at least 150 Palestinians were killed in the occupied West Bank and east Jerusalem. For the last decade and a half, it has been the highest annual death toll. According to Israeli figures, over 30 people were killed in Palestinian attacks against Israelis last year.
The IDF said forces were in the Jenin refugee camp to arrest an "Islamic Jihad operative" who it claims was "involved in terrorist activities, planning and carrying out shooting attacks towards IDF soldiers in the area."
Tensions between Israelis and Palestinians have been surging for months, amid nightly Israeli raids in the occupied West Bank prompted by a spate of deadly attacks against Israelis that killed 19 people in the spring. There has been an uptick in recent weeks in Palestinian attacks.
Israel says the military raids are meant to dismantle militant networks and thwart future attacks while the Palestinians view them as further entrenchment of Israel's open-ended, 55-year occupation.
A climate of fear is being fed by the violence in the occupied West Bank. It is vital to get tensions down so that the space for important initiatives can be found.
Israeli Prime Minister Benjamin Netanyahu and a young Israeli citizen were killed in a terrorist attack on a bus stop in Hamad-Ramot
The first explosion occurred near a typically crowded bus stop on the edge of the city. The second went off about half an hour later in Ramot, a settlement in the city's north. At least three people were seriously wounded in the blasts and one died from their wounds.
A notice announcing the victim's death said that he was a teenager who was heading to a Jewish seminary when the blast went off. Shechopek was also a Canadian citizen, according to Canada's Ambassador to Israel Lisa Stadelbauer. There were conflicting reports over Shechopek's exact age.
The violence occurred hours after Palestinian militants stormed a West Bank hospital and carried out an Israeli citizen seeking treatment there after a car accident, according to the young man's father. That incident could further ratchet up tensions.
The developments took place as former Israeli Prime Minister Benjamin Netanyahu is holding coalition talks after national elections and is likely to return to power as head of what's expected to be Israel's most right-wing government ever.
The national security minister was greeted with anger by angry young Israelis as he visited the scene of the attack. He said he would order police to set up checkpoints to inspect all Palestinians entering and leaving the attacker's neighborhood, and he vowed to pursue legislation to institute the death penalty — which has almost never been carried out in its history — against convicted attackers.
At the scene of the first explosion he said, "We must exact a price from terror." "We must return to be in control of Israel, to restore deterrence against terror."
The police said the initial findings of their investigation showed that the two sites were placed with bombs. The twin blasts occurred amid the buzz of rush hour traffic and police briefly closed part of a main highway leading out of the city, where the first explosion went off. Video from shortly after the initial blast showed debris strewn along the sidewalk as the wail of ambulances blared. A bus in Ramot was pocked with what looked like shrapnel marks.
The medic who was at the scene told Israeli Army Radio that it was a crazy explosion. People with injuries were bleeding all over the place.
While Palestinians have carried out stabbings, car rammings and shootings in recent years, bombing attacks have become very rare since the end of a Palestinian uprising nearly two decades ago.
The Islamic militant Hamas, which rules the Gaza Strip and once carried out suicide bombings against Israelis, praised the perpetrators of the attacks but did not claim responsibility.
In the wake of the explosions, Israel closed two West Bank crossings to Palestinians who live in the city of Jenin.
A Jewish teen killed by a Palestinian, Israeli, in the neighborhood of Ynethad: Jana Zakarneh, 22, says he is sorry for her death
It was horrible. The teen's father told YNet that it was inhumane. They took him, and I didn't know what to do.
A Druze community leader told YNet talks were underway on the body's return to the family. In the past, Palestinians have carried out kidnappings to get concessions from Israel. The body would be paid a heavy price if it wasn't returned.
Over the course of the year, eleven Israelis have been killed in Palestinian attacks; seven in a shooting near a synagogue, three in a car ramming attack and a border police officer shot by a civilian security guard.
The Palestinians seek all three areas for a future independent state. Israel considers the entire city to be its capital and has annexed East Jerusalem in a step that is not internationally recognized.
Jana's uncle, Majed Zakarneh, told CNN on Monday that his niece "was shot with four bullets, two to her face, one to her neck, and one to her shoulder."
"Twenty minutes after the soldiers left the neighborhood, her father went to look for her … He found her lying on the floor with a face full of blood," Zakarneh said.
Speaking before the IDF admitted responsibility, Israeli Defense Minister Benny Gantz said he wanted to express "sorrow for her death, as for any death of someone who was not involved in terrorism, if that was indeed the case."
Palestinian deaths in the Gaza Strip: a UN UN Special Representative for Children and Armed Conflict, Virginia Gamba, and the case of al-Rimawi
A strike was called in Jenin on Monday in reaction to the killing of Jana, as well as the ongoing Israeli aggression.
In a statement on Monday, Palestinian Prime Minister Mohammad Shtayyeh called on the Special Representative of the Secretary-General of the United Nations for Children and Armed Conflict, Virginia Gamba, "to investigate the crimes of the occupation and put Israel on the blacklist." Gamba is in the West Bank and Gaza.
The number of Palestinians killed in the West Bank has not been seen in more than a decade, according to the Palestinian Ministry of Health. Israel says most killed have been militants or engaging violently with soldiers. But human rights groups say bystanders have also been killed.
On Thursday, a 16-year-old boy died after he was shot by Israeli forces in Ramallah, according to a separate statement by the Palestinian Ministry of Health last week.
Al-Rimawi was injured by two bullets from the back. The first exited from his chest and the second exited from the abdomen," that statement said.
The traumatic experience of Israel's Siege: I'm sorry to say that I didn't hear Israeli drones talking about Palestine's security situation
As I conducted focus groups with people who were affected by Israel's Siege, it was clear that it was impossible to measure the extent of the damage. The unrelenting buzzing sound of Israel's military surveillance drones, which patrolled Nablus 24/7 for weeks, for example — many people referred to it as a form of psychological torture. What can I tell you about that? One faculty member of the public health department arrived late for a focus group and recounted how she had to go a different way because the road she was going to take was blocked by a checkpoint. When events such as these are normalized, what does that say about the population?
The reality of the situation for Palestinians is something I have thought of since I was a kid, and I wanted to convey that to people with ties to the West Bank. I was born in Nablus to a woman from a nearby village and a man from a Palestinian town that was enveloped by Israel upon its establishment in 1948. My father taught journalism and political science in Nablus before he moved us to the United States, where I grew up. I'm now a professor myself, because I wanted to follow in his footsteps. My father was a political scientist, but I'm a scholar of public health. Health and politics are both intertwined in any setting. But in Nablus, I was reminded of just how deep that connection is.
That context has remained, for the most part, much the same for the past 50 years, with periods punctuated by slightly more freedom for Palestinians and other periods that featured heavy restriction and violence. I visited family in the West Bank every summer as a child and for most of my adult life. I remember the long, winding checkpoint lines, with hostile Israeli soldiers looking through our documents. Israel imposed electricity curfews which left us to use only candles and lanterns during the night. I remember going to the airport in Tel Aviv but had to change cabs halfway through the journey to the West Bank due to the inability of Palestinian taxis to pick us up. I and others of Palestinian descent who are citizens or resident in the US have no choice but to get Israeli permission to use that airport. We will travel through Jordan because Israel bombed the last Palestinian airport and won't allow construction of a new one. (A lucky few have recently been able to fly out of an airport in southern Israel.)
Israeli military forces killed five Palestinians and injured at least a dozen others in a raid on the old city of Nablus on the eve of my departure. I had a sleepless night and knew what was happening minutes away.
The next day, after many panicked calls with a taxi company, which assured me it could get me out of the city, I left. My time there had an end date unlike the Palestinians, who had to live there all the time. Now I am left to examine and analyze my data.
The announcement said that in response to public Palestinian celebrations over the attack, Israel would take new steps to "strengthen the settlements" this week. It gave no further details.
The announcement cast a cloud over a visit by the Secretary of State, who is scheduled to go to the US next week.
Netanyahu's office said the Security Cabinet agreed to seal off the attacker's home immediately ahead of its demolition. It also wants to make it simpler for Israelis to acquire gun licenses, and to step up efforts to collect illegal weapons.
Washington didn't respond immediately. Settlement construction in east Jerusalem and the West Bank has been opposed by the Biden administration due to their importance to the Palestinians. The issue will be high on the agenda when Blinken arrives in Israel on Monday.
Netanyahu's government, a collection of religious and ultranationalist politicians, could put pressure on him to take even tougher action. The Hamas militant group in Gaza could be dragged further into violence if these steps are taken.
"If it's even possible to put this violent genie back into the bottle, even for a little while, this would require the reinforcement and proper deployment of forces … and carefully managing the crisis without being guided by the widespread calls for revenge," wrote Amos Harel, the defense affairs commentator for the Haaretz newspaper.
Israel is moving to strengthen settlements after shootings: An Israeli man killed during a gunning attack on a young Israeli man in east Jerusalem
Friday's shooting in east Jerusalem left seven Israelis dead and three more wounded before the man was killed by police. It was the deadliest attack on Israelis in 15 years.
The names of four of the victims were published. They included 14-year-old Asher Natan; Eli Mizrahi, 48, and his wife Natali, 45; and Rafael Ben Eliyahu, 56. Funerals for some victims were scheduled Saturday night.
Mourners lit memorial candles near the synagogue on Saturday evening, and in a sign of the charged atmosphere, a crowd assaulted an Israeli TV crew that came to the area, chanting "leftists go home."
Ella Sakovich, an aunt of Natali Mizrahi, said that her niece had been celebrating the Jewish Sabbath with her husband and his father when they heard gunfire outside on Friday night.
"While eating, she and her husband wanted to help and went out of the house to treat the wounded; they shot both of them," Sakovich said in a statement released by Hadassah Hospital, where Natali Mizrahi worked serving food to patients.
After the shooting in east Jerusalem, Israeli police arrested 42 people, many of whom were related to the shooter.
As police rushed to the scene, two passers-by with licensed weapons shot and overpowered the 13-year-old attacker, police said. Police took the wounded teen to a hospital and seized his gun.
Source: https://www.npr.org/2023/01/29/1152383010/israel-is-moving-to-strengthen-settlements-after-shooting-attacks
Israel's new firebrand minister of national security, Ibrahim Ben-Guri, has declared a "violation of law and order" in the Palestinian neighborhoods of Ramot
Blinken is expected to arrive in Israel on Monday. The Biden administration condemned Friday night's shooting and called for calm on all sides, but did not give details about how it would promote these goals.
Palestinian residents of east Jerusalem hold permanent residency status, allowing them to work and move freely throughout Israel, but they suffer from subpar public services and are not allowed to vote in national elections.
Itamar Ben-Gvir, Israel's new firebrand minister of national security, has presented himself as an enforcer of law and order in order to get attention for his promises to take stronger action against the Palestinians.
The hospital where the victims of Friday's shooting were being treated was where Ben-Guri spoke to the reporters and he wanted the home of the shooter sealed off immediately.
The new government believes unelected judges and jurists have too much power in Israel's justice system.
The divisive issue helped fuel weekly protests by Israelis who say the sweeping proposed changes would weaken the Supreme Court and undermine democracy.
Tens of thousands of protesters gathered in the central city of Tel Aviv Saturday evening for a new protest. Some raised banners describing Netanyahu and Ben-Gvir as "a threat to world peace."
The Palestinian leadership decided to stop security coordination with Israel in order to protest the Jenin raid.
The Palestinian Authority called on the international community and the U.S. administration to exert pressure on Israel to end its raids in the West Bank.
Israeli officials and media say a 6-year-old boy and a man in his 20s were killed when a Palestinian driver rammed his car into a group of people at a bus stop in Ramot, a largely ultra-Orthodox Jewish settlement neighborhood in Jerusalem.
Police say an off-duty policeman shot and killed the driver. Israeli media identified him as Hussein Karakeh, 31, from the Palestinian neighborhood of Issawiyeh in East Jerusalem.
Israeli authorities said that Wednesday's operation had targeted three suspects who were planning attacks. The three were "neutralized," the Israel Defense Forces (IDF) and Israel Security Agency said in a joint statement.
The names of two people who were released by the Israel Defense Force and the Palestinian health ministry appeared to match each other. Two people were shot and killed in an exchange of fire with the military, while one person fled, the Israel Defence Force (IDF) said.
The last time the military performed a daylight operation in the West Bank, they said it was because of an immediate threat.
The Al Qassam brigade warned they are watching the war in the West bank and are running out of patience.
The raid, which reduced a building to rubble and left a series of shops riddled with bullets, was one of the bloodiest battles in nearly a year of fighting in the West Bank and east Jerusalem. A 72-year-old man was among the 10 killed and 102 people were wounded, Palestinian officials said.
The Israeli military entered the city to arrest three people accused of previous shooting attacks in the West Bank. The men were in a hideout.
Two Palestinians Run Down a Street: Gunshots and Bloodshed in the Nablus Historic Building, Israel's First Strikes
In the Old City of Nablus, people stared at the rubble that had been a large home in the centuries-old casbah. From one end to the other, shops were riddled with bullets. Parked cars were crushed. The ruins were stained with blood. Furniture from the destroyed home was scattered among mounds of debris.
An amateur video posted online appeared to show security camera footage of two young men running down a street. Gunshots are heard, and both falls to the ground, with one's hat flying off his head. Both bodies remained still.
The group has battled Israel to four wars since seizing control of Gaza in 2007, and Israeli officials have expressed concerns about rising tensions ahead of the Muslim holy month of Ramadan, which begins in March.