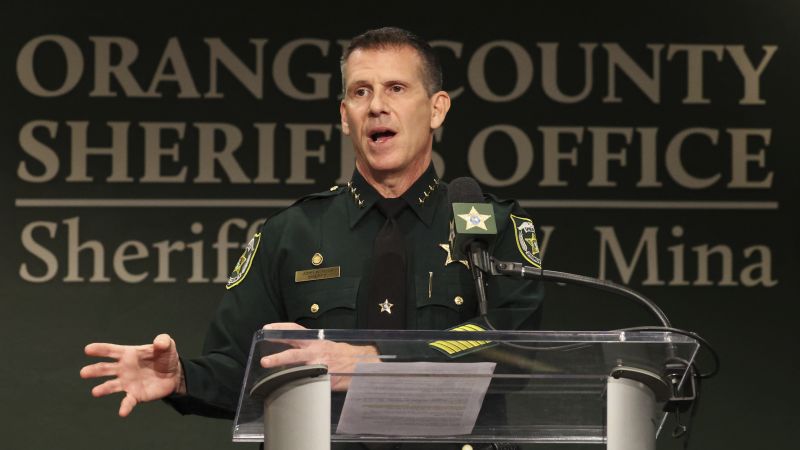 A girl and a journalist were shot dead near the scene of another shooting
A Florida TV journalist and a little girl were killed in a fatal shooting Wednesday afternoon at the Tampa Bay Liner, Fla., during the day of the shooting
A central Florida television journalist and a little girl were fatally shot Wednesday afternoon near the scene of a fatal shooting from earlier in the day, authorities said.
Mina said that the man had been arrested and charged with murder in relation to a shooting Wednesday morning. A Spectrum News 13 reporter was killed in a shooting later on in the day that is expected to result in charges being filed by the district attorney.
The sheriff said Moses has a lengthy criminal history that includes gun charges, aggravated assault, aggravated battery and assault with a deadly weapon.
The woman in her 20s died from her wounds after they found her in the 6100 block of Hialeah Street.
Later in the day, after the vehicle had been towed, the gunman returned to the area and shot two Spectrum News 13 journalists – a reporter and a photographer – who were covering the woman's killing, Mina said.
Mina said that the vehicle was nearly the same one that was used in the homicide this morning. "It's unclear why exactly they were targeted."
The suspect entered a home and shot a mother and her child after the journalists were wounded, the sheriff said. They were both taken to a hospital and the baby was dead and the mother was in critical condition, authorities said.
"It is with deep sadness that @RTDNA learns of the death of a @MyNews13 journalist in Orlando," Radio Television Digital News Association CEO Dan Shelley tweeted. "He was 1 of 2 of the station's journalists shot covering a previous crime in a residential area. Sending prayers for their families, friends and the other victims.
CNN and Spectrum News 13 will support the families of the journalists who were killed, and the organization called the shooting an absolute tragedy.
"I want to acknowledge what a horrible day this has been for our community and our media partners," Mina told a room full of reporters. "I work closely with all of you and know many of you and know the the very difficult job that you do and also the very important job that you do for our community and for law enforcement. No one in our community — not a mother, not a 9-year-old and certainly not news professionals — should become the victim of gun violence in our community."
"So, the suspect is not saying much right now," Mina said. "It is unclear if he knew they were news media or not. We're still trying to work all that out."
"He was acquaintances with the woman, but he didn't know her or the 9-year-old," Mina said.
Media Relations Report on the Shooting of Jeff German, Alison Parker and Adam Ward, a TV Reporter and a Critically-Injured Broadcaster
Please say a prayer for our co-worker who is in critical condition. Celeste Springer of Spectrum 13 said during her live report, "And while you're at it, please pray for every victim of gun violence in this country."
According to the Committee to Protect Journalists there were 40 journalists killed in the world last year. One was in the United States.
Jeff German, who who covered politics and corruption for the Las Vegas Review-Journal, was found dead outside his home with multiple stab wounds in September. Former Clark County Public Administrator Robert Telles has been charged with murder in the slaying.
In 2015, Virginia reporter Alison Parker and cameraman Adam Ward were shot and killed during their live TV broadcast for CBS affiliate WDBJ7. The suspect, who was a former reporter for the television station, took his own life during the law enforcement search.
Investigators are trying to determine what motivated a string of deadly shootings Wednesday in a neighborhood outside Orlando, Florida – a spree that killed a 9-year-old girl, a woman and a TV journalist who was covering one of the incidents, authorities said.
A man was arrested in relation to the shootings that wounded a mother and a journalist, as well as injuring a girl, which ended a spree of violence that spanned several hours just west of the state capital.
The Shooting of a Spectrum News Journalist in Green's Bay, Oklahoma, on Sept. 13, 2012, at the Sheriff's Office
One of the journalists died. The other was in critical condition Wednesday, but was speaking and was expected to go through more treatments at a hospital Wednesday night, the news station said, without naming either.
Investigators also are looking into whether the suspect – who the sheriff says has a lengthy criminal history – knew that the Spectrum News 13 employees were members of the media.
The sheriff said investigators were following leads when the TV journalists were shot around 4 p.m., and that they had already identified a suspect in the first shooting.
We were talking in the newsroom this afternoon. It was a regular day. And truly not just colleagues, but family members," anchor Greg Angel said.
"Some of our competitors … rushed to the aid of our colleagues, and we want them to know how much we appreciate them," co-anchor Tammie Fields said. They could have gone someplace else when danger was happening. But apparently they ran right over to our crews and helped,"
There are members of his family here, including his fiancée, who are distraught. There are media people who are standing together, as one of our own has passed.
"We are deeply saddened by the loss of our colleague and the other lives senselessly taken today," the statement reads. Our thoughts are with the family of our employee during this difficult time. There is hope that the other colleague who was injured makes a full recovery. This is a terrible event for the people of the area.