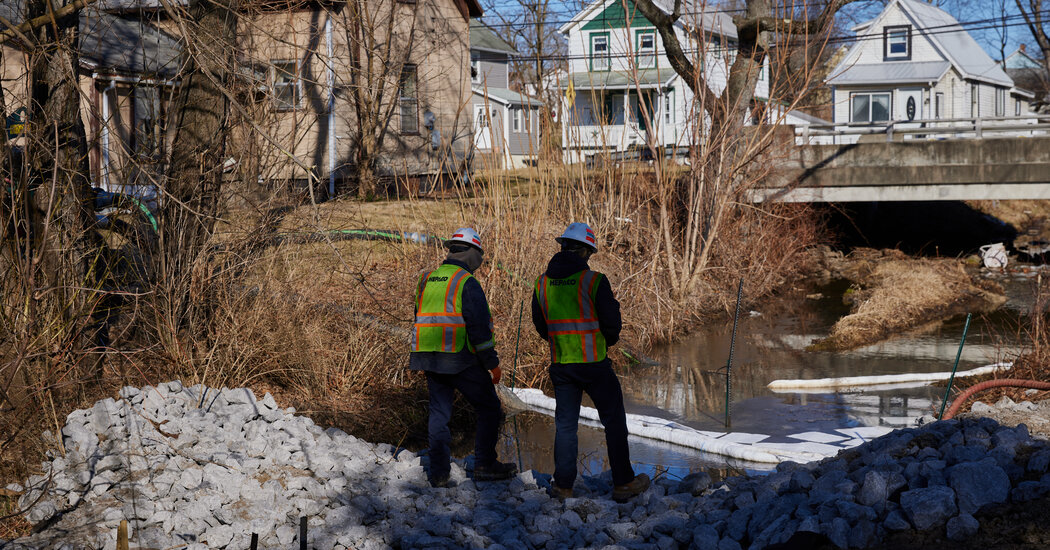 EPA administrator is returning to East Palestine, Ohio, as a state opens a health clinic because of symptoms following a toxic train wreck
Norfolk Southern and the Delayed Norfolk Southern Freight Cargo: Air Screening Results and Public Health Efforts in East Palestine
On Feb. 3, about three dozen Norfolk Southern freight cars derailed near East Palestine, a town of roughly 4,800. Investigators from the National Transportation Safety Board have indicated that the derailment was likely caused by a wheel bearing failure; a preliminary report is expected next week.
The interview comes nearly two weeks after a train with toxic chemicals derailed in East Palestine, a small town near the Ohio-Pennsylvania border. The derailment was followed by a dayslong blaze and the ordered evacuation of residents until local and state officials declared the air and water safe enough for people to return – about five days after the wreck.
The evacuation order was lifted on Wednesday and since then, there have been a growing number of reports about people experiencing a burning sensation in their eyes, animals falling ill and a strong odor lingering in the town.
Some business owners and East Palestine residents have filed lawsuits against Norfolk Southern, saying the company was negligent and demanded the company fund court-supervised medical screenings for serious illnesses that may be caused by exposure to those chemicals.
The Ohio National Guard and a Norfolk Southern contractor are collecting air samples from the East Palestine community, it had said. The results of air monitoring can be found at the EPA website, with more than a dozen instruments each with four types of measures and stating that their screening level had not been exceeded.
The agency added that vinyl chloride and hydrogen chloride have not been detected in the 291 homes that have been screened as of Monday. There are some homes left to be evaluated in the air screening program.
Breathing or drinking vinylchloride can cause a number of health risks. People who breathe the chemical for a long time may have damage to their organs.
Vinyl chloride can break down from sunlight a few days after it's exposed in the environment. When it is spilled in soil or surface water, the chemical evaporates into the air quickly, according to the Ohio Department of Health.
There are several hazardous chemicals that are released by burning vinyl chloride that the EPA has been monitoring. Symptoms of eye irritation, dry burning throat, and vomiting can be caused by exposure to phosgene and hydrogen chloride.
Indoor Air Quality: The Importance of Safety and Security for Railroads, Highways and University Employees, and the Risk of a Train Explosion
A professor at Ohio State University who studies the indoor air quality said that people are going to be worried about the long-term exposure that comes at lower levels now that we are entering into a longer term phase.
She added that indoor spaces can be an important point of exposure, which is why she urges East Palestine residents to take part in EPA's at-home air screening.
Dust and smells can be absorbed by items that absorb them, so Danne Miller said residents should wash bed sheets and curtains. She also advises vacuuming carefully in short bursts to try to prevent contaminants from moving into the air.
According to Federal Railroad Administration, railroads are considered the safest mode of transportation to carry large amounts of hazardous materials for long distances across the country.
Still, because trains are crossing state lines, Ohio Gov. Mike DeWine said he was concerned about the lack of information individual states have about what the rail cars are carrying.
"It's the mode of transportation that's capable of moving bulk quantities," Federal Rail Administration spokesperson Warren Flatau told CNN. It is not possible to move these commodities by pipelines, and it is also not possible to move them by truck on the highways.
USA Today found that there were two planes and 67 highways involved in rail leaks last year.
A researcher at Northeastern University says the real issue is the risk of a train explosion. "If natural gas were to have a derailment like the vinyl chloride, it would be devastating."
Environmental Assessment of the Derailment of a Rail Car Spill-Out During a High-Velocity Highway in East Palestine
Since the controlled explosion of the chemicals in the rail cars, the Ohio Environmental Protection Agency has been conducting air, soil and water tests.
The EPA said it has collected and stored nearly one million gallons of water. Officials said the plume of initial contamination did flow to the Ohio River, but since that river is very large, "it's a water body that's able to dilute the pollutants pretty quickly," said Tiffany Kavalec, Chief of the Division of Surface Water at the Ohio EPA.
While most of the Tuesday news conference focused on volatile organic compounds, there are other kinds of chemicals that weren't released in the spill that aren't easy to diffuse.
"Because of their size, they don't go in the air as easily," Whelton said. "They like to stick to soils and other materials. The question is, how contaminated is the creek and what will they do to remediate that?"
More than seven miles of streams were affected and more than 3,500 small fish were killed by the spill.
The derailment caused the release of hazardous chemicals into the air and surface water. The EPA says there are no concerns about the air quality or water quality in East Palestine's municipal water supply. The agency added that it would publish more detailed data "as it becomes available."
Anecdotes and a Challenge: How the EPA is removing vinyl chloride-impacted materials from the east Palestine watershed
"Anecdotes are challenging because they're anecdotes," Vanderhoff said. Everything we have gathered so far is pointing towards very low measurements.
Vanderhoff repeatedly told residents in East Palestine to use bottled water until testing on their water source is completed. He said it's especially important to use bottled water for people who are pregnant, breastfeeding or making infant formula.
Kurt Kollar, the Office of Emergency Response coordinator for the Ohio EPA, said that the crews have excavated and removed nearly 500 yards of vinylchloride-impacted material. In order to protect water, the EPA is blocking off ditches around the contaminated dirt.
Kavalec said that the water treatment facilities should be able to remove low levels of volatile organic compounds from the water and that it will eventually be safe to drink.
Non-stick pans and some of the foams used in firefighting can be home to the harmful substance, PFAS. EPA officials said Tuesday they had not yet tested the water for PFAS but would start working on it.
An overwhelming stench of chlorine filled the air this week where Nathen Velez and his wife had been raising their two children, quickly burning his throat and eyes.
The East Palestine Railroad Accident Site: What the State and Local Authorities are Doing to Prevent Water Contamination: A Community Meeting Presented by the Norfolk Southern Railroad Company
Representatives of the train's operator, Norfolk Southern, planned on attending Wednesday night's meeting to provide information to residents on how they're responding to the chemical crisis. But the company backed out, citing threats against its employees.
The company said in the release that it has becomeincreasingly concerned about the growing threat to its employees and community around this event due to the increasing likelihood of the participation of outside parties.
The company planned to join the local leaders to update them on the steps that are being taken to clean up the accident site as well as the latest results from air and water testing.
The community meeting was expected to go on as planned, and residents were invited to meet with their attorneys prior to the meeting to discuss what the impact would be.
Since the derailment, many residents in East Palestine remain plagued with anxiety. Some, like Velez, are spending small fortunes to try to keep their families safely away from the place they used to call home.
"My wife is a nurse and is not taking any chances exposing us and our two young children to whatever is now in our town," Velez wrote on Facebook. "The risk and anxiety of trying to live in our own home again is not worth it."
State officials have repeatedly said water from the municipal system – which is pulled from five deep wells covered by solid steel casing – is safe to drink. However, the state's EPA encouraged residents who get water from private wells to get that water tested, the governor's office said.
Nevertheless, worrying signs continue to emerge, including a newly public document that says potentially contaminated soil has not yet been removed from the site – a critical step experts say should be completed quickly so that toxic materials are not further dispersed into the environment and groundwater.
Cleanup and monitoring of the site could take years, Kurt Kohler of the Ohio EPA's Office of Emergency Response said February 8, vowing that after the emergency response, "Ohio EPA is going to remain involved through our other divisions that oversee the long-term cleanup of these kinds of spill." The federal EPA is going to do everything it can to protect the community, Administrator Michael Regan said Tuesday.
In a document sent to the EPA and recently made public by the agency, a company contracted by Norfolk Southern for cleanup efforts did not list soil removal among completed activities.
"Contaminated soil will continue (to) leech contaminants, both up into the air, and down into the surrounding ground," Richard Peltier, an environmental health scientist at the University of Massachusetts at Amherst, told CNN in an email. A flood of new contaminants will enter theecosystem every time it rains.
CNN asked Norfolk Southern why it had not removed contaminated soil before reopening the site, and if it had filled in areas of contaminated soil and chemicals in order to reopen the rail line.
Ben Ratner and his family have no plans to move yet in East Palestine, where the railroad took down the $11 million dollars from the Norfolk Southern Railroad
East Palestine resident Ben Ratner and his family worry about the long-term risks that environmental officials are just beginning to assess.
But the Ratners – who played extras in a Netflix disaster film with eerie similarities to the derailment crisis – still are feeling "an ever-changing mix of emotions and feelings just right from the outset, just the amount of unknown that was there," said Ben, who owns a cafe a few towns over and isn't sure he still wants to open another in East Palestine.
He said it is difficult to make an investment in something like that and even more so to feel good about paying the mortgage when there isn't a great deal in the future. "That's something tough to come to grips with."
Norfolk Southern said Wednesday it was creating a $1 million charitable fund to support East Palestine, saying it was "committed" to the community "today and in the future."
"We understand that we have a responsibility, and we have pledged to do what's right for the residents of East Palestine," the railroad said. "We are committed to thoroughly and safely cleaning the site, and we are reimbursing residents for the disruption this has caused in their lives."
Velez and his family are temporarily staying away from the town. He previously told CNN that when he visited the town Monday, a chemical odor left his eyes and throat burning, and gave him a nagging headache.
He said that volatile organic compounds share with a host of other things the ability to cause headaches, eye irritation, and nose irritation. "I think that we have to look at the measured facts – and the measured facts include the fact that the air sampling in that area really is not pointing toward an air source for this."
As to odor, residents "in the area and tens of miles away may smell odors coming from the site," Ohio EPA spokesperson James Lee told CNN on Wednesday. Some of the substances involved have a low odor threshold. This means people could smell the contaminants at lower levels than they are considered hazardous.
The Ratner Family's Water Use Strategy for Emergency Treatment, Sensitivities to Cancellation, and Effects on Drinking Water
The Ratner family is limiting its water use because of unknown affects, Ben Ratner said. The water could possibly be dangerous when we turn it on or give our daughter a bath, according to Velez.
The "tracking allows for potential closing of drinking water intakes to allow the majority of the chemicals to pass. This strategy, along with drinking water treatment … are both effective at addressing these contaminants and helps ensure the safety of the drinking water supplies," Kavalec said, adding they're pretty confident "low levels" of contaminants that remain are not getting to customers.
He and his family have been Airbnb-hopping 30 minutes from their home since they evacuated, but rental options and their finances are running out, he said, and a friend set up a GoFundMe to help the family.
He said many of him residents are stuck in the same situation and there is no answer. "There is no viable solution other than to leave and pay a mortgage on a potentially worthless home."
People in East Palestine gathered at a school gym to find out if they were safe from toxic chemicals that spilled after a freight train derailed.
Hundreds of worried people gathered to hear state officials tell them — as they did earlier in the day — that testing so far has shown local air is safe to breathe and to promise that safety testing of the air and water would continue.
But residents had many questions over health hazards and they demanded more transparency from the railroad operator, Norfolk Southern, which did not attend the gathering, citing safety concerns for its staff.
Wednesday's meeting came amid continuing concerns about the huge plumes of smoke, persisting odors, questions over potential threats to pets and wild animals, any potential impact on drinking water and what was happening with cleanup.
Why are the railroad folks not telling the truth? A complaint to the railroad and state of the East Palestine area following a tragic train wreck in April 2004
"Why are they not telling the truth?" Kathy said of the railroad. "They're not out here supporting, they're not out here answering questions. For three days we didn't even know what was on the train."
In and around East Palestine, near the Pennsylvania state line, residents said they wanted assistance navigating the financial help the railroad offered hundreds of families who evacuated, and they want to know whether it will be held responsible for what happened.
"The pollution, which continues to contaminate the area around East Palestine, created a nuisance, damage to natural resources and caused environmental harm," Yost said in a letter to the company.
A mechanical issue with a rail car axle is suspected to be the cause of the derailment, and the National Transportation Safety Board said it has video appearing to show a wheel bearing overheating just beforehand. The preliminary report is expected to be out in about two weeks.
The EPA will be responsible for the clean-up of the Norfolk Southern train wreck that released hazardous chemicals into the environment.
The EPA has the ability to use enforcement capabilities over the crisis, according to Administrator Michael S. Regan.
The company signed a notice of accountability and will have to clean up the mess. As new facts come to light, I will use the full powers of this agency, and the federal government, to make sure that this company is held accountable.
Public Concerns about the East Palestine EPA/ICE Derailment and the CCDC-Distributed Tank Contaminants Exposed to High Level Environmental Contamination
Hundreds of East Palestine residents attended a town hall Wednesday night to express their frustrations and mounting distrust. The train operator withdrew from the event due to safety concerns.
The agency's move comes as the emergency response effort has now morphed into an environmental cleanup that is the responsibility of the railroad, EPA Administrator Michael Regan said during a Tuesday press conference.
Meanwhile, Ohio Gov. Mike DeWine said Thursday he has requested the Centers for Disease Control and Prevention immediately send medical experts to East Palestine to evaluate and counsel community members with questions or health symptoms.
In anticipation of rainfall, emergency response teams have plans in place to prevent contaminants not yet removed from the derailment site from washing into local waterways during the storms, DeWine said in a statement.
DeWine said that the risk to livestock remains low and that the Ohio Department of Agriculture assures Ohioans that their food is safe.
Further spurring residents' questions about safety were crews' decision to conduct controlled detonations February 6 of some of the tanks that were carrying toxic chemicals, including vinyl chloride that has the potential to kill at high levels and increase cancer risk.
"I need help," Conaway told reporters Wednesday night. "I have the village on my back, and I'll do whatever it takes … to make this right. I'm not leaving, I'm not going anywhere."
Jami Cozza: A family member in East Palestine and the railroad company notified me that I was safe to go home with me and my voice
Regan said that the community should know that they will get to the bottom of the situation. We are testing for all volatile organic chemicals. We are testing for things on that train. So we feel comfortable that we are casting a net wide enough to present a picture that will protect the community."
A man who lives less than a mile from where the train derailed told CNN that the company's absence from the meeting was a slap in the face.
"Most people did not want to go home, but they had to. So, all the people who had to go home were complaining of smells, pains in their throat, headaches, sickness," he said. The smell makes you sick, I've gone back a few times. It hurts your head."
They didn't show up at the town hall meeting last night, so I was disappointed. The public deserves transparency," he said. "The public deserves to have the latest information. And so it's our job, as the federal government, to hold this company accountable, and I promise you we will."
Jami Cozza's family has lived in East Palestine for generations near the contaminated creek, but right now she is staying at a hotel paid for by the railroad due to toxicity from the derailment.
Speaking to CNN's Don Lemon, Cozza said the railroad company told her it was safe to return home after conducting air testing. She insisted that the railroad company test the soil and water in her home, and that a toxicologist put it out of commission.
"Had I not used my voice, had I not thrown a fit, I would be sitting in that house right now, when they told me that it was safe," Cozza said Thursday.
Source: https://www.cnn.com/2023/02/16/us/ohio-train-derailment-east-palestine-thursday/index.html
East Palestine – a chemist's perspective on a public health crisis in the wake of the February 3 train crash, and the impact of toxic chemical vinyl chloride
"My concern is how many of those kids are laying in their bed in East Palestine right now that are not safe," she said. I do not trust them.
Reflecting the fundamental mistrust residents have in the railroad company Norfolk Southern and the government, Ms. Guglielmo is one of several people who live in the region who are seeking independent tests or are looking for ways to conduct their own.
But Ms. Guglielmo and others, particularly on the outskirts of East Palestine near where the train collided, continue to report a lingering stench of chemicals in some parts of town and have found little comfort in the assurances in light of the rashes and headaches they have experienced.
Many people in the town feel that they have nothing to fear from the exposure to the chemicals released into the air and water, because they believe it is safe, but others are afraid that they will not be remembered in the coming months. Some have become novice chemists, rattling off the names and effects of chemical compounds that had no significance to them two weeks ago.
The Ohio state officials opened a health clinic in East Palestine for residents who think they have health issues due to the train wreck, Governor DeWine said.
An EPA official with knowledge of the visit told CNN that Michael Regan would be in the town Tuesday to meet with residents and officials.
The visit comes as skepticism and anxiety spread in the small town of 5,000 while reports mount of rashes, headaches, nausea and other symptoms that residents fear could be related to the February 3 derailment of a Norfolk Southern freight train and crews' subsequent release of the toxic chemical vinyl chloride from the wreck.
The US Centers for Diseases Control and Prevention and the US Department of Health are expected to arrive in the community as early as this week to assess the situation.
Life in East Palestine has been thrown into turmoil because people are questioning the results and whether the air is safe to breathe.
According to Dr. Haynes, the environment around the train wreck needs to be monitored for health impacts since they might not emerge until later.
We should not stop looking at the community for health impacts. Haynes added that anyone who is feeling unwell should call the poison control center and they will take care of it.
Restricted Water Flows Around the Wrecking Spots of the Norfolk Southern Railroad: What Have We Learned?
According to the EPA, Norfolk Southern put up booms and dams to limit the flow of contaminated water from two locations where fish were found dead.
"The takeaway is that anyone along the Ohio River where the contaminants made their way can breathe a sigh of relief," he said. We don't have to worry if the water supply is disrupted because we don't need to pull the water from the river until the spill passes.
Julian said water measurements have been below the level of concern and that Maysville Utilities took precautionary measures in temporarily shutting down their Ohio River intake valve due to the public concern.
Meanwhile, the majority of the hazardous rail cars remain at the crash site as investigators continue to probe the wreck, but about 15,000 pounds of contaminated soil and 1.1 million gallons of contaminated water have been removed from the scene, Norfolk Southern announced Monday.
The contaminated soil was at the heart of the debate last week after a document sent to the EPA did not list soil removal as part of the completed clean-up activities. It is not clear what impact the soil that was not taken out before the railroad reopened will have on the surrounding areas.
Some local businesses have seen fewer customers despite calls to go back to normal life because of doubts over the safety of the air and water.
A stylist at a hair salon also told the station there's no doubt the salon lost business and that customers may be worried about what may be in the water washing their hair.
"I know a lot of our businesses are already suffering greatly because people don't want to come here," local greenhouse owner Dianna Elzer told CNN affiliate WPXI.
Norfolk Southern Environmental Response to the East Palestine Freight Derailment: Reply to Buttigieg, Brown, & Bryne
A number of officials, including US Transportation Secretary Pete Buttigieg, have demanded accountability and called for greater safety regulations after the toxic derailment.
"Together with local health officials, we have implemented a comprehensive testing program to ensure the safety of East Palestine's water, air, and soil," Shaw said.
Crews are still working to respond to the freight disaster in East Palestine as community members worry about possible adverse health effects from the toxic materials released when dozens of cars derailed after a likely mechanical failure.
Under the legally binding order, Norfolk Southern must identify and clean up contaminated soil and water resources, pay for the costs of work performed by the EPA and reimburse the agency for additional cleaning services offered to residents and businesses.
Norfolk Southern will pay for the trauma that they caused, as well as the mess that they created. Norfolk Southern will not get off the hook for the mess they created.
The company has committed more than $6 million to date in East Palestine, it said, including $3.8 million in direct financial assistance to families impacted by the accident.
In an interview with CNBC on Tuesday, CEO Alan Shaw responded to criticism from Transportation Secretary Pete Buttigieg and Ohio Sen. Sherrod Brown, saying the company invests more than $1 billion a year in "science-based" safety solutions, including maintaining tracks, equipment and technology.
Shaw said that the safety culture and investments in safety didn't prevent the accident. "We need to take a look at this and see what we can do differently and what we can do better."
Investigating the Ohio-Pennsylvania Highway Collision with the Advanced Research Establishment (ArCAR)
Pennsylvania Gov. Josh Shapiro praised the EPA for taking charge of the cleanup from the crash, which took place less than a mile from the Ohio-Pennsylvania border.
"It is my view that Norfolk Southern wasn't going to do this out of the goodness of their own heart. There's not a lot of good things in there. "They needed to be compelled to act."
Shaw declined to comment in the CNBC interview on potential causes, citing the investigation. He also said Norfolk Southern is fully cooperating with the NTSB and the Federal Railroad Administration to determine the cause.
He said that the idea is "response to the concerns that we have heard, that people want to be able to go someplace and get some answers about any kind of medical problems that they believe that they are having."