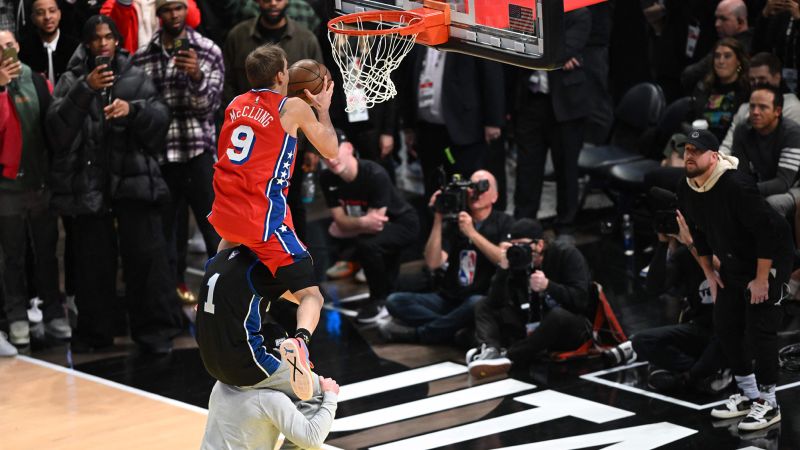 Mac McClung was a star at the All-Star Saturday night
Mac McClung 'was the first big name in the NBA': From YouTube to NBA Slam Dunk contests, to NBA All-Star and back again
Mac McClung was on the Philadelphia 76ers G League team, Delaware Blue Coats, but he wasn't on an NBA roster.
On Saturday night, he became the center of the basketball world as he was crowned NBA Slam Dunk champion in Salt Lake City, scoring a perfect 50 for three of his four dunks, and capping a week in which he signed a two-way contract with the Sixers.
The crowd was amazing, said McClung after the event. "It was a blessing. It's really cool man. I will be able to brag about it to my kids one day. But yeah, the goal is to play in the NBA. I'm gonna keep working every day. I'm very hungry and I'm resilient so I'm gonna keep working."
For his first dunk, McClung jumped over a friend sitting on another friend's shoulders, picked the ball out his hands, tapped the backboard and finished with a reverse slam for an instant, perfect 50 from the judges.
The 6 feet 2in guard became the shortest player in NBA history since 1986 to rack up three perfect scores, as his dunks drew the admiration of NBA legends.
Meanwhile, Portland Trailblazers guard Damian Lillard won the three-point contest while donning his alma mater's jersey – Weber State University. The Utah Jazz trio of Jordan Clarkson, Walker Kessler, and Collin Sexton won the skills challenge.
The New Orleans small forward had some really impressive moves up his sleeve for the NBA All-Star game, but Mac McClung was too tough an act to follow.
Who is he? A crowd of basketball celebrities quickly became his hype crew on the sidelines, filming him with sponsored phones and almost dropping their own kids a few times. The dunk contest showed the world what they have known for a long time.
So, what now? One night took the 24-year-old from a YouTube star to a household name. The "Who is Mac McClure?" write-ups will continue for a few days as the internet recovers from the spectacle.