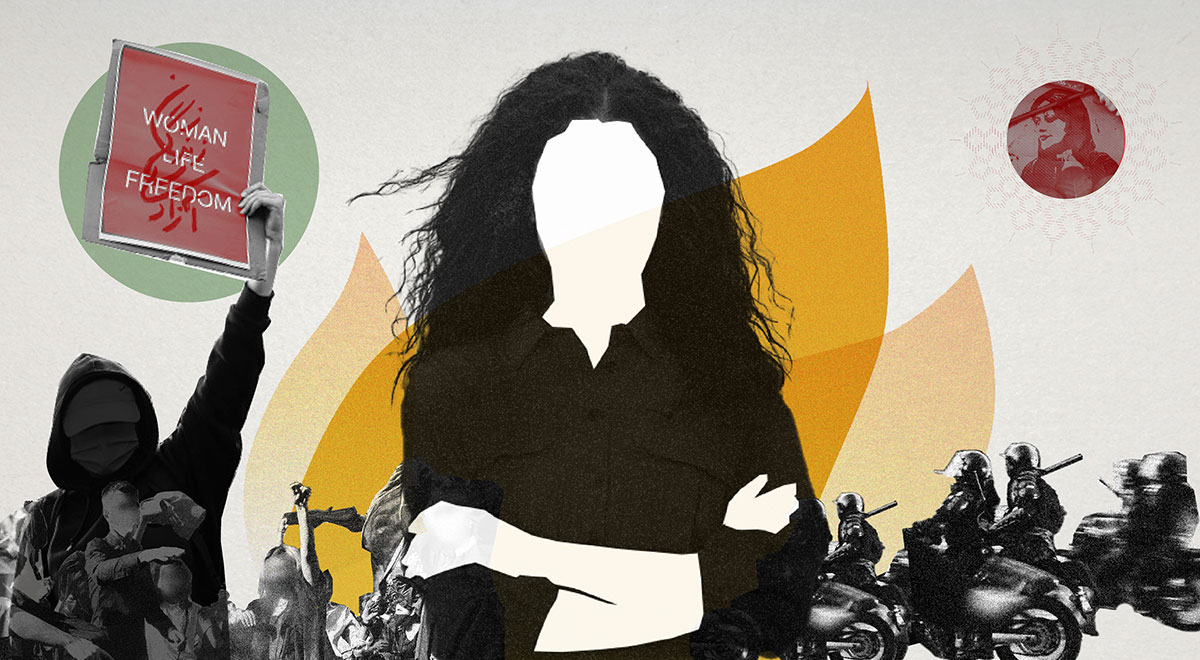 In this episode, we discuss how protests in Iran have an impact on the national identity
The Last Three Months in Iran: The Story of Two Missing Young Women and One Kiloparsec of Their Life in a Prison Ward
Worn by mandate, the veil has long served as a reminder of the Islamic Republic's power. It was stripped off and waved in furious protest by women because it shows the gulf between what the population wants and what the government is willing to provide.
Just as many of the protests on the streets were being led by women, some of the Islamic Republic's most effective opponents are locked away right now in the women's ward at Evin. Some of these inspiring women could become the future leaders of a free and democratic Iran if given the chance.
It was the last time their relatives would see them alive. One family searched frantically for their daughter for 10 days, posting desperate appeals for information on social media; the other found out the fate of their daughter within hours of her disappearance.
But the grim result was the same. Human rights groups say that the missing teenagers have been killed by the security forces. One girl had her skull broken, the other had her head broken by a baton. Their families were given bruised and damaged bodies. They were both just 16.
Editor's Note: Kylie Moore-Gilbert is an Australian-British scholar of Middle East and Islamic studies. She was released from an Iranian prison in November of 2020 after being imprisoned for a year over espionage allegations. Moore-Gilbert is the author of "The Uncaged Sky: I was in an Iranian prison for over 800 days. The views expressed in this commentary are her own. You have the chance to view more opinions on CNN.
Among us was a collective sense of shock and amazement, tempered with fear and concern for those trapped inside Evin prison. I had visions of my former cellmates, dear friends who had become like sisters, cowering in smoke-filled hallways fighting the effects of tear gas.
I could barely bring myself to contemplate their terror, being locked in a crowded prison ward with no prospect of escape as flames, bullets and riot police encroached from all sides.
According to a family member, at one point "anti-riot shooters were trying to get inside (the women's ward) and were violently shooting at random. The head of the Prison Authority himself stood in the doorway and prevented the shooters from entering."
For decades the notoriously brutal facility has housed political prisoners — most recently, activists arrested during nationwide protests following the death of 22-year-old Mahsa Amini last month in police custody.
The victims of Iran's prison system as well as family members of current captives exchanged information and looked up on one another after the fire.
The Iranian human rights lawyer Amirsalar Davoudi got word out that he and his cellmates in Ward 4 had survived — likewise the recently arrested activist Arash Sadeghi. There was a collective sigh of relief among those of us connected to the prison with every welfare check received.
The Evin prison is built into the foothills of the Alborz Mountains. There was a contingent of armed soldiers who patrol the prison and could be heard from within the cells.
Entering the prison via the front gates requires you to pass an elaborate series of checkpoint while blindfolded, handcuffed and crammed into the back of a vehicle with prison transfer guards. A prisoner could say how many times the trunk of the vehicle was opened and inspected.
There are many administrative buildings and judiciary offices with a few prison wards on top of each other and built into the mountain.
CNN Special Report How Iran used a network of secret torture centers to crush an uprising By CNN's international investigative unit and visuals team Illustration: CNN (CNN) — For 40 days, Kayvan Samadi has avoided going to bed during the hours of darkness. Instead, he whiles away the night-time reading books or chatting with the guards manning the entrance of the compound where he's in hiding – anything to ward off the night terrors. A young medical student sits down with a cup of coffee and opens his pink notebook. He wrote in perfect handwriting his memories of Iran's uprising. Like thousands of others, he was rounded up by security forces, caught up in a brutal crackdown against the protests ignited by the death in custody last September of 22-year-old Kurdish-Iranian woman Mahsa Amini. His memories come back in pictures when he recalls a courtyard filled with voices from a girl's school and being pushed into a building by Iranian intelligence agents. This is a secret detention center, somewhere in the northern Iranian city of Oshnavieh, where he would experience the stuff of nightmares. Over the course of 21 days, his only human contact was the two interrogators who he says treated him to an increasingly harsh regimen of torture. They beat him so badly that he vomited blood. He was flogged 42 times and he was molested. On the 16th day of his detention – having failed to extract a confession out of him – Samadi's interrogators raped him with a baton. The prison uniforms were stretchy and loose, but mine were tight. My pants were pulled down. I thought they were going to give me an electric shock again," Samadi says. I could not scream as he went behind me with the baton. I cried in silence. Samadi, who is from Iran's Kurdish minority, recounts his story in his safehouse, at a location outside Iran that CNN is not identifying for his own protection. Dozens of testimonies collected by CNN since the uprising began tally with the methods of torture he details. CNN has found that many of the abuse was carried out in an extensive network of illegal jails like the one Samadi was taken to. The methods of repression and torture carried out in this shadowy network appear to be even more horrific than the regular harsh treatment that arrested protesters can expect in legal detention sites. CNN has talked to the Iranian government about the allegations of abuse, but has not received a response. CNN spoke to 12 survivors of torture, six local lawyers, and seven Iranian and international rights groups over the course of four months. The regime meting out torture on an industrial scale to crush the uprising that posed the biggest domestic threat to the clerical elite in decades, is depicted by them. Unofficial detention centers – mostly run by the powerful Revolutionary Guard and intelligence agents – were key to making the torture systematic. Iran does not have an official system of due process, but these sites don't have it, and seem to enable unfettered cruelty. Among the most severe forms of torture detailed in testimonies about the unofficial detention centers were electrocutions, removal of nails, lashings and beatings that resulted in scars and broken limbs, and sexual violence. People who were arrested in a warehouse and held there for a time were beaten so badly they ended up with broken noses, broken arms and broken ribs. CNN is identifying him as Mehran for security reasons. I spent six years in prison. He said it was worse this time. CNN has been able to identify the location of more than three dozen black sites. Rights groups and lawyers know for years that there are jails inside military and Revolutionary Guards bases. During the Mahsa Amini uprising there were makeshift jails, often warehouses or empty rooms in buildings that popped up near protest sites. Sources: CNN interviews with eyewitnesses, legal experts and human rights groups; Google Earth Iran's capital, Tehran, was convulsed with protests during the Mahsa Amini uprising, prompting a proliferation of black sites around the city, according to sources. Unofficial detention sites Note: Some locations are approximate According to dozens of testimonies from survivors of torture as well as legal experts, the torture used on protesters in these off-grid sites was "unprecedented" in its severity. The clandestine jails exist outside of the due process of the Islamic Republic. Unofficial detention sites Note: Markers show number of sites identified by CNN per city, not exact locations CNN has identified more than three dozen black sites across Iran. Many are undeclared jails inside government facilities such as military and Revolutionary Guards bases, known to rights groups and lawyers for years. Sometimes warehouses, empty rooms in buildings or even the basement of mosques are makeshift jails. Sources told CNN that the Basij ran many mosques around the city of Mashhad, which is considered a power base for the clerical elite and is one of two holy Shia cities in Iran. Three of these black sites were identified by CNN where sources said protesters were tortured. Thousands of people were rounded up in the city of Sanandaji and protesters were killed with live bullets. Dr Mohsen Sohrabi, a public hospital physician, was detained at a black site here for refusing to report injured protesters to police, he said. Dozens of demonstrators were killed in the city of Zahedan on a particularly deadly day in September last year. A female protester told CNN she was raped multiple times over a month after being arrested and sent to a black site. According to multiple accounts, the clandestine sites typically served as a first port of call for many arrested protesters. They would be detained for as little as a few hours or as long as a month. The interrogation methods ranged from verbal abuse to extreme forms of sexual and physical torture according to the testimonies collected by CNN. In all these cases, the families of arrested protesters had no knowledge of their whereabouts for hours or days. The protesters were blindfolded, and driven around in circles to distract the suspects before their interrogations began. "They took us to the rooftop and started videotaping us from head to toe," said Fatemeh, a protester who says she was detained in a black site in the affluent northern Tehran neighborhood of Tajrish. CNN is using a pseudonym to protect themselves. She told CNN that they called her a slut and slapped her on the mouth so that she could say they influenced her to come to the street. The men were members of the Basij, Fatemeh said. She said they slapped, verbally abused and molested her during her four hours of detention, blindfolding her with her hijab. On the rooftop of the unofficial site, her hijab momentarily slipped and the window of the adjacent building caught her eye. She said she saw the men with their hands tied behind their backs. "They were completely naked and they were bleeding from their backs." She said that one of her abductors noticed she was being looked at by the other site next door. The tortured men heard the cries and begged for mercy. She said that she was released at midnight. Her captors ordered her to run down the dark alleyway and threatened to shoot her if she looked back. Kayvan Samadi, the medical student, was not blindfolded. He says he remembers the space where he was held in vivid detail: the dirty stitched-up blanket that served as his mattress; the faces of his interrogators who called themselves Rezaei and Ibrahimi; and the closet that contained the torture tools including screwdrivers and cattle prods. "I was given electric shocks at the back of my head, my neck and my back," he says. "I remember vividly they electrocuted my genitals for several seconds." "When I was untied, I was unable to stand on my feet. I was so weak that the soldiers dragged me to the cell. He was released on bail three weeks after his arrest. It's unclear why he was let go, despite not having signed a confession – although this is not unusual in Iran's arbitrary, unpredictable system. He fled Iran shortly after his release and says he has slept in more than 15 safehouses since then, fearing the long arm of Iran's security forces. Iran has a new phenomenon of off-the-books detention centers. The abuse in these places has been documented by human rights groups for a long time. Yet lawyers and activists say the proliferation of the sites during the Mahsa Amini protests was unprecedented. "Not only has the use of secret detention centers increased significantly, but the torture used in them became more severe and the conditions of detention more restrictive," said Ghassem Boedi, a lawyer from Tabriz, northwestern Iran. The regime's fear of being overthrown led to increasingly brutal tactics, observers say. "The major difference between these protests and the previous ones is the scale of the protests. Boedi, who sought refuge outside of Iran, said they have been widespread. "The regime felt that it would be overthrown this time. They needed to stop the protests at any cost." "During the recent protests, they took protesters to places like the parking lots of mosques and garages in Basij bases and they did whatever they wanted to do with them," one Iran-based lawyer, who asked not to be named for security reasons, told CNN. A group of animals brutalized the protesters. CNN has obtained statements from four lawyers and two witnesses who say that Iranian interrogators sometimes injected protesters with sedatives. Marzieh Mohebi, a lawyer who was a former judge in Mashhad – one of two holy Shia cities in Iran – told CNN that at least one man was tortured to death in one of many clandestine sites that mushroomed in the city. The Basij centers in mosques were converted to black sites in the city of Mashhad, where protests seemed to blindside the clerical leadership. "The Basij were wild with rage. The uprising in Iran took place in a location outside Iran, where the leader of the revolt fled. The main protest site in the southeastern city of Zahedan is home to many members of the Baluch community, which is a restive Sunni minority. Dozens were gunned down there on September 30 last year, the single most violent day of the crackdown. It has become known by rights groups as "Bloody Friday." One female protester who took to the streets that day said she was whisked to a clandestine site inside a Revolutionary Guards facility, where she said she was detained for more than a month and raped by three different men. She went to a cleric to ask if her suicide would have any consequences for her in the afterlife. The cleric also recounted the conversation to CNN. For security reasons the cleric and protester asked not to be named. The protester and cleric were connected by the Haalvsh News Agency. It provided CNN with the location of the unofficial site in Zahedan where she was held and then brutally attacked, as well as other sites that were confirmed by another activist. It's very important to lay the groundwork for death sentences. The sites may have helped lay the groundwork for the death sentences against protesters passed down during sham trials. According to CNN's testimony, the protesters were asked to confess to being part of a terror group or seek to topple the state, charges that carry the death sentence. The protesters were executed since the beginning of the protests. At least 24 (note: check before publication) have been sentenced to death, and more than 100 have been charged with crimes that carry the death sentence. According to a well known Iranian lawyer, there are at least two protesters who have been tortured and will be used to justify their death sentences. According to two sources, the two men who were executed at the age of 21 and 39, Mohammad Mehdi Karami and Seyed Mohammad Hosseini, were tortured before being sent to Karaj prison. Mohsen Shekari, the first protester to be executed after the recent uprising, was also taken to a clandestine site before he was taken to prison and then sentenced to death in a hasty trial, according to a third source. Karami was an Iranian-Kurdish karate champion. Karimi's father told Mizan Online, a news agency affiliated with Iran's judiciary, that his son was so violently beaten during his interrogation that his captors left him in the street thinking he was dead, before detaining him again. Hosseini was a protester who "had his hands and his legs tied… the soles of his feet beaten with an iron rod tased in different parts of his body," according to his lawyer, Ali Sharifzadeh Ardakani. A source says that she was tortured in a site. Three people were sentenced to death based on their confessions. "Whenever security forces tortured people, they were careful not to harm their faces or hands," Dehghan, the lawyer, told CNN. They kept their faces clean so that they didn't see signs of abuse. "And they kept their hands safe so they could sign their forced confessions." The network of harsh interrogation sites seems to have had something to do with the brutality meted out there. The protests that seemed to threaten the regime have dissipated. Activists say, however, that the underlying dissent has not gone away, and that the regime's cruelty in the face of the Mahsa Amini uprising has bred resentment that could re-emerge in even greater force. They admit that the death sentences had a chilling effect. Samadi, the medical student, escaped that fate – but only because he resisted, he says, repeated attempts by his captors at forcing a confession. Sitting upright on his metal-framed bed in his safe house outside Iran, Samadi has dark circles around his eyes from the lack of sleep. But he says he finds solace in his determination not to sign the documents placed before him. "I had no doubt about it," he says, gently defiant. "Why should I confess to something I haven't done and sign my own death warrant?"
I became more concerned for the female political prisoners of Evin when I watched the video after the flames had ravaged the public wards. I had lived alongside many of these women, my sisters. I reached out to people I didn't know. Is there any news of Niloufar Bayani or Sepideh? What about Sepideh and Fariba?
I was aware that the lawyer, who was a hero in my eyes, was rearrested along with a number of other activists.
Revisiting the brutal rape of Armita Abbasi: How the Iranian prison has broken its law and abused innocent civilians
As the situation stabilized, crowds massed on the streets outside Evin, and family members desperately tried to gather information about their loved ones inside.
They must have heard gunfire just meters away from their unit's locked doors. That this man is part of a cruel and repressive system complicit in the unjust detention of innocent prisoners I have no doubt, but I am glad he discovered a conscience that day. The lives of my friends may have depended on it.
It is not illogical to suppose that Iranian prisoners, many of them entirely innocent of any crime, would want to demonstrate solidarity with their brave compatriots protesting on the streets.
It's likely that the country will lose its grip on the regime if it can't control its most sensitive maximum security prison. Many of us are hoping for a day when there will be no need for an Evin prison.
Tehran's crackdown on protesters has slowed the tide at the crossing between Iran and the mountains of northern Iraq. Fear of indiscriminate arrest has made many reluctant to risk the journey. Sources: The Washington Institute, Maps4News
Iran's government has closed the country off to non-accredited foreign journalists, regularly shuts down the internet and suppresses dissidents' voices with mass arrests. In Iran, there is a fear that the government is going to crack down.
Many are reluctant to make the journey because of the fear of being arrested. Some of the few who cross say the noose is tightening: protesters gunned down, curfews in the border villages and nighttime raids on homes.
CNN relied on sources and survivors inside Iran risking their freedoms and lives to report the sexual violence. In Armita Abbasi's case, her apparently brutal rape is unlikely to have become public knowledge if the medics had not leaked the details to the press and to social media.
Armita Abbasi, 20, of the Iran-Protests, a Gen Z-er, had a Sexual Assault
Armita Abbasi, 20, bore all the hallmarks of a Gen Z-er. Her hair was blonde and she had a pierced eyebrow. She wore colored contact lenses, and filmed TikToks with her cats from her living room.
It was an ominous statement that implied that Iran's justice system would use a harsh punishment for the 20-year-old. Abbasi became a symbol of the protest movement in Iran after a series of leaked accounts oninstagram were found to have been created by her.
She was arrested in her hometown of Karaj, just west of Tehran, nearly a month after the onset of the demonstrations. In an October 29 statement, the government claimed she was "the leader of the riots" and that police discovered "10 Molotov cocktails" in her apartment.
The contents of the leaked accounts — conversations between medics on Instagram's private messaging service — suggested that Iranian security forces tortured and sexually assaulted Abbasi.
On October 17, Abbasi was rushed to the Imam Ali hospital in Karaj, accompanied by plainclothes officers, according to leaks from that hospital. Her head had been shaved and she was shaking violently. In the accounts, the medical staff attending to her spoke of the horror they felt when they saw evidence of brutal rape.
"After the truth became obvious to all, they changed the whole script," wrote the medic. CNN can confirm that four to five medics leaked the messages to social media. They believed that she had been sexually assaulted while in custody.
Source: https://www.cnn.com/interactive/2022/11/middleeast/iran-protests-sexual-assault/index.html
A female activist in a network of prisons and detention centers: "Sexual" abuse of Abbasi and other protesters
Abbasi is currently being held in Karaj's notorious Fardis prison, according to the Iranian government. CNN has been unable to reach her or her family members for comment.
Hana says that she was not deterred. She joined the protests and, like many other female demonstrators, she spun around and danced as she waved her headscarf in the air before burning it, in what has become a ritualistic feature of the nationwide protests.
Hana tells CNN from her family home on the Iraqi side of the Iran-Iraq border region that there were about 30 to 40 women and 40 boys at the holding center.
"There were kids as young as 13 and 14 years old who were captured in the demonstrations. They were brutally hurt. They hurt the girls even more. They behaved in a sexual way towards them.
There was a main hall with private interrogation rooms off it, she says. "An officer would take a pretty girl, and he would go to a room to be alone with her and sexually assault her."
Their families had no idea where they were held when they moved from one location to another. Hundreds have disappeared into this network of prisons and detention centers, according to rights groups.
Hana was one of the few activists that fled Iran. She and her uncle were following a group of Kurdish people who were crossing the border. Only a few protesters have embarked on the dangerous journey. The Iranian side of the border is heavily militarized and security forces are frequently shooting at those who cross and smuggle goods.
Hana lives in a mountain town with her family. She has hair that falls down to her waist. On a day when CNN speaks with her, she has a white scarf around her neck. The purple mark is where she says a security officer forced himself on her and violently kissed her.
There was a fight outside the tiny interrogation cell, where Hana says the policeman assault her, assailing her with promises of freedom and making sexual demands.
The boy said that a security guard overheard the conversation about the sexual assault and that he proceeded to torture him. The boy said he was also raped.
International rights groups Human Rights Watch and Amnesty International have also said that they recorded several instances of sexual assault in prisons since the onset of the protests in mid-September.
Source: https://www.cnn.com/interactive/2022/11/middleeast/iran-protests-sexual-assault/index.html
Imam Ali: A crime is happening and I can't stop crying and I'm sorry, but I can tell you I am sorry I am going to jail
"I'm not trying to spread fear and horror," wrote one medic from Imam Ali hospital in a social media post. This is the truth. A crime is happening and I have to speak up.
Corrected: The authenticity of the accusation that was made by the daughter of a late general could not be verified by CNN.