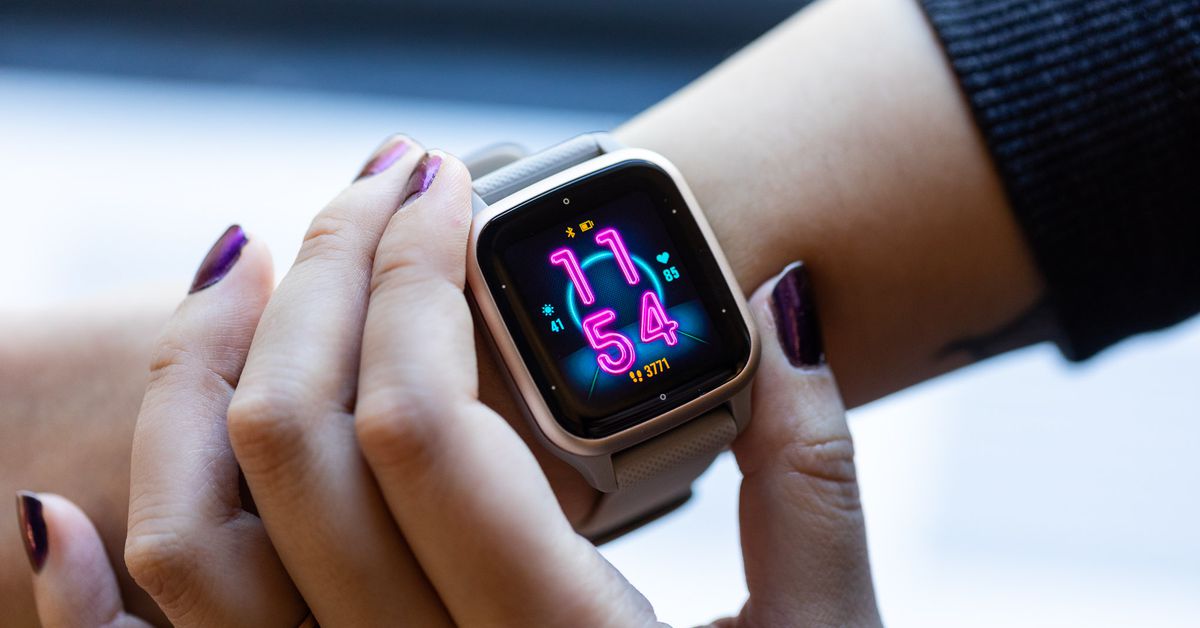 The new hybrid smartwatch from Garmin has wireless charging
The Trend is so sporty that you can wear it without being too cute and too small : A smart watch for an easy-to-read read
There is a reputation for the watches to be thick and ugly. The Trend is not one of those things. While the Vivomove Sport had a cuter Swatch-y design, I'd describe the Trend as elegantly sporty. It's the type of device I'd expect to see at a yoga studio, worn by a person who show up in a matching pedicure and white sneakers.
The design did grow on me after a few days. The case is made of plastic and the aluminum frame gives it a chic vibe. I would not wear a silicone strap, but if you want a cheaper one, you can always swap it for a 20mm band. Size-wise, the 40mm watch case is just right for my wrist, and it was comfortable enough to wear 24/7. At 38g, it's lightweight, and I'm pleased to report I didn't rip it off at night as I sometimes do with bulkier watches, and it didn't drag down my wrist while running. It is great if you have more small wrists like me. The watch is also a slim 11mm and never caught on my winter coat sleeves.
While I prefer smaller watches for comfort, I often find their screens harder to read. But I didn't mind the Venu Sq 2's display. My eyesight isn't great, but the vivid colors and larger default text size made notifications easier to read than on other similarly sized watches. The touch screen is sometimes late, but not at the point where it is useless or frustrating.
The Trend, or How to Get Them All: Wirelessly Charging Your Smartwatch and Its a Good Idea to Have It On Your Smartphone
The Trend has five days of battery life on a single charge. That's about what I got during testing with 24/7 wear, default brightness, more notifications than I care for, and about 30-60 minutes of GPS activity every day. It is not as long as you use other fitness bands, but the battery life depends on your usage. At least now, you could stick a Qi charger in every room, and you'd be covered.
It is not new to watch to have wireless charging. In fact, most modern smartwatches come with some kind of wireless charging magnetic puck. It won't work with your Smartwatch because these chargers are proprietary, and you don't have to have a wi-fi card. I think at least, not reliably. Conversely, Garmin says you should be able to plop the Trend onto any existing Qi-certified charger you may already have. It's neat and it's easier to misplace a smartwatch charge than it is to misplace your typical device. Not only is there a good chance your dozens of USB, micro USB, and USB-C cables won't be compatible, but it often costs a pretty penny to buy a replacement from the manufacturer, and third-party dupes may not always work.
Offline versions of the music service are the easiest way to listen to music. You can download them right from the watch app. (You'll need a Premium account.) It took about five minutes to transfer the 100 songs in Spotify's This is: EXO playlist. I have a great time listening to it as I write this review. Amazon Music, Deezer, and others are supported by the Connect IQ store. It is not a good idea to use Apple Music to transfer files between your PC and Apple Music account because they only transfer files that you have purchased from the iBookstore. This ruined my running playlist and took away an entire hour from me. Trust me: just use Spotify, or stream from your phone.
The Venu Sq 2 smartphone app: a companion for Garmin Pay, Apple Pay, ANT Plus, and other services in the US
The Venu Sq 2 supports contactless payment via Garmin Pay. It isn't as widespread as Apple Pay or Google Wallet, but it'll do in a pinch. I could add a card and pay for a drink at the vending machine. There are a lot of banks in the US that support Garmin Pay, but you need to double check them. In certain cities, you can also use it for public transit, though in the US, that only includes New York, Chicago, and Portland, Oregon.
However, the Venu Sq 2 isn't a truly standalone watch because Garmin's safety and fall detection features require your phone's cellular connection. It's fine when sticking close to home. I've left my phone behind for a short recovery run around the block and while cross-training at my building's gym. The key is that in either scenario, I'd be able to get help even without my phone. I'd be much warier of leaving my phone at home when venturing outside my neighborhood.
It has a continuous heart rate monitor, barometric altimeter, a accelerometer, ambient light sensor, and blood oxygen monitoring. It has an activity tracker that tracks steps, calories, and floors climbed. You'll be able to do heart rate zone training, see your VO2 Max, and broadcast your heart rate data to ANT Plus gym equipment and accessories. Body battery is one of its proprietary metrics that provides a visualization of recovery and fitness age. You have mindfulness features and sleep tracking. You will be pretty much set even if we go on and on, because of the most intensive training features.
All of Garmin's privacy and legal policies are available within the Garmin Connect app. You have to grant certain phone privileges for the Garmin Connect app. End- User license agreements are also one of the optional safety features. You may also have to agree to share your health data with the company for certain features. If you decide to enable Garmin Pay, you'll also have to agree to the Garmin Pay Terms and Conditions and Garmin Pay Privacy Policy. Integrating your Garmin activity data with other services, like Strava, Spotify, or Apple Health Kit, also requires you to agree to those individual terms and policies.
The Garmin Connect smartphone app has improved over the years, but the user interface still isn't friendly to newcomers. Commonly used settings are often buried in places you wouldn't think to look, and reviewing data often feels like staring at a wall of text and numbers. Look at this dashboard and summary of a typical running workout. A taste is just what it is. I would need more than seven images to view everything on a low-key day. Other apps don't demand more than two or three.
Changing on-wrist and app settings can be difficult. If you wish to change to always-on, you have to long-press the bottom button. Display > Not during activity / During Activity > Timeout > Always-On. There's no quick settings menu like on most other smartwatches. Another weird thing is you can't manage Venu Sq 2 watch faces from the app, just on the watch itself. You run into a lot of this, as evidenced by the numerous Garmin Connect FAQs online.
The Connect app has a lot of flexibility and I like it. For instance, you can edit the tabs at the bottom of the Connect app and program hotkeys or shortcuts. It is a steep learning curve, but if you work hard you can make it easier to understand. It's not so bad once you get used to it. Either that's true or I have Stockholm Syndrome.
Why a Smart Device isn't a Fitbit: Comparison of Some Smart Devices and Their Appearance in a Trend
All of these products — and some I haven't mentioned — are compelling alternatives to Fitbit. I like the idea of recommended Garmin as the better investment.
Every smart device now requires you to agree to a series of terms and conditions before you can use it — contracts that no one actually reads. It's impossible for us to read and analyze every single one of these agreements. But we're going to start counting exactly how many times you have to hit "agree" to use devices when we review them since these are agreements most people don't read and definitely can't negotiate.
To use the Trend with a phone, you must pair it with an operating system. That includes the phone's Terms of Service, privacy policy, and any other permissions you grant. You must also create a Garmin Connect account to use the app.
Three mandatory garmin policies, plus four phone Permissions for smart features is what the final tally consists of. There are additional policies with health insights, payments, and safety features.
It'll be interesting to see how the Trend differentiates itself from the similarly priced Vivomove Style. It seems to boil down to what you'd prefer: the Style's color OLED display and all-metal body or the Trend's wireless charging. Even without the metal body, the Trend is still chic on the wrist, even without it. I'll have to try out Qi charging before passing a final verdict, but so far, the Trend is in line with what you'd expect from Garmin's hybrid line.
It was only the first image that popped into my head, and it was the version of me I wished I was when testing the Trend. My nails are chipped and my sneakers are white, so my outfits are more practical than cute. Garmin says the Trend is targeted toward women, but its design isn't so feminine that it's only for women. The all-Black version makes it easy to see it on a business person in a suit, and you can swap the straps out for any standard 20mm band. It's got a 40mm case, but there are plenty of people who prefer that to larger ones. The Trend won't appeal to anyone looking for a rugged vibe, but it's not intended to.
The Trend is considered to be the low end in the Vivomove lineup. Unlike the more expensive Vivomove Style and Vivomove Luxe, it has a plastic case and a liquid crystal display, and the lens is made of chemically strengthened glass. But I never felt the Trend was a downgrade. It helps that the trend has a shir steel strap, but it also raises the overall look.
The Trend: Smart Hybrid Watch with Analog-Structured LEDs and Water Resistant Detectors for Active Lifestyles
The lightweight it is with the strap makes it great for everyday wear. It didn't weigh my arm down while working out, I never felt the urge to rip it off while sleeping, and it never caught on my sleeves. It has 5ATM of water resistance, which means you could hop in the pool with it and be fine, though I wouldn't because touchscreens and water don't mix. However, you don't have to take it off if you've got a pile of dishes to wash, get caught in a downpour, or need to wrestle a prickly cat into the bathtub.
A hybrid watch is never going to be the smartest wearable on the block. But if you're not looking to control a smart McMansion, the Trend has a great mix of basic and modern features.
I love these hidden displays because it's a clever way to bring analog style into the modern era, all while being adaptable to different price points. Like the entry-level Sport, the Trend opts for monochrome LCD instead of the color OLED you'll find on the more expensive Vivomove watches. The secret displays of theTrend allow you to view data on the entire screen instead of just the bottom half. That makes it much easier to read full notifications and navigate menus.
Some of the drawbacks are. One is that there's no physical buttons — and no crown — and touchscreens can be finicky if you're sweaty or wearing gloves. The hidden display can be washed out in bright lighting, so you can adjust the brightness levels to help mitigate that. The display on the Trend is a improvement over previous models, and I would love it if the display was more responsive.
If you want to get push notifications, media controls, find my phone, alarm, timer, and analog hands, you will have to subscribe to the service. Android users can also reply to texts and reject phone calls. Safety features such as fall detection and live tracking are included in the Trend. If you need the safety features, they are there, though not as great as what Apple andSamsung have.
You do get some perks, such as ANT Plus, but this is a lifestyle watch and you won't be able to use the cellular network. It doesn't support built-inGPS and only supports it via your phone. This isn't going to be a stand alone watch for long runs or hikes, but it is more than adequate for keeping you in the loop during work or at the gym.
This tracker is better suited to workouts where you canZone out or just getting the credit for doing something is all that is needed. I liked it for yoga, walking, arm work, and mobility work. I prefer the Apple Watch Ultra for half training since it is okay for shorter runs. The same is true for health tracking. Garmin's sleep tracking isn't the best I've tested, but it gets you in the right ballpark. Heart rate data is good, but sometimes your nightly SpO2 will be suspiciously low. You probably won't like that if you obsess over numbers, but accuracy is only one aspect of health tracking. The bigger goal is to see your progress over time, and the aptly named Trend is more than equipped to do that.
I wouldn't recommend trying to check your metrics because it was taking me out of the flow. Between the dimmer display and lack of physical buttons, swiping through screens was more distracting than it should've been.