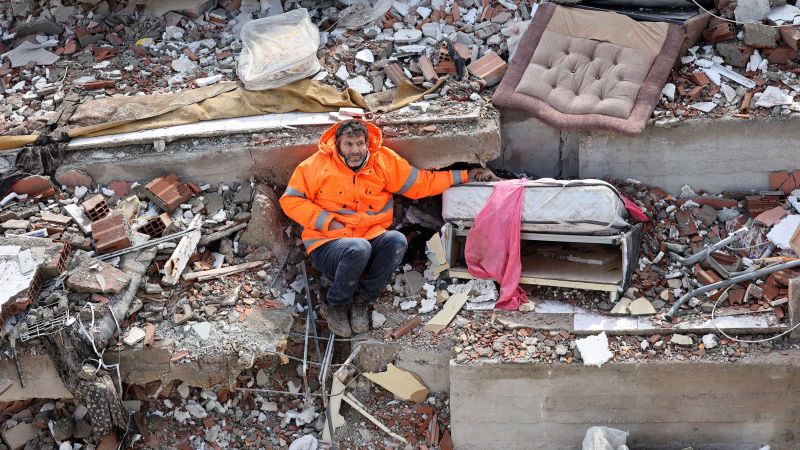 The defining image of the Turkey earthquake was behind it
An earthquake hit Turkey last week and killed many thousands: the widow of a 15-year-old girl in Kahramanmaras
It's been a week since a massive 7.8 magnitude earthquake rocked Turkey and Syria, claiming the lives of more than 36,000 people. There have been many injuries. Millions may be left homeless.
He was photographed holding the hand of his 15-year-old daughter, Irmak, under the rubble in the southern Turkish city of Kahramanmaras, near the epicenter of the quake. He said she was dead when it hit, with no chance to escape.
Hancer grieves for his daughter and other people. The earthquake struck when members of his family had traveled across Turkey to his mother's house, where his daughter was staying.
"I didn't have hope because there was a large girder on my daughter. Her waist up was free but below her waist under the rubble," she was crushed, he said. She died as a result of the earthquake. She didn't have a chance of survival."
The ruins of the building where Sakine and Semra died, and the first winch arrival at the Islahiye apartment building
I also talked with them. [the Disaster and Emergency Management Presidency in Turkey], and they helped as much as they could. Hancer said they couldn't give an excavator to that area.
"My mother, my two older brothers, my sister-in-law and her little daughter. My daughter was among seven people. Hancer said that they were all under the rubble.
He said that Hancer doesn't have a place to stay because his home has been badly damaged. "We cannot enter our house because we don't have the means. We're left outside.
Many say the scale of the tragedy is due to a lack of regulations and corruption in the construction industry. The Turkish government has arrested at least a dozen contractors for their role in the deaths.
When she was pulled out of the rubble of her collapsed apartment in Islahiye last Tuesday, the 44-year-old mother wrapped her arms around her four children.
In the last moments of their lives, tragically cut short by their apartment block, the mother and sons and daughters of Mehmet and Damla were close to each other.
Looking at the ruins of the apartment building, Melike Bayar can't help but cry. Their mother and sister, both 65 years old, are still under the rubble. They have yet to be found. Kamil, Sakine's husband, survived because he was in a hospital for dialysis treatment on the night of the quake.
Mehmet Gezici and his wife, Zinan Gezici, 23, who flew in from Paris, are less optimistic about the future. They believe Sakine and Semra are dead.
The Islahiye apartment building site has dozens of families waiting. They are sitting on black plastic chairs facing the rubble. The air is thick with the smell of corpses, of smoke, of chalky concrete. People have been wearing clothes for a week with building dust and ash.
The first winch, needed to lift concrete, arrived Wednesday, but could only lift 100 tons. The first arrived a week and a half after the earthquake. In a week, volunteer crews have only made it down from the sixth floor to the third floor of the building.
Derya and Hidayet Demir, four siblings, and a friend of Avci, 23, after the February 6 earthquake
Members of Derya Demir's family, all Kurdish and originally from the nearby town of Colaklar, have been here since last Monday, shortly after the quake hit. Her brother Hidayet was the first one to arrive after the other six members of the family.
He speaks in a shocked tone when asked how he is doing. As he speaks, his eyes dart back to the collapsed building where his sister and mother still lie.
Hidayet says that when he arrived Monday morning, people told him they had heard children's screams from the direction of Derya's apartment. The family believes the children were alive for at least some time after the earthquake. They think help came too late.
As they wait for crews to find their mom and sister, they hold each other as they warm themselves around the fire next to the site.
They try to make up for lost time with their loved ones, and they talk of them in the present tense. The four young children, and Derya, Sakine, and Semra — all, in their telling, still exist.
"How is my mother and everyone?" The man on the stretcher spoke calmly into his cell phone. He cried in disbelief as his friend told him they were all waiting for him.
This was the emotional exchange that followed the rescue of Mustafa Avci, 33, who was pulled from the rubble of a collapsed building in Turkey's southern Hatay province 261 hours after a powerful 7.8 magnitude earthquake struck the region on February 6.
Turkish Health Minister Fahrettin Koca released a video showing a phone call between Avci and his friend, 11 days later, in a reminder that even though the odds are against survivors, there is still hope.
The death toll of Turkey and Syria rose to more than 40 thousand as the rescue of Avci late on Thursday night.
In the video, Avci can be seen wearing a neck brace and appears wide-eyed with hope as he asks: "Did everyone escape okay…? Let me hear their voices if for a moment."
Koca, the minister, said both Avci and a second man, Mehmet Ali Sakiroglu, 26, were rescued around the same time from under the ruins of a private hospital building.
Most successful rescues occur within 24 hours and it was rare for a person to survive more than 100 hours trapped in rubble.
Aydinli said he thought his fellow rescue workers were "hallucinating," and he assumed the boy had "died with his eyes open." But the child cried out, "Brother! I don't feel my legs. Save me!"
Aydinli said they get tears in their eyes when they remember the boy's rescue. "He is quite well and conscious. Hopefully, he will get better.
Survival of survivors trapped in the rubble after quake-assisted shocks: the miraculous story of Osman Turk's national medical rescue unit
Meanwhile, though donations are pouring in from all over the world, many survivors have been left homeless in near-freezing winter temperatures with a lack of access to basic necessities.
A lot of lives were saved and people were pulled from the rubble by friends, family and neighbors. The World Health Organization's emergencies director told a press conference that front line health workers have done amazing work in both countries.
WHO said it was particularly concerned for people in northwestern Syria, a rebel-held region with little access to aid. The UN health agency requested more border crossing points with Turkey for aid to enter.
A tipped wall creating a small cavity is one way several lucky people managed to stay alive under the rubble after last week's massive earthquake and aftershocks.
Some found themselves, by chance, trapped underneath a wall that fell over onto a bed or another object, creating a small triangle that protected them.
"They have a space to live," says Osman Turk, a response specialist on Turkey's National Medical Rescue Team coordinating triage units that help survivors pulled out of the rubble.
He says in one case, a wall falling onto a refrigerator gave a child a protective space and food for four days before she was rescued.
"I can't do that," recalled Ali Kafadenk, the first Earthquake survivor in the disaster zone
"That was the only option, we thought," Ali Kafadenk says. "Like, any minute, there's going to be something that's going to come crashing down on our heads and this is going to be the end."
He covered his wife with the bedcovers, and threw himself over her to protect her. They cried together, and prayed together. We told each other that we were created by God. He says they will go back to God.
There was an opening in the wall. He felt the snowy air, even though it was too dusty to see. He heard his neighbors' screams. My baby is stuck there. My leg is stuck there. My mother is under here. My dad's over there.
"He said, 'I have seven children who are stuck under the rubble over there. I just heard you, so I tried to help you. I came for you. But now I need to go and deal with my children,'" Ali recalls.
Nine days after the earthquake, Kafadenk is back in the disaster zone with his brother to get the registration papers for his insurance claim. It's the first time he's returned to the ruins of his home.
Source: https://www.npr.org/2023/02/19/1157801615/turkey-earthquake-survivor-islahiye
Merve teaches Kindergarten through Fourth Grade, and he is so happy that he can teach in a school that pays triple what he used to teach
Merve teaches kindergarten through fourth grade. They've tried calling their colleagues but can't reach them. He thinks they've passed away.
He finally got accepted to teach in a school that pays triple what he used to make, and the good news is that it was a good school.