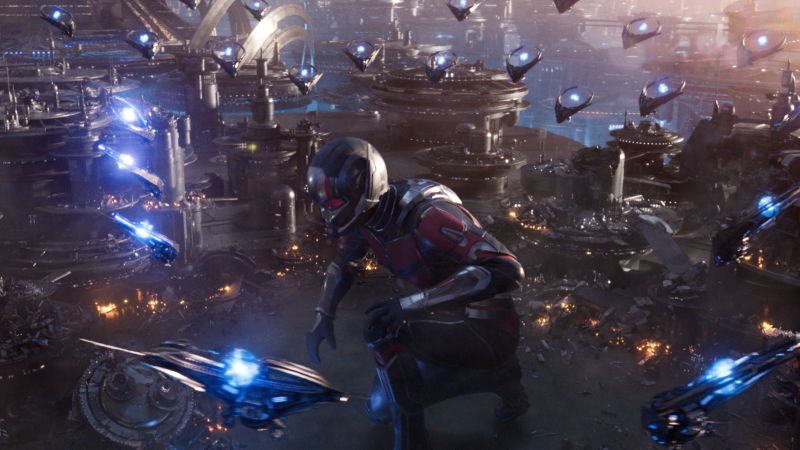 The sequel to 'Ant-Man and the Wonderwoood' comes up short
From Avengers: Endgame to Avengers: The Crucial Rolls of the Marvel Studios in the Run-Of-the-Rule Era
The unfavorable reviews greeting "Ant-Man and the Wasp: Quantumania" have triggered inevitable speculation about Marvel losing its mojo, and whether the studio's 15-year run of box-office dominance might be, well, shrinking, if not entirely over. The past shows a pivotal moment, despite the hard to see future. The exit of foundational characters that followed "Avengers: Endgame."
Director Peyton Reed is back for the third time, and the movie begins with a similar sense of whimsy, but similarities to the franchise's 2015 introduction pretty much end there.
Although he made an appearance in Marvel's "Loki" TV series, that didn't prepare audiences for the Thanos-level threat that Kang represents, and Majors invests him with quiet menace and majesty – a sense of gravitas that's no small feat given the contours of some of the dialogue. If Kang is destined to become the central antagonist as the next batch of movies again build toward an Avengers-sized showdown, Majors is the one thing to emerge from "Quantumania" on which anyone could hang their hat.
The creative challenges ushered in by the post-"Endgame" period were obscured in part by the logistical ones caused by the pandemic that impacted the entire film industry, altering expectations about what a "hit" movie actually looked like. The studio also effectively funneled much of its energy into launching parent Disney's streaming service, Disney+, most effectively with series spun out of the Avengers franchise, and less so with efforts to bring new second-tier heroes (see Moon Knight and She-Hulk) to the screen.
The original pillars of the plan were the Iron Man movie and Captain America movie by Robert Downey Jr. and Chris Evans.
The departure of the first two after "Endgame," followed by the sudden and unexpected death of the likeliest heir to their mantle, "Black Panther" star Chadwick Boseman, dealt Marvel a blow that it has been struggling to compensate for ever since.
With the benefit of hindsight, Marvel has essentially been in rebuilding mode since the Thanos saga reached its epic conclusion, having sacrificed a level of star power that simply isn't easily replaced.
Even so, if "Quantumania" does not perform as expected, it would be foolish to write its epitaph. The studio is expected to integrate its former Fox properties into its cinematic universe with the upcoming releases of Spider-Man 3,X-Men: DAYS OF FUTURE PAST and Fantastic Four.
Still, Marvel's strength has given way to certain signs of weakness, and the delicate balancing act associated with satisfying existing fans while creating points of entry for new ones – a priority Marvel chief Kevin Feige cited in an interview with Entertainment Weekly – has become more involved as its universe has expanded, making the process of keeping track of every interlocking wrinkle feel more like "homework," as he put it.
Feige said that Disney should spacing out their shows and produce fewer Disney+ series to make sure that the brand stays strong.
Even if "Ant-Man and the Wasp" falls short, Marvel's next phase could still wind up being a rousing success, and the potential of the aforementioned Fox additions seems particularly bright.