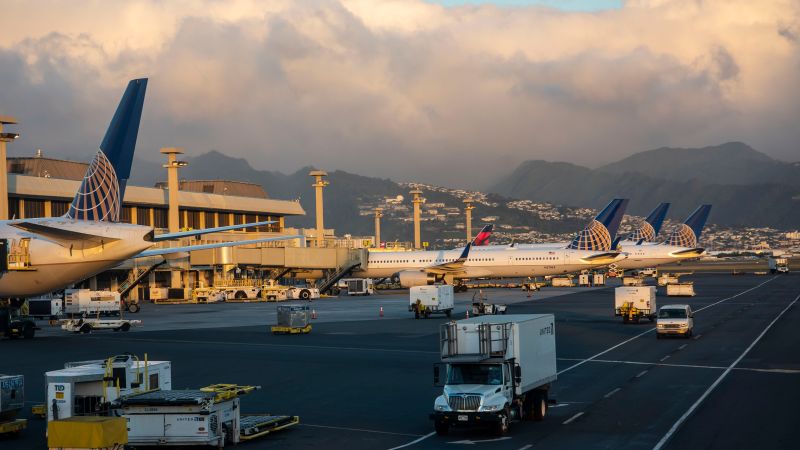 In a month, investigators look into a third runway near-miss
Investigation of an improperly crossed runway between a United Airlines jet and a smaller, single-engine cargo plane at the Honolulu airport
The National Transportation Safety Board said Wednesday it is investigating a January 23 incident involving a United Airlines 777 jet and a smaller, single-engine cargo plane at the Honolulu airport.
The United jet improperly crossed a runway at the Daniel K. Inouye International Airport while the cargo aircraft was landing, the Federal Aviation Administration said. The aircraft were 1,170 feet apart at the closest point.
Kamaka Air has a small plane called the Cessna 206 that can ferry things between the Hawaiian islands. The airline did not immediately respond to a request for comment.
Billy Nolen, the acting FAA administrator, had directed his agency to look at the data to see if there were other incidents that looked like the ones we have seen recently.
One included an American Airlines jetliner that crossed a runway at New York's JFK International Airport where a Delta Air Lines flight was taking off on January 13.
The crew of the plane did not have the clearance to cross the runway, which led to a subpoena for their testimony.
The Southwest Airlines flight that was cleared to use the same runway as the FedEx plane narrowly dodged a landing in Austin, Texas on February 5. The planes were close to each other at one point.
Unlike in that Honolulu incident, the plane came to a stop before crossing the street, and in that case there was a need for one of the planes to make a decision.
"The tower visibility was zero. It was a low, low visibility day," Nolen said. "But when we think about the controls, how we train both our controllers and our pilots, the system works as it's designed to avert what you say could have been a horrific outcome."
A United Flight in Hawaii Cannot Be Worst About Another Near-Collision on a Runway at JFK International Airport
The public learned this week of another incident involving a United flight in Hawaii. A flight departing Kahului Airport in Maui in December plunged toward the ocean shortly after takeoff.
The American Airlines pilots involved in a near-collision on a runway at John F. Kennedy International Airport last month will comply with a subpoena to testify before the National Transportation Safety Board, their union said.
The statement said that the parties to the investigation were not allowed to speak about it while the investigation was pending.
A Delta plane aborted its takeoff on January 13 due to the American Airlines plane crossing a runway without air traffic control clearance.
The flight voice recorders on both aircraft were overwritten, meaning investigators can't hear what was said in the cockpit at the time of the incident.