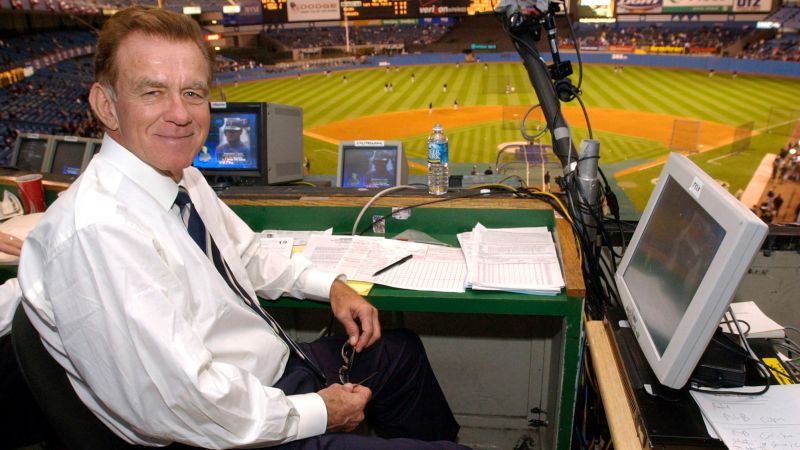 All-Star catcher and Hall of Fame commentator Tim McCarver has died at the age of 81
Tim McCarver: An Insider Look at the Phillies' Most Distinguished Moments with Phillies, Mets, Yankees, and Cardinals
"Tim McCarver was an All-Star, a World Series Champion, a respected teammate, and one of the most influential voices our game has known," MLB commissioner Rob Manfred said in a statement. Tim was one of the key players on great teams in his 21-year career. His attention to detail in the booth brought fans a closer look at how the game is managed. Tim's approach improved the fan experience on the big stages and on the broadcasts of the Mets, Yankees, and the Cardinals.
During a 21-year career, when he also played briefly for the Montreal Expos and Boston Red Sox, McCarver batted .271 overall and only twice struck out more than 40 times in a single season. In 1964 he had his best outing in the playoffs as the Cards defeated the New York Yankees in seven games. In the fifth game, he went 7-for-11 with five walks and a 3-run home run that gave his team a 4-2 victory.
"Tim joined the Phillies at the height of his career and returned for his final six seasons as a veteran leader, helping the club to three straight NLCS appearances and, ultimately, their first-ever World Series title," Phillies owner John Middleton said in a statement. "Following his playing career, fans throughout the world, including here in Philadelphia, listened to him describe their favorite team's most iconic moments with professionalism and class. For Tim's leadership, friendship and voice, the Phillies are forever grateful."
"Some broadcasters think that their responsibility is to the team and the team only," McCarver told The New York Times soon after the Mets let him go. I have never thought that. My No. 1 obligation is to the people who are watching the game. And I've always felt that praise without objective criticism ceases to be praise. To me, any intelligent person can figure that out."
"Behind every successful pitcher, there has to be a very smart catcher, and Tim McCarver is that man," Carlton said during his Hall of Fame induction speech in 1994. "Timmy forced me pitch inside. Early in my career I was reluctant to pitch inside. Timmy had a way to remedy this. He was behind the hitter. I was forced to pitch inside because I couldn't see the umpire, and he was the only one there.
In Memphis, where he attended a segregation-era high school, he spoke about his education as a newcomer in St. Louis. His teammates included Gibson and outfielder Curt Flood, Black players who did not hesitate to confront or tease McCarver. When a black child tried to jump a fence in a spring training game, Gibson remembers getting right up in McCarver's face. McCarver liked to tell the story about drinking an orange soda during a hot day in spring training and Gibson asking him for some, then laughing when McCarver flinched.
In his 1987 memoir "Oh, Baby, I Love It!", McCarver wrote that it was probably Gibby who helped him overcome any prejudices he may have had.
Carlton was a rookies in 1965, "with an independent streak wider than the Grand Canyon," wrote McCarver. After moving to Philadelphia, the two became close and were able to reconcile after a few fights on the mound. Carlton chose a catcher that had a below average throwing arm to serve as their designated catcher, despite the fact that he didn't compare favorably to the regular catcher.
McCarver liked to joke that he and Carlton were so in synch in the field that when both were dead they would be buried 60 feet, six inches apart, the distance between the rubber on the pitching mound and home plate.
Younger baseball fans first knew him from his work in the broadcast booth, where he worked for both CBS and Fox, as well as local games for the Mets and Yankees. McCarver won six Emmys and became enough of a brand name to be a punchline on "Family Guy"; write a handful of books, make cameos in "Naked Gun," "Love Hurts" and other movies and even record an album, "Tim McCarver Sings Songs from the Great American Songbook."
His trademark was knowledge. He had the time to visit art museums and read books in his spare time. He was the team's only one-man scouting team and he spent a lot of time preparing for each game. At times, he seemed to have psychic powers. In the seventh and final game of the 2001 World Series, the Yankees drew the bases loaded with one out in the ninth and the score was tied at 2. Relief ace Mariano Rivera was facing Arizona's Luis Rodriquez.
Rivera throws to left-handed pitchers. The lefty hitters get a lot of broken-bat hits into the shallow part of the outfield. That's the danger of bringing the infield in with a guy like Rivera on the mound."
"When you the consider the pressure of the moment," ESPN's Keith Olbermann told The New York Times in 2002, "the time he had to say it and the accuracy, his call was the sports-announcing equivalent of Bill Mazeroski's home run in the seventh inning to defeat the Yankees in 1960."
A Conversation with Jim McCarver about the Game and a "Theoretical Perspective" on World Series Successes for the Cardinals
McCarver and his wife, Anne McDaniel, had homes in Sarasota, Florida, and Napa, California. In recent years, he was announced part-time for Fox Sports Midwest, and worked occasionally for the Cards, before sitting out the 2020 season because of concern about the Covid 19-. He was a recipient of two awards in 2017: the Frick award and the Cardinals Hall of Fame.
He mentioned during his speech that he had played in three World Series by the time he was 26. "Uh-uh. The game has a way of keeping you honest. I never played in another World Series."