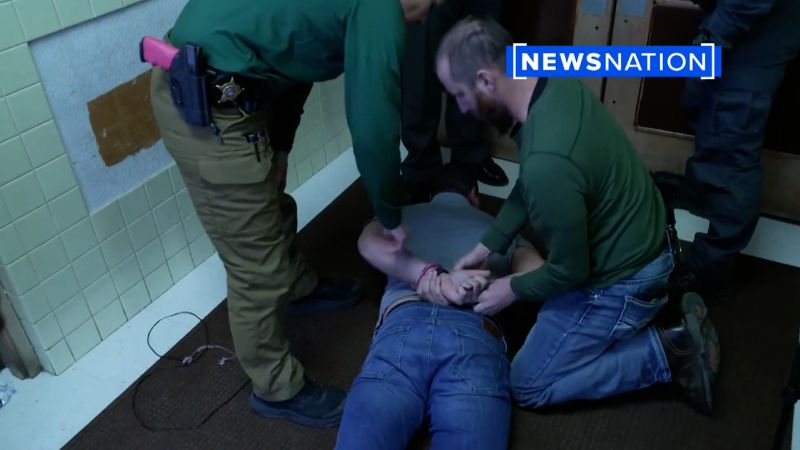 The NewsNation reporter was arrested after law enforcement told him to stop his broadcast
The Wall Street Journal's Case against a Black Journalist: Investigation of an Officer-Cuffed and Taken into Account by an Officer outside a Bank
The Wall Street Journal asked the Phoenix Police Department to provide more information about the incident after one of its journalists was handcuffed and taken into custody by an officer outside a bank.
A version of this article first appeared in the "Reliable Sources" newsletter. Sign up here for the daily digest chronicling the evolving media landscape
In response, the Phoenix Police Department — which is being probed by the Department of Justice to determine whether its officers retaliate against people "for conduct protected by the First Amendment" — stressed to me that the incident occurred on private property, but that the department had nonetheless shared concerns raised by the paper with the Professional Standards Bureau andthat an investigation is underway.
The crux of the matter is an act of journalism. While visiting family in Arizona for the Thanksgiving holiday, Rabouin, who is Black, attempted to interview passersby on a sidewalk outside a Chase branch for an ongoing story about savings accounts, he told the Phoenix affiliate.
In a letter dated December 7 from Journal Editor-In-Chief Matt Murray to Phoenix Police Department Interim Chief Michael Sullivan, the editor described the officer's conduct as "offensive to civil liberties," and demanded to know what steps the department will take to "ensure that neither Mr. Rabouin nor any other journalist is again subjected to such conduct." The Journal told me Thursday that Murray has not received a response from Sullivan.
When other officers showed up, he was allowed to walk free after about 15 minutes. A representative for Chase told me Thursday that the bank did apologize to Rabouin over the incident. The local police department has not done so yet.
Source: https://www.cnn.com/2023/01/06/media/wsj-reporter-chase-arrest/index.html
The NewsNation Correspondents who Report Live are Interfering with the Ohio Department of State's News Conference on a Train Derailment
Bruce Brown, the executive director of the Reporters Committee for Freedom of the Press, told me in a statement that there have been many incidents over the past several years where reporters have been arrested or injured while doing their jobs.
People have reached out to offer support. "We're hoping to hear back from the chief or someone at the department soon."
A NewsNation correspondent was arrested Wednesday after he began reporting live during a news conference held by Ohio authorities regarding a train derailment – an arrest the network says happened after he was told to stop speaking during the governor's remarks.
The governor did not see Lambert's arrest happen, but was later told that a reporter was asked to end his broadcast because "the volume of his reporting was perceived to be interfering with the event," his office said in a statement after the news conference.
Mike DeWine expressed concern about the arrest and his office said he wasn't aware of it. Lambert was released from a county jail Wednesday night. It wasn't immediately clear what led to his release.
When he spoke to his network after his release, he mentioned that he doesn't expect journalists to be arrested when they are doing their job.
Lambert-McMichael was charged with resisting arrest, a second-degree misdemeanor, and criminal trespass, a fourth-degree misdemeanor, according to Yost.
The journalist who broke the law was not hampered from reporting: I'll tell you, I don't think so, but you know what I'm talking about
The news conference was scheduled to begin at 3 p.m., but was delayed until about 5 p.m., NewsNation reported. It was just as Lambert was about to begin his live broadcast that DeWine began speaking.
Several law enforcement officers surround the door of the gymnasium, blocking him from walking further into the room while they try to get him to leave.
"As you see from the videos, he was doing his job – what hundreds of journalists do without incident – reporting to the public on a matter of urgent, critical interest to our audience," Viqueira said.
Yost said that the incident is not one of the cases where journalists could be subject to criminal charges. The reporter was in a room with the Governor of the state. His conduct was consistent with his role as a reporter.
"That person had a right to be reporting. They should have been allowed to report," he said. "If they were in any way hampered from reporting, that certainly is wrong and it's not anything that I approve of. In fact, I vehemently disapprove of it."
Insights into the Nature of a Police Investigation into an East Palestine Trajectory by a New York City Correlator, Sgr Yost
The train wreck that burned for days was reported during a news conference by DeWine and local officials.
The criminal charges filed against the NewsNation reporter who was arrested while reporting at a news conference in East Palestine have been dropped, Ohio Attorney General Dave Yost announced Wednesday.
Body camera footage shows officials approaching and asking Lambert-McMichael to stop reporting as it was too loud during the press conference. The footage also shows an argument break out and Ohio National Guard's adjutant general, Maj. Gen. John Harris, approaching and pushing Lambert-McMichael.
"I'm still processing what was a traumatic event fore me, in the context of a time where we are hyper aware of how frequently some police interactions with people of color can end in much worse circumstances. Lambert-McMichael commented, that is not lost on him.
I am doing alright, that's all. And I will be OK. I will do my job with honor and without fear for the good of the public. He said he hopes what happened to him shines a light on the people of East Palestine, who have questions about their safety due to an environmental hazard.
"This reporter who was reporting live from the back of the room never should have been asked to stop, never should have been told to be quiet," the Republican governor told CNN's Don Lemon and Kaitlan Collins. That was a big mistake. I have explained to them, that the person who did that will never do that again.