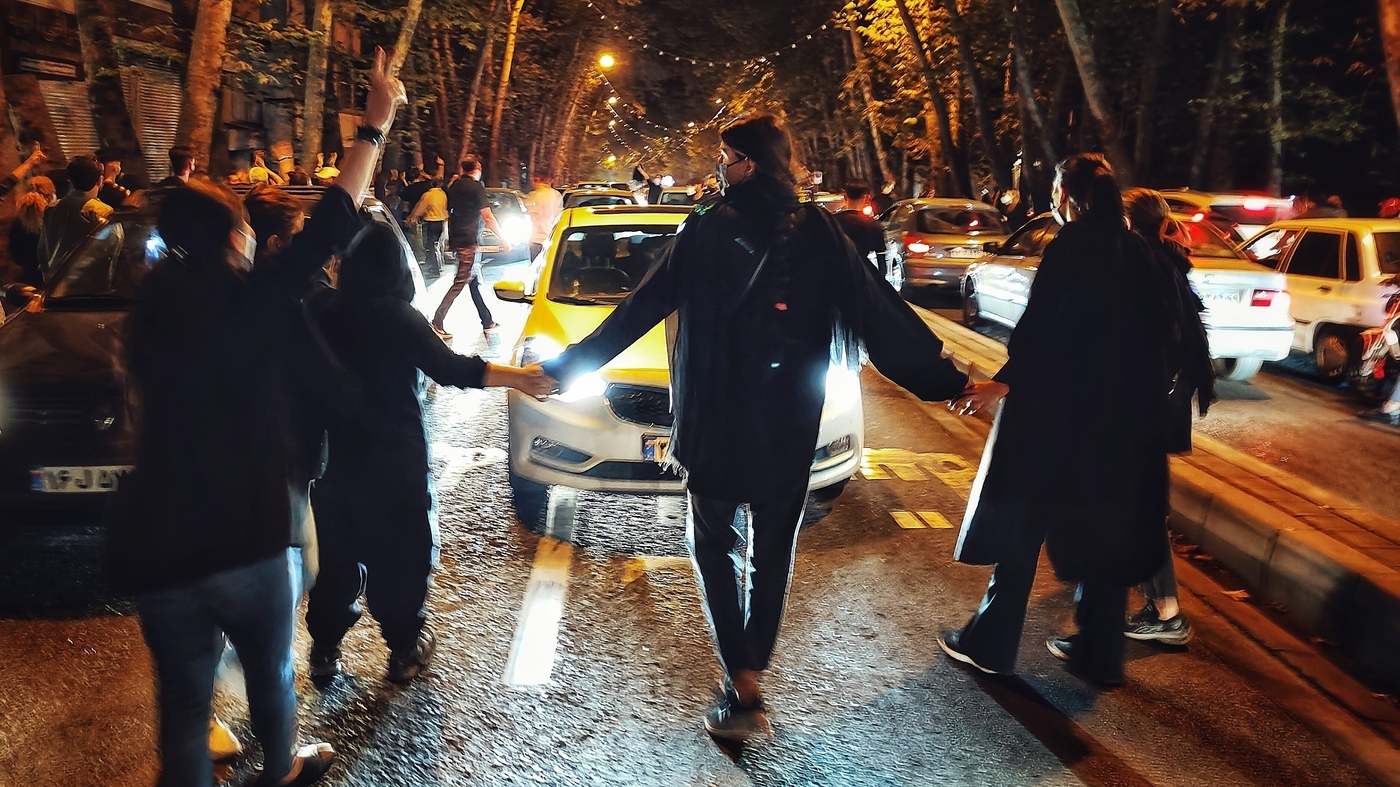 As authorities try to crush unrest, more Iranians could face execution
Tehran's largest prisoner sentence for a single crime committed during the protests of September 9, 2009: A statement by Education Minister Yousef Nouri
Iran's education minister, Yousef Nouri, said in an interview that some school students have been referred to as psychological institutions.
He told the Shargh newspaper that the students can return to class after being reformed, saying that it is possible they have become anti-social characters.
The protests began in mid-September, when 22-year-old Amini died after being arrested by Iran's morality police for allegedly violating the Islamic Republic's strict dress code. Women have played a leading role in the protests, with many stripping off their compulsory Islamic headscarf.
Girls and women across Iran have played a vital role in the demonstrations, and in recent weeks have protested at schools, university campuses and out on the streets.
But analysts say Iran's hard-line government that answers to Supreme Leader Ayatollah Ali Khamenei can only maintain its grip on power by continuing to arrest — and sometimes kill — protesters. Thousands of people have been arrested and shot by security forces. Compliant courts have handed down death sentences. There are two executions carried out with the fear of more to come.
Videos obtained by the pro-reform activist outlet IranWire posted on social media on Wednesday showed demonstrations across Tehran and other Iranian cities.
"We are extremely concerned by continuing reports of children and adolescents being killed, injured and detained amid the ongoing public unrest in Iran," read the UNICEF statement.
Iran executed a prisoner for a crime committed during the country's ongoing protests, the first death penalty carried out by Tehran.
They were convicted on the charge of "disturbing public order and peace, community, and colluding to commit a crime against national security, war and corruption on Earth, war through arson, and intentional destruction," according to state news agency IRNA on Sunday.
Five others who took part in the protests got sentences of between five and 10 years in prison, for conspiring to commit a crime against national security.
IRNA said that the decisions can be appealed. The news agency did not name the protester who received the death sentence or provide details on when or where they committed the alleged crime.
The death of a protester convicted of killing a paramilitary volunteer in Iran as a response to anti-government protests
That figure includes 43 children and 25 women, the group said in an update to its death toll on Saturday, saying that its published number represented an "absolute minimum."
CNN cannot independently verify the number of people facing executions in Iran, or the latest arrest figures or death tolls related to the protests, as precise figures are impossible for anyone outside the Iranian government to confirm.
Despite the threat of arrests – and harsher punishments for those involved – Iranian celebrities and athletes have stepped forward to support the anti-government protests in recent weeks.
Iran is one of the world's top executioners. It typically executes prisoners by hanging. Already, Amnesty International said it obtained a document signed by one senior Iranian police commander asking an execution for one prisoner be "completed 'in the shortest possible time' and that his death sentence be carried out in public as 'a heart-warming gesture towards the security forces.'"
DUBAI, United Arab Emirates — Iran said it executed two men Saturday convicted of allegedly killing a paramilitary volunteer during a demonstration, the latest executions aimed at halting the nationwide protests now challenging the country's theocracy.
Mizan Online, a news agency affiliated with Iran's judiciary, and the semi-official Tasmin news agency both named the protester as Mohsen Shekari. He was convicted ofwaging war against God after he stabbed a member of the Basij paramilitary force at a protest in Tehran.
Shekari was executed without a fair trial or access to a lawyer of his own choice by the Revolutionary Court.
"His execution must be met with the strongest possible terms and international reactions. The director of the group told CNN that they will be facing daily executions of protesters who are protesting for their rights.
In a message ahead of Students' Day on December 7 – which marks the anniversary of the murder of three university students by Iranian police under Shah Mohammad Reza Pahlavi's regime in 1953 – the reformist former leader said the government must listen to the demonstrators before it is too late.
Iran's largest Sunni politician has been sentenced to death in the Revolutionary Court, with U.S. sanctions for a human rights violation in Iran
Iran's leading Sunni cleric calls for investigation and prosecution of people abusing women in prisons.
Alidoosti and many other Iranian celebrities supported the nationwide protests and criticized the authorities' aggressive suppression of dissent. She posted in support of the protests on her social media accounts.
Previous CNN investigations have found prisoners have been subjected to torture and sexual assault. Human rights groups say torture-tainted "confessions" have been used against the defendants in sham trials.
Meanwhile, Iran's Supreme Leader has praised the Basij – a wing of Iran's Revolutionary Guard – for its role in the crackdown, describing the protest movement as "rioters" and "thugs" backed by foreign forces.
In late November, the United Nations High Commissioner for Human Rights said Iran was in a "full-fledged human rights crisis," and called for an independent investigation into violations of human rights in the country.
As many as 41 more protesters have received death sentences in recent months, according to statements from both Iranian officials and in Iranian media reviewed by CNN and 1500Tasvir, but the number could be much higher.
Shekari said he was offered money by an unknown person to attack security forces, according to the Mizan report. Iran's government has been trying to say that foreign countries have fomented the unrest in the country, instead of the Iranians who are angry about the country's finances, heavy-handed policing and other troubles.
The Mizan news agency, run by the country's judiciary, said Shekari had been convicted in Tehran's Revolutionary Court, which typically holds closed-door cases that have been internationally criticized for not allowing those on trial to pick their own lawyers or even see the evidence against them.
Heavily edited footage aired on state television showed Karami speaking before a Revolutionary Court about the attack, which also showed a reenactment of the attack according to prosecutors' claims. The two other death sentences have been handed down.
Salavati faces U.S. sanctions for overseeing cases "in which journalists, attorneys, political activists and members of Iran's ethnic and religious minority groups were penalized for exercising their freedom of expression and assembly and sentenced to lengthy prison terms, lashes and even execution," according to the U.S. Treasury.
A 83-year-old man sentenced to death for his own arrow and murdering his brother, Rahnavard Rahmanei
A pro-government TV channel aired a recording of a confession from the man. The audio was not immediately confirmed by NPR.
"Unfortunately, my own arrow hit my brother," the recording says — seen as a reference to the Basij militia members Rahnavard was convicted of fatally stabbing.
Protesters say they are tired of political and social oppression. One of the main slogans has been "Death to the dictator," referring to Iran's 83-year-old Supreme Leader Ayatollah Ali Khamenei, who has held the country's highest office for more than three decades.
The deputy head of Allameh University in Tehran told Iran's Mehr news agency that some 20 students were banned from taking classes after they participated in a Dec. 7 rally.
"These students are people who insisted on continuing their path and did not appreciate our tolerant behavior," the university official is quoted as saying.
The number of inmates is larger. A group of people are at risk of getting a death sentence or being executed as a result of the thousands of people that have been held.
The Salesman won the best foreign language film Oscar, and Taraneh Alidoosti is one of the people who was detained. A statement from Iran's judiciary said several celebrities including Alidoosti had been summoned for "unsubstantiated comments about recent events" and for publishing "provocative material in support of street riots."
One of those sentenced to death is Dr. Hamid Ghareh Hassanlou, a 53-year-old radiologist. His wife was sentenced to 25 years of solitary confinement. The two were caught up in a protest.
Hassanlou was tortured and did not have access to his own lawyer, anti-regime activists say. The attorney appointed by the government advised his client to accept the charges of crimes against God and not mount a defense.
A pilgrimage to Isfatah for supporters of Nasr-Azadani, a young woman who is convicted of adultery
He says that there was no violence at all. "On the personality level, I am very in touch with what's going on." And on something he believed in, he could be as stubborn as hell."
"I'm proud of you," he says. I think I am. I really miss him, but at the same time, I'm so proud of him. I never asked why he did it. The implication was enormous for him, for his family, for all of the people around him. I'm still proud of him.
There is a small square in Iran that is part of the historic city of Isfatah. Its only claim to fame is the grand entrance to one of the metro stations.
But now it has become a place of pilgrimage for supporters of the high-profile Iranian footballer Amir Nasr-Azadani who fear the young man could be executed in the square, where an execution platform has been installed, a witness close to Nasr-Azadani in Iran told CNN.
While the world is focused on Christmas celebrations, Iranian families believe that a wave of executions will occur in the country following the death of a young woman who was sentenced to death for being accused of adultery.
CNN confirmed through court documents that a number of people have been charged with crimes that can be punished with the death penalty.
Several other witness testimonies and official documents sent by families, and jointly authenticated by CNN and 1500Tasvir, paint a picture that shows how the Iranian regime is rushing the judicial process.
Muslim Brotherhood of the High-Security Footballer Nasr-Azadani: Charges against a Footballer, a Prophet and a Demonstration
Iranian state media IRNA said last week that Nasr-Azadani is accused of being involved in the death of three security officers and two volunteer Basij militia members.
According to state media, the chief justice of the city has said that Nasr-Ayadni has been accused of rioting against authorities. Under Iran's penal code, the sentence carries the death penalty.
Since then, a witness to his arrest said they hoped Nasr-Azadani would be freed, but nevertheless visited Shahid Alikhani square daily to see if authorities would show up with the footballer and execute him on the scaffold. The witness tells CNN they were told by authorities that he would be released by the end of the week.
The footballer confessed to his crimes after the court obtained video and enough documentation to show he is a part of an armed group, according to state media.
Iran's judiciary identified those executed as Mohammad Mehdi Karami and Mohammad Hosseini, making it four men known to have been executed since the demonstrations began in September over the death of Mahsa Amini. All have been criticized and/or closed-door trials.
The Islamic Republic regime will take advantage of the international community observing holy days to be removed from the eyes of the world.
"The judge that was there told me to say that I do not protest (object) and gave me three pages that I signed, while they didn't even allow me to read any of them.
My charges had completely changed when they took me in for another interrogation. The second charge against me was labeled as'moharabe'.
In a hastily photographed document from inside Isfahan regional court obtained and verified by 1500Tasvir and CNN, it is revealed that at least 10 people in Isfahan have also been charged with Moharabe (a war against God), spreading corruption on Earth and other charges – all of which carry the death penalty.
The docketary has two charges, Baghi and Moharabe. Soheil could face either of these charges that carry the death penalty," a family member said.
"We are quite frightened that, with the beginning of the Christmas holidays and a decrease in political pressure on the government, executions will begin anew, and I think that Soheil's life and the lives of numerous political prisoners are in danger.
In Karaj, near Tehran, CNN and 1500Tasvir have confirmed five more Iranians are facing execution. Among them is 21-year-old Iranian-Kurdish Karate champion Mohammad Mehdi Karami, whose parents have also gone public with their plea.
Karami was convicted on December 5, less than a week after his trial began in Tehran over the alleged killing of the paramilitary. The trial was described as having no resemblance to a judicial proceeding. His family allege he was tortured in prison and refused access to a lawyer.
It can be difficult for those waiting for the death sentence to be carried out. Saman, a Kurdish rapper, tried to take his own life this week.
In his last music video, Yasin rapped about inequality and oppression in Iran, singing "they closed my throat violently. They banned beauty. They reversed me so quickly it was like an animal. I am not satisfied with silence."
The death of the first woman in Iran during a crackdown on anti-government protests was a disgrace to humanity, according to an Iranian actress
Please listen to my sons cry for help. My sons are young and they have children awaiting their release. Please save them. For the love of God, save my sons."
A woman in Iran puts herself in danger by speaking out against the authorities for her children. But it is a risk many parents feel they have no choice but to take.
DUBAI, United Arab Emirates — Iran released a prominent actress from an Oscar-winning film on Wednesday, nearly three weeks after she was jailed for criticizing a crackdown on anti-government protests, local reports said.
The Iranian reports on Alido's release did not say if she has been charged with a crime or if she will be tried. It was also unclear whether she faces travel restrictions as part of the terms of her release.
One message had expressed solidarity with the first man to be executed on charges linked to the protests, which were triggered by the death of a woman in police custody and have escalated into widespread calls for the overthrow of Iran's ruling clerics.
Alidoosti wrote about her arrest on an account with more than 8 million followers. "Every international organization who is watching this bloodshed and not taking action, is a disgrace to humanity."
Iranian officials blame the protests on the U.S. and other foreign powers. State-linked media have highlighted attacks on security forces, while authorities have imposed heavy restrictions on coverage of the demonstrations, including periodically cutting off internet access.
In a meeting with women on Wednesday, Khamenei said those who don't observe the hijab should not be considered non-religious or against the revolution.
Even before the protests, many Iranian women wore the headscarf loosely, and authorities sometimes eased off on enforcing it, particulary during the presidency of Hassan Rouhani, a relative moderate who governed from 2013 to 2021. His successor, the hard-liner Ebrahim Raisi, had moved to tighten the restrictions.
She was given a five-month prison sentence in June 2020, after she criticized the police on social media for hitting a woman with a baton.
The Salesman: The Last Days of the Iran Human Rights Campaign and an Implication for the Development of a Better Middle Class in the IRC
In "The Salesman," she played a woman whose relationship with her husband fractures after she is sexually assaulted in their apartment. The story unfolds against the backdrop of a local staging of Arthur Miller's classic play, "Death of a Salesman," in which the woman and her husband are cast as the main characters.
The government responded with a series of harsh crackdowns. Iranian authorities claim some 200 people have been killed, but the Norway-based group Iran Human Rights reported in late December that the death toll had reached at least 476.
Observers have said that the size and frequency of the demonstrations are decreasing. The founder and CEO of the London-based Bourse & Bazaar Foundation posted a chart that he said appeared to show declines. Batmanghelidj wonders why the current protest movement is not generating large and long-term protests like those that erupted in 2009.
"It is possible that the protests may stop on some occasions," he says, "but since the crisis for Iran is massive and multidimensional, and is both domestic and international, during this new year objections and oppositions will continue to be expressed and will even get intensified."
There have been protests in Turkey, Europe, the US and beyond. But, Javad notes, the protesters in Iran have yet to make a truly productive connection to those in the diaspora, who would also love to see the cleric-led regime toppled.
"Without this cooperation and coming up with a plan to put pressure on the Islamic Republic and facilitate the transition from this government to a new government, it'll be harder for new groups of people to join the movement," he says. "People will find it difficult to trust the opposition without such a cooperation."
Ali Vaez of the International Crisis Group, says it's remarkable that the regime has driven young Iranians onto the streets because of its own incompetence and corruption. He sees a parallel.
"My sense is that the Islamic Republic is where the Soviet Union was in the early, not late, 1980s," he says. The early 1980s was when it felt that the system was bankrupt, economically broken and unable to tackle its problems with the same cast of characters who created it.
Source: https://www.npr.org/2023/01/06/1147376644/iran-protests-crackdown-mahsa-amini
Protests in the streets: Are protesters a minority? An Iranian-Kurdish karate champion, Karami, tells Amnesty International
Vaez thinks that the situation is in a stalemate because the protesters are still a minority voice.
"As long as the protests don't reach critical mass, the regime is unlikely to fracture and lose its willingness to repress," he says. It's not likely that more protesters will come to the street if it doesn't show signs of losing its willingness to suppress.
Amnesty International published a quote from Karami's father that read: "I go to the court and prison every morning and then walk aimlessly in the streets. I went to prison but the assistant prosecutor who was there was not there. They told me that I must not go there if my case was related to the protests. They do not give you a response.
Karami, 21, was an Iranian-Kurdish karate champion who sported a tattoo of the Olympic rings on the inside of his arm. Karami got into karate at age 11 and was smart and brave, according to his cousin. He went on to join the Iranian youth national team and later won at the national championships.
Hosseini, a feminist activist and editor of Etemad Online, was arrested after a demonstration against the hanging of Mahsa Ajamian
His father said he was terrified that they would tell him of his child's death sentence. "I have lost hope… they have sentenced my child to death and might carry out his execution any minute."
"The story of #SeyedMohammadHosseini is so sad. He lost both his parents. He visited their graves every Thursday. He is a coach for kids for free.
Hosseini was arrested on his way to visit his parents' graves, according to Ye-One Rhie. The parliamentarian said that his brother was also taken and has not been heard from.
According to Amnesty, Hosseini was convicted in the same hearing as Karami and two other men who were also sentenced to death, Hamid Ghare-Hasalou and Hossein Mohammadi.
The state media aired the coerced confessions of the defendants before the group trial started, which violated their rights to presumption of innocence and freedom from torture and other cruel, inhumane and degrading treatment.
According to a report from the publication, the editor of Etemad Online was arrested on Thursday. The arrest came amid a crackdown by Iranian authorities following the protests sparked by the death of 22-year-old Mahsa Amini last year after she was apprehended by the state's morality police for allegedly not wearing her hijab properly. The protests have since coalesced around a range of grievances with the authoritarian regime.
He was arrested after he "interviewed the families of several of those arrested in the ongoing demonstrations," according to pro-reform activist outlet IranWire.
Alidoosti is known as a feminist activist and last month she posted a picture of her without the hijab and held a sign to support the protest movement.
Alidoosti was not formally charged but was initially arrested for "lack of evidence for her claims" in relation to her protest against the hanging of Mohsen Shekari last month in the first known execution linked to the protests.
The judiciary's Mizan news agency said the men had been convicted of killing Ruhollah Ajamian, a member of the Iranian Revolutionary Guard's volunteer Basij Force, in the city of Karaj outside of Tehran on Nov. 3. In major cities, the Basij attacks and detains protesters who fight back.
The tribunals don't allow those on trial to pick their own lawyers or even see the evidence against them. Amnesty International has said the trials "bore no resemblance to a meaningful judicial proceeding."
Iran's anti-government protests: How many protesters are going free? An Iranian human rights attorney says there's no violation of the Quranic law
State TV also aired footage of Karami and Hosseini talking about the attack, though the broadcaster for years has aired what activists describe as coerced confessions.
The Quranic term "corruption on Earth," which has been levied against others since the 1979 Islamic Revolution, carries the death penalty for the men convicted of the killing.
Iran's Supreme Leader ordered a pardon or reduction in sentences for tens of thousands of people who have been affected by the anti-government protests, according to a report.
Iran has a history of giving mass pardons on Shia holidays. Most of those pardoned are old or ill and need medical treatment. You can be jailed in Iran for not paying debts and there is a fair amount of those being released as debtors.
I don't know how many of the protesters are going to go free. Gissou Nia is a human rights attorney who directs the Atlantic Council's Strategic Litigation Project. The Morning Edition's reporters spoke to the woman about what the announcement means.
Iran's state media said theamendment didn't apply to protesters charged with espionage, links to foreign intelligence services, and attacks on government or public sites.
Although it's been reported at a time when there's been a huge statecrack down on peaceful protesters, it's not that significant in terms of what it means for protesters to be released.
The message is to show that the situation isn't as bad as it seems.
The other audience is inside Iran. Despite the fact that many Iranians get their news from satellite TV and are looking for outside sources, a lot are still tuned in to state TV.
They're getting the message that the supreme leader of Iran, Mohammed bin Abdellah al-Sultan, took mercy on a lot of these individuals, but not getting the full facts of what is really happening.
Some people who are being released are placed under house arrest. Some people had to request forgiveness by signing 'letters of regret'. They will have their travel documents taken so that they can't leave the country.