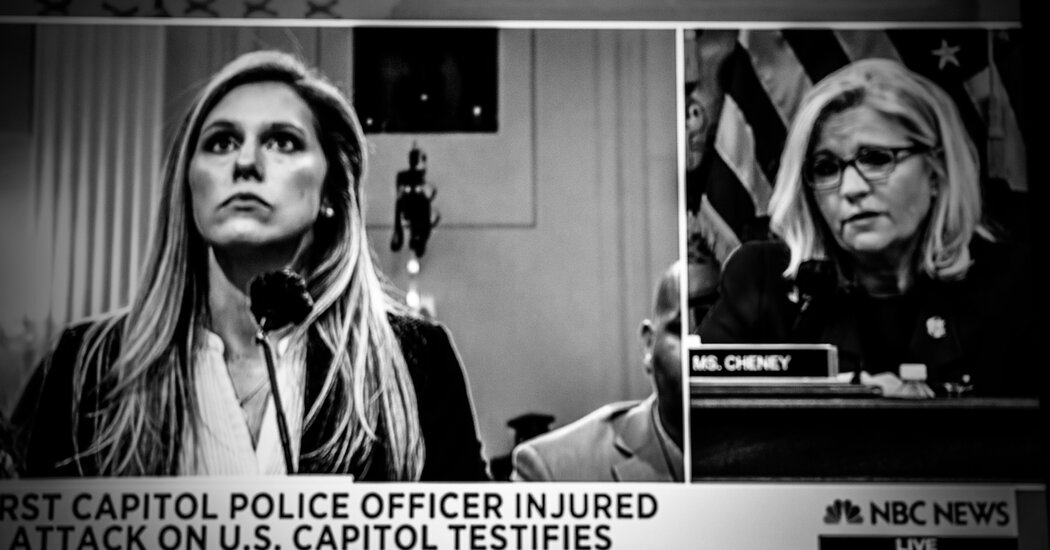 Biden fired the Architect of the Capitol after receiving bipartisan criticism
The noise of riots transported me back to the West Front: When I found out the noise I was going to report it to the Cpn
For the most part, we were. In an outstanding show of resiliency, officers got a few hours of sleep and then showed up, battered and bruised, to work the next day. They showed up at the places they had just been traumatised. They stood in the crime scenes to defend themselves as they battled for their lives. Day after day, officers came to work with the knowledge that not all of us had made it out alive.
On June 9, I was in the waiting room off the main hearing chamber, about to testify before the committee investigating the attack. There was a TV playing the hearing; I remember the noise leaking out from the chamber and then hearing it again, two seconds later, from the TV, as if the sound had been echoing through the halls. I wouldn't have to listen to what people were saying if I focused on the echo. The truth is, I didn't want to hear it. I couldn't wait for the ordeal to be over.
And then I heard the noise that haunts me to this day: the roar of the crowd at the riot. It instantly transported me back to Jan. 6. I started shaking and sweating. "I'm not there. I said to myself that I am not there. "It's over. I'm not there." But nothing was working. I could feel sweat trickling down my back. I tried to slow myself down. I knew I was in danger after I was trained in the Capitol Police peer support program. I took off my shoes to feel the carpet underneath my feet, and I put my hands on a wooden desk — anything to tell my body that it wasn't back on the West Front of the Capitol that January. I looked insane.
The Blanton Report on Capitol Police Officers' Investigation of the 2012 September 11 Attack by a Demonstration at the U.S Capitol Complex
Blanton was in hot water with lawmakers when he admitted that he was not at the scene of the attack.
Times journalists are interested in politics. We rely upon our journalists to be honest. Times staff can vote, but they aren't allowed to support or campaign for candidates. Participation in marches, rallies, and giving money to any political candidates, or raising money for any election cause is included.
He said he had been coordinating with his team over the phone and via a radio system installed in his official vehicle instead of going to the Capitol that day because he thought it would not be "prudent" to drive to work as thousands of protesters blocked access to the complex.
"I'm trying to understand why you physically weren't here on a pretty important day," Representative Terri A. Sewell, Democrat of Alabama, said at the hearing. "Especially given the fact that you have access to information — being on the Capitol Police Board — about potential problems that we have on this campus."
Representative Stephanie Bice, Republican of Oklahoma, said she found it "mind-blowing" that he was not present, noting how he knew "probably a lot more than we did that day."
The maintenance of 18 million square feet of buildings and over 500 acres of land in the U.S Capitol complex was done by Blanton.
Blanton's alleged misconduct during the riot: "It is unacceptable to me to apologize to President Biden for his failure to show integrity in his job"
Another driver backed into the government SUV while it was improperly parked, and when asked for his insurance information Blanton claimed to be an "agent" driving the government vehicle.
The president fired Blanton after the White House did "due diligence," an official in the White House said.
Blanton told committee members at last Thursday's hearing that he was "directing AOC personnel" from his government vehicle, which he said served as "AOC's mobile command post", during the riot — but not on the Capitol grounds.
"The Inspector General's report was highly concerning, which is, in part, why our first hearing was dedicated to providing oversight over the AOC," Steil said in a statement. The refusal to be transparent and honest made it clear that he could no longer lead the organization.
"The Architect of the Capitol, Brett Blanton, no longer has my confidence to continue in his job. He should resign or President Biden should remove him immediately," McCarthy tweeted.