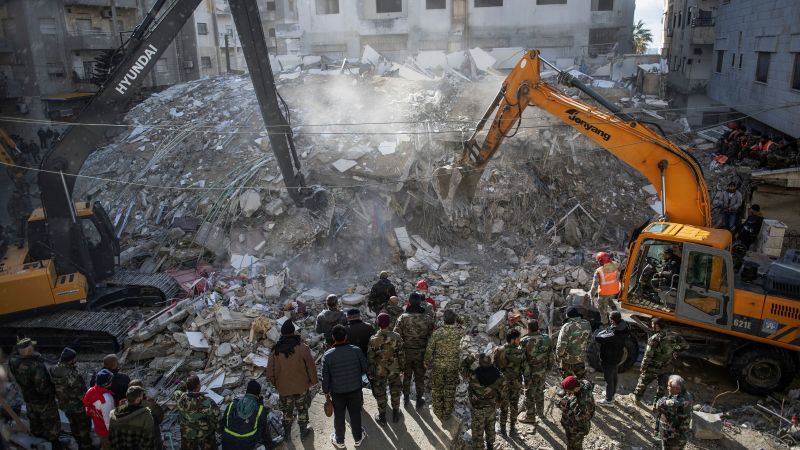 The humanitarian group received a prize of more than 2.5 million dollars
The Hilton Prize for Humanitary Research: A-5 Million Prize Gives This Humanitarian Group More Power to halt Humansuffe
Jan Egeland speaks in a calm manner than befits his four decades of humanitarian work, but he becomes increasingly animated when discussing the record number of people currently displaced because of humanitarian crises across the globe.
We helped 10 million people last year but need to help more this year. The enemies are bigger and worse, so we need to be quicker and smarter, responding to crises earlier, providing support for the longer term and helping people to become self-reliant as soon as possible. We can only do that with our local colleagues and the money will help develop us. In Afghanistan we have 1,400 humanitarian workers and just 25 of them are international. In general, 99% of our staff are non-Norwegian. This funding will help us intensify our mediation between warring ethnic groups and farmers who are competing for land and water resources.
The world's largest annual humanitarian award for a nonprofit, worth $2,450,000, has been awarded to the council this year.
We are challenged like never before, so this award could not have come at a better time. Our crusade for targeted civilians made us targets for dictatorships and parties to armed conflicts who do not like the truth being told to the world. With the recognition and backing of the Hilton Prize we can do that with more authority and greater resources. The amount of money isn't the entire amount of recognition and prestige. I think this is the Noble Prize for humanitarian work.
Source: https://www.npr.org/sections/goatsandsoda/2022/10/20/1129199362/a-2-5-million-prize-gives-this-humanitarian-group-more-power-to-halt-human-suffe
What do we need in the world? A perspective from Norwegian Foreign Minister Zahra on refugee crisis in the Middle East and Africa, based on principled humanitarian principles
Egeland is the current Secretary General of the council and a former Norwegian foreign minister. Upon returning from a trip to Somalia in June, he spoke with NPR about overlooked crises, equal protection for all refugees and reasons to hope.
Organizations on the ground need help raising awareness, funds and basic items like food, clothing and medicine. The issue goes well beyond short-term relief efforts and includes pushing for access to hard-to-reach communities, says Zahra.
An annual report measuring the number of people in greatest need compared to the coverage of their international media is Issued by us. African countries were home to the top 10 conflicts and displacement crises in the world last year. More than 25 million individuals are in need of assistance, yet it is not given much attention. The same is true for other African countries.
A lot of media attention is going to Ukrainian refugees. The invasion by the Russians was launched in February. What has changed for Ukrainians?
The NRC has been in Ukraine since the 2014 Donbas conflict, but now the situation is much worse, with trench warfare and the destruction of entire cities engulfing millions of civilians. Ukrainians are returning from abroad after fleeing during the war, and we can help the internally displaced, who have become more stable. Some people are still driven out from the south and east of the country. I fear for the winter. We are going to prepare a winterization program and strengthen Logistic lines from other states due to the upcoming cold weather.
It's a good thing that our neighbor who looks like us has the same religion and is able to integrate into our societies but we should protect them according to need. In Europe people from the Middle East or Afghanistan are met with a cold shoulder and barbed wire whereas Ukrainians are welcomed. Women and children fleeing violence in central America are not always well received in the U.S. This is a battle of values, and we must stand squarely on the side of those who need protection.
We live and breathe by the humanitarian principles of neutrality, impartiality and independence. This means we teach our colleagues not to take sides and not to get close to a government which is a party to the conflict. But at the same time, we still need to have the respect, and the protection, of those parties. We are not able to work in the Russian-occupied areas of Ukraine because we're always trying to work on all sides.
It is now over a year since the West left Afghanistan, leaving behind 40 million mainly women and children, and they need our solidarity now more than ever. There must be engagement between the de facto authorities and the donor countries on issues such as girls' education and minority protection. The very wrong response is to impose sanctions that do not take away food from Taliban soldiers but do make women and children starve.
I'm afraid of that. One hundred million people have now for the first time in recorded history been displaced by war and violence. In 2011, it was 40 million. There has never been in modern times as many children going to bed hungry as there are this year. We need some countries to recognize that while they are struggling with high energy prices and nationalistic tendencies at home, it is significantly worse in the areas where we operate.
It's truly dramatic. I saw mothers and fathers walking for hundreds of kilometers to seek water and food. Better use of existing resources is what we need. Nine national and international NGOs were created to balance humanitarian needs with longer-term community preparedness in an effort to build resilience in the bombed out town of Horn of Africa. I witnessed dams being built so people could start to feed themselves on their own.
Join and support the international NGOs. Write to politicians to say we want to live by elementary rules of compassion and solidarity. Reach out to those refugees and migrants who come to our communities, befriend them, help them integrate.
It is a very sad time. Never have there been so many displaced by violence and conflict, and so many with no chance to feed themselves. Climate change, COVID and conflict have merged to create a lethal cocktail. But the good news is that never have there been more effective national and international humanitarian and development organizations, better technological advances and greater resources. Never have there been as many billionaires, so there should be a possibility for us to elevate the bottom two billion people. Those at the very top have astronomical resources and they alone could have helped us reach people in great need.
I come back an optimist whenever I return from visiting colleagues working in difficult and dangerous circumstances. When I inquire as to what they want to be when they're older, they want to be doctors, engineers, farmers and builders, not fighters or soldiers or criminals; they all want to be doctors, engineers, farmers and builders.
The World Awakens after the Cygnus: How the Middle East and North Africa Led to the Light of the February 6 Earthquake
The story appears in today's edition. Meanwhile in the Middle East newsletter, CNN's three-times-a-week look inside the region's biggest stories. You should sign up here.
Some of the areas of Syria most impacted by the earthquake are controlled by the regime, others by Turkish-backed and US-backed opposition forces, Kurdish rebels and Sunni Islamist fighters. The Hayat al-Sham organization, an armed Sunni Islamist group, controls the last opposition stronghold in Syria.
More than 33,000 people have died across Turkey and Syria since a 7.8 magnitude earthquake struck the region on February 6. Hopes of finding more survivors dwindle amid freezing temperatures as lucky few still being pulled alive from the rubble.
But years of conflict and an acute humanitarian crisis mean there are extra difficulties in helping survivors in Syria, where international aid has been slow to arrive.
The deputy regional director of the Middle East and North Africa told CNN that Syrians must not be forgotten. "Often, those who suffer the worst during such disasters are those who were already vulnerable."
The Syrian regime is shunned by most Western countries. But leader Bashar al-Assad has begun forging ties with former enemies as regional states welcome him back into the fold. Last year, the United Arab Emirates welcomed Assad in Abu Dhabi, and last month Turkish President Recep Tayyip Erdogan said that the pair may soon meet for peace talks.
"The world left us to our own destiny facing the criminal Bashar al-Assad. "But this is a natural disaster," Ibahim said. There is no argument here, it is a humanitarian situation and we need help.
The United States, the UK, Israel and Russia are just a few of the nations that have offered Turkey relief after the earthquake.
Syrian Foreign Minister Faisal Mekdad says any aid it receives must go through the capital Damascus. If aid does not get to terrorist groups, it will be accepted by the Syrian state.
Activists fear that the regime could hamper aid in the rebel-held areas where thousands of women and children were killed in the earthquake.
"We are exploring all avenues to reach people in need and conducting assessments on feasibility," Madevi Sun-Suon, a spokesperson for the UN Office for the Coordination of Humanitarian Assistance (OCHA), told CNN on Tuesday. The road issue is a big challenge at the moment, but we do have aid.
The Syrian regime has also used the opportunity to call for sanctions against it to be lifted. The UN envoy said that planes refused to land at Syrian airports because of sanctions from the US and Europe. He said in New York that some countries can not use airplane cargo for humanitarian aid because of the sanctions.
In November, a UN human rights expert urged the immediate lifting of sanctions against Syria, saying they are causing more harm than good.
"It would be quite ironic, if not even counterproductive, for us to reach out to a government that has brutalized its people over the course of a dozen years now – gassing them, slaughtering them, being responsible for much of the suffering that they have endured," US State Department spokesperson Ned Price told a media briefing on Monday.
If sanctions were taken out, the consequences of the situation would change, according to Lister.
Syria's Left Behind: Turkish, Finnish, and Saudi-Sweden Revisited after a Three-Year Boundary of Qatar
Background: In May, Iran's army gave details about another underground base, which houses drones, constructed as the country seeks to protect military assets from potential air strikes by regional arch foe Israel.
Kristersson said on Tuesday that he was ready to restart negotiations over Sweden's application to join NATO as soon as Turkey became a member.
Background: Finland and Sweden sought NATO membership shortly after Russia's invasion of Ukraine last year, and while most member states have ratified the applications, Turkey has yet to give its approval in what must be a unanimous process. Even though Sweden and Finn are both trying to join, Turkey doesn't support them even though it looks good for them.
Why it matters: The three nations last year reached an agreement on a way forward, but Ankara suspended talks last month as tensions rose following protests in Stockholm, where a far-right politician burned a copy of the Quran. Turkey goes to elections in May.
On Tuesday, the foreign minister of the Kingdom of Saudi Arabia met the foreign minister of the Kingdom of Israel in Riyadh to discuss mechanisms to start talks on unresolved issues.
The three year political and economic boycott of Qatar was ended in January 2021. But since then there have been no bilateral discussions between Doha and Manama to resolve remaining differences. In the year 2021. all but one of the countries restored travel and trade links.
Source: https://www.cnn.com/2023/02/08/middleeast/syria-left-behind-earthquake-mime-intl/index.html
The Musk account of Twitter is locked in the post-Quranic verse section: Comment on "Turbulent Relief from a crisis in Northwestern Syria"
The account that was taken down had more than 13 million followers, and was one of the most followed accounts on the social media site.
One user addressed Musk, saying: "I don't think it violated the Twitter rules because its tweets are quoted from the Holy Quran. We want the account to be lifted.
Some users were not upset with the suspension. Some decried the account's use of incomplete Quranic verse that they said are taken out of context and changed the meaning of the text.
The account owner appears to run sister accounts in English, French and German, on which it posts translations of Quranic verses. The original account has been campaigning for a while for it to be unblocked.
The United Nations aid convoy crossed from Turkey into northwest Syria for the first time since Monday's earthquake as they struggled to get international help into a region devastated by years of conflict and an acute humanitarian crisis.
Half of northwestern Syria's 4.6 million population has been forced out of their homes by the conflict, with 1.7 million now living in tents and refugee camps in the region, according to the UN children's agency, UNICEF. More than 3 million Syrians in the region were food-insecure last year.
The Emergency Response of Syria to the Superquake of September 11, 2009: Oxfam's UN-Syria Chief Economist
The only access point between the two countries had no aid for a three day period, ending with just 300 bodies.
Immediately after the quake, the United Nations said roads to the crossing were blocked, but as of Wednesday they were clear, raising questions as to why it was taking so long for help to arrive.
But survivors are facing their own challenges each day as water supplies dwindle and disease threatens to spread. Moutaz Adham, Oxfam's country director for Syria, said residents are struggling to find food – even bread is hard to come by because so many bakeries collapsed in the quake.
Abu Muhammad Sakhour, a former merchant, is volunteering as a nurse in the rebel-held city of Idlib, dressing wounds for quake victims and checking up on the injured who have been discharged from crowded hospitals.
At the Bab al-Hawa border crossing, protesters hold signs asking why only bodies are being allowed through. Syrians who sought safety in Turkey are being returned to their homeland to be buried.
While in Gaziantep, he is living out of a car with his family but is in close contact with his colleagues in Syria. Hospitals there have been overwhelmed with bodies and staff are waiting for families to identify them so that they can be taken away.
However, since 2021, Russia and China have used their veto power to reduce the number of crossings from four to just one – Bab al-Hawa. China and Russia supported a unanimous vote by the UN Security Council to keep it open, which enabled aid to flow to a Syrian enclave that was overrun by terrorists.
"We don't need the politics. The game isn't important to us, we don't need it. What we do need is for the international community to focus on the border crossing staying open," Barnes added. "Because now, we are past the first phase of finding people, and we are heading into the humanitarian phase. We need to provide people with basic shelter, food, and water."
The number of people who were in need of humanitarian assistance before the earthquake stood at 15.3 million – but that number will now have to be revised, UN Resident Coordinator for Syria, El-Mostafa Benlamlih said.
A homeless person in Northern Syria sleeping in their cars while an aid worker distributes supplies, according to CNN.
According to Dr. Mostafa Edo the cold weather might cause the death of those still alive under the rubble.
He is using the disaster as an excuse to get rid of sanctions, according to the executive director of Deir ezzor 24. We are able to bring aid to Syria. Time is critical. We are having fun with life and death.
In neighboring Turkey, roads are gridlocked by the trucks that bring everything from excavators, to food and blankets and medicines into the earthquake disaster zone. Thousands of tons of aid has poured in from countries around the world. The arrival of special equipment to detect those still trapped under the rubble means that — days after the earthquake — lives are still being saved.
Meanwhile, "Syrians don't know where their next meal comes from. Meal is not about vegetables, it's about meat… Moutz Adham, Country Director for Syria, said it was about simple bread.
Since the earthquake a week ago voice messages from people sharing traumatizing stories from the ground have flooded Al-Dahhan's phone.
Rescue efforts continue as many people are trapped under the rubble. Stories of miraculous rescues, like that of a baby girl born under the rubble, are a bullhorn for what's at stake.
Many fled here from other parts of the country so they could escape the barrel bombs and attacks of the Syrian regime and Russia.
Unresolved humanitarian and humanitarian crisis in a devastated country — Witnesses of the Katrina-Syria crisis
The little help that is trickleing into the region is a haphazard grassroots effort, and humanitarian aid and international aid haven't appeared in 72 hours.
Civil defense groups and civilians are trying to help with rescue efforts. "Everyone's waiting for international rescue and aid just to be able to process what's happened, this catastrophe."
"The situation remains grim in north-west Syria where only five percent of reported sites are being covered by search and rescue," the U.N.'s Office for the Coordination of Humanitarian Affairs said in a report.
In northwestern Syria, people are digging with their own hands and the situation is dire since there is not a lot of heavy machinery to lift rubble. Power outages have resulted in fuel shortages in hospitals.
The scale of the challenge is made worse by the fact that affected areas in Turkey and Syria are facing colder than normal temperatures. The Syrian town of Aleppo will have a lows of -2C and a highs of 27F through this weekend compared to the normally 2.5C lows of February.
JINDERIS, Syria — Mohammed Juma sleeps on the heap of rubble that crushed his family as he survived. The 20 year old is in this town, which is still reeling from the earthquake, and he and other survivors burn possessions that were found in the rubble for heat.
By contrast, across the border in the northwest of Syria, residents of the town of Jinderis heard the screams of those trapped under the rubble but, without the right machinery and equipment, were powerless to save them.
On a rare visit to this rebel-held enclave of a country broken and isolated by more than a decade of civil war, NPR saw no international crews of rescuers; no trucks loaded with machinery or medical aid; no streams of ambulances to save the wounded. The border crossing into Syria was empty.
The horrific tragedy that killed Muhammad Juma and his family after his home was destroyed: A Syrian aid worker in Sawran, Syria, has raised millions of dollars for earthquake relief
Mohammed Juma said his wife, Alia, and his two children — 20-month old Ali and 6-month old Hussein — were alive after their home collapsed on top of them. Juma and his neighbors pulled at the shattered concrete for hours until their hands bled, but the effort was futile.
Now the Syrian civil defense teams are using the few excavators they do have to recover the dead. On Friday morning in Jinderis, at least 850 bodies had been pulled from the rubble. Tabakh remembers snuggling his son to sleep and laying him in his bed, but he was killed by the falling debris. The husband and wife were sleeping in the bed. Few friends were able to attend the burial because they were too busy burying their own loved ones.
They've been without anything after many years of war. Tens of thousands of people live in tents in the olive groves because there is almost no access to basic services.
Less than one hour's drive from one of the open border crossing, the town of Sawran has no running water. Nine people, including five children, died after the home of the Turki family was destroyed. Across the road a family of seven were killed. The people who live in Sawran moved to it after fleeing their home in Khan Sheikhoun, where the Syrian government used a nerve agent to kill 89 people.
He tells a tale about the horrors that keep him up at night and describes the pictures he has seen from the ground. One of them is about a colleague who crawled out of the rubble with his 5-month-old baby and returned to save his wife and daughters, desperately digging in the freezing rain for two days until they were rescued.
Al-Dahhan told CNN that it was destroying him. "When it happened, I was receiving constant voice messages, jumping from number to number on WhatsApp, each one is someone crying, telling me they are seeing people dying around them. I cannot stop hearing them.
A Syrian American aid worker with a Michigan based charity has traveled around the United States raising money for earthquake relief. So far, he says he has raised $100,000 by fundraising at schools, places of worship and efforts on social media.
Meanwhile, on the ground, his colleagues who survived have been in a race against time, using the funds raised by workers like Al-Dahhan to help rescue those still trapped under the rubble and deliver relief to shell-shocked survivors.
Since the earthquake, Al-Dahhan says he has not properly eaten and can't sleep for more than 10 minutes at a time, the exhaustion evident in his voice.
"At least I get a little bit of relief, knowing what I'm doing matters, because the more I can fundraise here, the more it helps out there," he said. "But I am in constant stress that I'm not doing enough and I need to keep going. When I sleep, I feel guilty. I must be awake every second. I need to be working. I want to get more updates. I feel like I'm operating here, but my mind and soul are there."
Do I Matter as Much or Will I Be Forgotten Again? A Syrian American Earthquake Rescue Rescue Journey in Latakia, Syria
The children of a family that lost two sisters in the earthquake are orphans. Al-Dahhan says that when his brother learned of his sister's death, he suffered a heart attack and died.
"My mind started racing and I immediately thought it was an Israeli airstrike, since we have had a few of those in Latakia over the past few years," Alsamman, 27, told CNN. When I saw the reports of an earthquake in the middle of the night, I wished it was an airstrike.
He spent the next hours in agony, he said, watching images of death and devastation pour into his phone with no way of knowing if his friends or family were trapped under the rubble.
No one was there to help them, only the organizations already there were able to provide aid.
As the clock ticked, the opportunity to rescue survivors decreased, igniting panicked efforts from Syrians in the US like Alsamman and Al-Dahhan to raise as much money as possible for organizations on the ground.
Nour Al Ghraowi was born in Damascus and came to New York City following the civil war in Syria.
"Even though on a bigger scale it seems that the world has been quiet and no one has been talking about them, there are organizations and people who are still fighting for them, who never stopped for one moment fighting for them," Al Ghraowi said.
Most of the casualties were in the northwest of the country, a region which is struggling to rebuild after being heavily damaged during the country's civil war.
Providing mental-health care to Syrians is very important and Zahra emphasized the need for immediate needs, as well as non-food items and medicine.
She believes that the mental health issues of Syrians in the USA are related to the feeling of being abandoned and forgotten.
She stated that it was natural for them to ask themselves, "Do I matter as much or will I be forgotten again?" Will I be another faceless picture that has been spread but is not humanized?
Source: https://www.cnn.com/2023/02/13/us/syrian-american-earthquake-raise-money-rescue-relief/index.html
The Palestine Red Crescent Society: A Mental-Health Support Team to Help Syria Through Earthquake Victims' Grief and Shocked Footprints
The Palestine Red Crescent Society was the first group to send a team to Syria to help earthquake victims with mental-health support. The team of Palestinians, along with local volunteers, is providing mental health services to about 300 children and their families in shelters and hospitals, who are suffering from severe trauma and depression as a result of the earthquake.
Photos and videos of buildings being destroyed in the earthquake have been traumatic for some, similar to the scenes of death and destruction caused by airstrikes during the war.
The war that happened messed me up so I built walls. I didn't want to get hurt like that again," Al-Dahhan said. "But with this earthquake, I feel those walls crumbling. I am remembering things I don't want to remember, and I can't think of anything else.
Others, like Zahra and Alsamman, say they are struggling with survivor's guilt, possessed with a relentless, sinking feeling that no matter how much they help it won't be enough.
Zahra thinks that Syrians don't have time to grieve or process grief because they're working so hard to keep Syria out of the news.
We don't have time to heal the wounds, we are shouting from rooftops, please share and donate, please help.
Every hour brings more news of death, children orphaned, entire families still buried under the rubble, as survivors remain in the streets holding onto diminishing glimmers of hope.