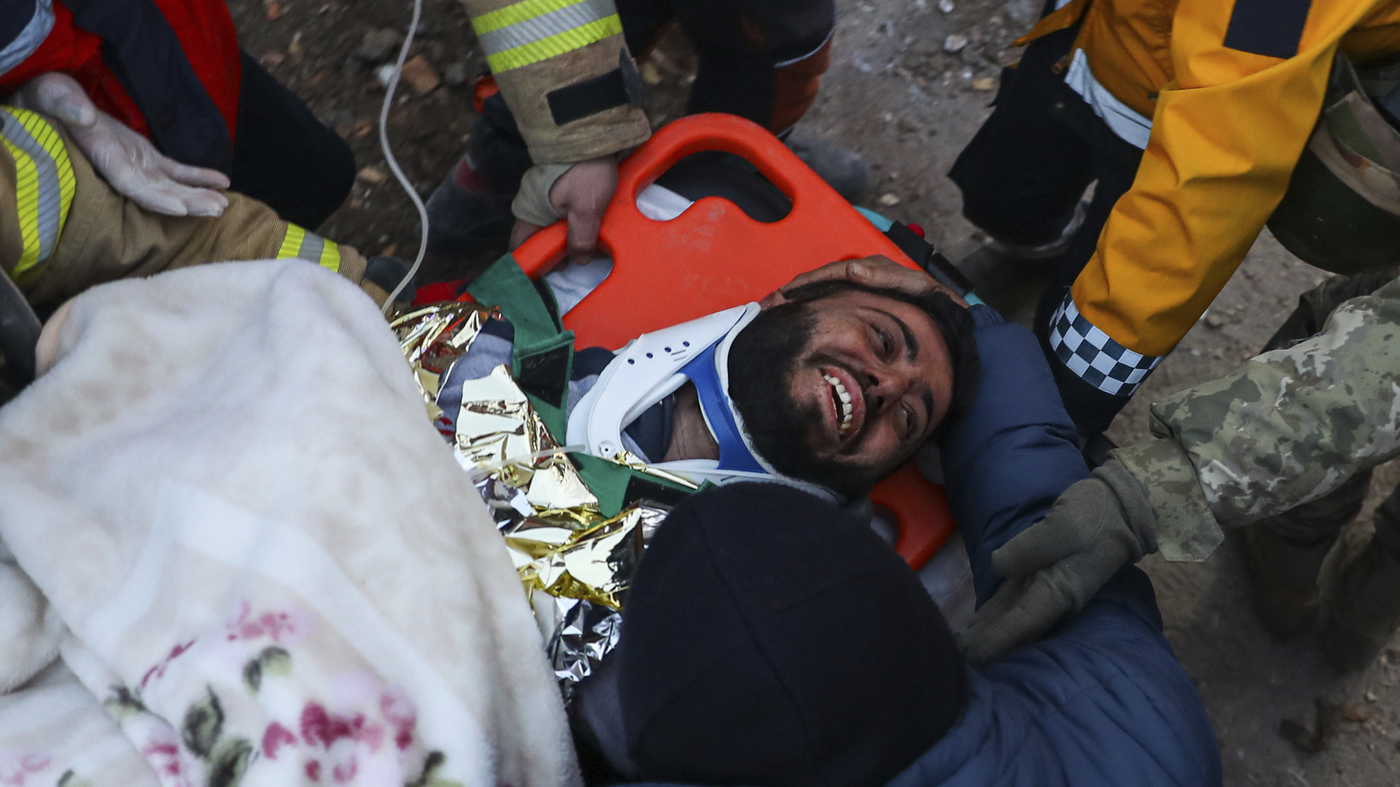 Turkey issued over 100 building arrest warrants after the earthquake
Rescues of a Narli family in the Gaziantep province, Turkey, following a 2-year-long-survival earthquake
More survivors were pulled from the rubble on Saturday despite the death toll climbing past 25,000 due to earthquakes in Turkey and Syria.
There were many dramatic rescues that were being broadcast on Turkish television, including the Narli family rescue in central Kahramanmaras. First, Nehir Narli was saved, then both of her parents.
The family of five were rescued from a mound of debris in the hard-hit town of Nurdagi, in Gaziantep province, later in the day. Rescuers cheered and chanted, "God is Great!" as the last family member, the father, was lifted to safety.
The total death toll in Syria's northwestern rebel-held region has reached 2,166 many of them women and children. The total dead in Syria was 3,553, while in Turkey, officials counted 21,043 dead through Saturday.
The disaster compounded suffering in a region beset by Syria's 12-year civil war, which has displaced millions of people within the country and left them dependent on aid. The fighting sent millions more to seek refuge in Turkey.
Efforts to rescue a girl and a father in Elbistan, Syria, during the 132nd hour after the earthquake
He said that "almost no stone was left standing" in parts of the settlements close to the fault line.
Melisa Ulku, a woman in her 20s, was extricated from the rubble in Elbistan in the 132th hour since the quake, following the rescue of another person at the same site in the same hour. Ahead of her rescue, police announced that people shouldn't cheer or clap in order to not interfere with other rescue efforts nearby. She was on a stretcher and wearing a thermal blanket. Rescuers were hugging each other. Some shouted "God is great!"
Within an hour, a father and his daughter were pulled from rubble in the town of Islahiye, which is in Gaziantep province, as well as a younger child was rescued in the province of Hatay.
The rescues brought shimmers of joy amid overwhelming destruction days after Monday's earthquake and powerful aftershock which killed more than 25,000 people and left millions homeless.
Not everything ended perfectly. Rescuers reached a 13-year-old girl inside the debris of a collapsed building in Hatay province early Saturday and intubated her. The Hurriyet newspaper reported that the medical teams would have had to amputate a limb to get her out of the rubble.
Rescuers, including crews from other countries, continued to probe the rubble in hope of finding additional survivors who could yet beat the increasingly long odds. Thermal cameras were used to probe the piles of concrete and metal, while rescuers demanded silence so that they could hear the voices of the trapped.
As aid continued to arrive, a 99-member group from the Indian army's medical assistance team started treating the injured in a field hospital in Iskenderun, where a main hospital was demolished.
A child was removed from his home in Adiyaman city after the earthquake took place on Sunday. The child was saved by a televised rescue show in which the child was wrapped in a space blanket. An exhausted rescuer removed his surgical mask and took deep breaths as a group of women could be heard crying in joy.
First Day of Operation of a Large Makeshift Graveyard in Turkey: The World Health Organization's Head of Mission in Aleppo
″I buried (everyone that I lost), then I came here," Canbulat said, counting his dead relatives: "My daughter is dead, my sibling died, my aunt and her daughter died, and the wife of her son" who was 8 ½ months pregnant.
A large makeshift graveyard was under construction in Antakya's outskirts on Saturday. Backhoes and bulldozers dug pits in the field as trucks and ambulances loaded with black body bags arrived continuously. The wooden planks marking the graves were set vertically in the ground.
A worker with Turkey's Ministry of Religious Affairs who did not wish to be identified because of orders not to share information with the media said that around 800 bodies were brought the cemetery on Friday, its first day of operation. As many as 2,000 people had been buried by noon on Saturday, he said.
"People who are coming out from the rubble now, it's a miracle if they survive. Most of the people that come out now are dead, and they come here," he said.
Many people have no shelter because of the cold. The Turkish government has distributed millions of hot meals, as well as tents and blankets, but is still struggling to reach many people in need.
The conflict has isolated many areas of Syria and complicated efforts to get aid in. The convoy crossed from Turkey into Syria on Friday, the day after an aid shipment was supposed to arrive.
President Bashar Assad and his wife have visited injured quake victims in a hospital in the coastal city of Latakia, a base of support for the Syrian leader.
SANA reported that the head of the World Health Organization came to Syria's northern city of Aleppo on Saturday carrying 35 tons of medical equipment. He said that a plane with an additional 30 tons of medical equipment will arrive in the next few days.
Survivors of the Sunday morning earthquakes in Ankara, Turkey: A case study of the construction of a 12-storey building
The Turkish city of Ankara. As rescuers still pulled a lucky few from the rubble six days after a pair of earthquakes devastated southeast Turkey and northern Syria, Turkish officials detained or issued arrest warrants for some 130 people allegedly involved in the construction of buildings that toppled down and crushed their occupants.
The death toll from Monday's quakes stood at 28,191 — with another 80,000-plus injured — as of Sunday morning and was certain to rise as bodies kept emerging.
The focus was placed on who was to blame for not preparing people in an earthquake prone region that included an area of Syria that was already suffering from years of civil war.
Turkey is the only country in the world with construction codes that meet current earthquake engineering standards and they are rarely enforced.
A day earlier, Turkey's Justice Ministry announced the planned establishment of "Earthquake Crimes Investigation" bureaus. The bureaus would aim to identify contractors and others responsible for building works, gather evidence, instruct experts including architects, geologists and engineers, and check building permits and occupation permits.
Authorities arrested two people in Gaziantep on Sunday who are suspected of cutting down columns to make extra room in a collapsed building, according to the state-run Anadolu Agency.
A construction worker was held by the authorities at Istanbul airport before he was allowed to board a flight. He was the contractor of a 12-storey building in the city of AnTAKya in Hatay province that collapsed and left an untold number of dead.
The public anger could be directed by the detains, avoiding attention from local and state officials who allowed the sub-standard constructions to go ahead. Turkish President Recep Tayyip Erdogan's government, already burdened by an economic downturn and high inflation, faces parliamentary and presidential elections in May.
Survivors, many of whom lost loved ones, have turned their frustration and anger also at authorities. Rescue crews have been swamped by the damage to roads and airports, making it harder to race against the clock.
A young girl in a navy blue jumper is being saved in a video by Turkey's health minister. "Good news at the 150th hour. Rescued a little while ago by crews. There is always hope! he tweeted.
Overnight, a child was also freed in the town of Nizip, in Gaziantep, state-run Anadolu Agency reported, while a 32-year woman, was rescued from the ruins of a eight-story building in the city of Antakya. The woman, a teacher named Meltem, asked for tea as soon as she emerged, according to NTV.
Efforts were underway to reach a survivor in Kahramanmaras, near the epicenter of the first 7.8 quake that hit early Monday morning.
Source: https://www.npr.org/2023/02/12/1156387820/turkey-has-issued-over-100-building-arrest-warrants-after-the-deadly-earthquake
The death toll in the rebel-held region of Syria's northern provinces has reached 3,553: the White Helmets spokesman
The death toll in Syria's northwestern rebel-held region has reached 2,166, according to the rescue worker group the White Helmets. The death toll in Syria as of Saturday was 3,553, with 1,387 deaths reported for government held parts of the country.