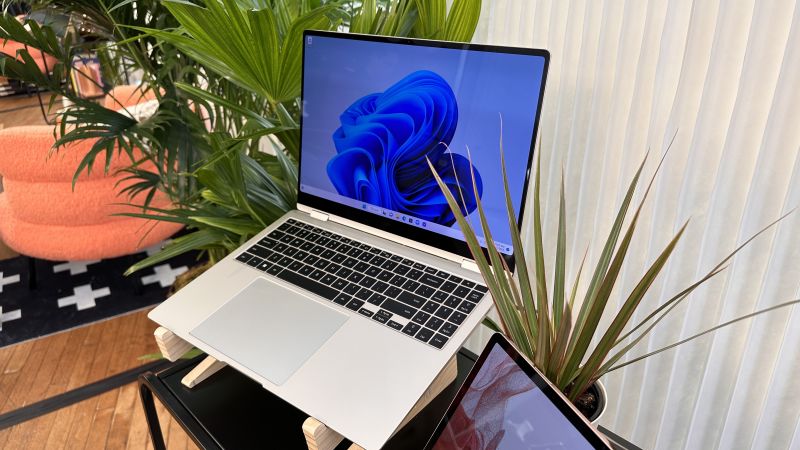 The hands-on portion of the show is about how to pre-order the book
The Galaxy Book 3 Pro 360: Towards a Cost-Effective Ultra-Low-Cost Laptop for Next-Generation Computing
I spent the majority of my hands-on time with the Galaxy Book 3 Pro 360, a mouthful of a laptop that improves on the Book 2 Pro 360 we really dug last year (seriously, Samsung needs to streamline these names). Its slim frame looked very slick in beige (which appeared more like gold in person), and felt impressively lightweight for a 16-inch laptop — something that especially stood out when I picked it up and folded it into a tablet.
These premium PCs are expensive, and start at just over $2,000 for the Pro and over $4,000 for the Ultra. Wondering if they will be worth the money? We will have to test the new notebooks to see how they compare to the current laptops, but here's what we think.
The Galaxy Book 3 Pro starts at $1,450, and will be available in Graphite and Beige in both 14-inch and 16-inch variations. The 16-inch Book 3 Pro 360 starts at $1,900 in the same colors, while the 16-inch Book 3 Ultra will run you at least $2,400 and comes only in Graphite.
The notebook is inside. 16-inch Dynamic AMOLED screen looked bright and colorful in my limited testing time, and its smooth 120Hz refresh rate made swiping my way through web pages — and taking notes with the included S Pen —  feel great. The new Book 3 Pro 360 panel is taller and sharper than the previous generation, and it is the new standard for many machines of the future.
I was able to try out Multi Control and Second Screen with the Pro 360, which was compatible with the S8 and gave me the ability to control multiple devices from my laptop. The most intuitive way to move between the laptops and tablets was with a single trackpad, though there was a bit of lag on the latter. This feature is available on the entire previous and current generation of Galaxy Books, and seems like a nice perk for folks who primarily use Samsung devices.
The Book 3 Pro 360 is an impressive 0.5 inches thin and feels very light at 3.7 pounds; despite its wide frame, I had no issues carrying it from room to room as I went about my day. This thing is a fingerprint magnet, but my review unit looked nice in grayish Graphite, there is also a more attractive Beige model.
While you may want to keep a cloth handy when using this thing on the go, you can at least leave it at home. At a point when most laptop makers are happy to put on two ports and throw in the towel, the SAMSUNG GAMBLE Book 3 Pro 360 is refreshingly generous when it comes to connections. You get the usualUSB-C ports, an extra microSD card slot, and a HDMI port, but you also get a headphone jack and a USB-A port, missing from last year. I always appreciate when a laptop comes with a connection for my peripherals, and I commend the way in which the notebook crams one into it.
You may be able to get modern games on the 2-in-1 laptop after tweaking some settings. The Shadow of the Tomb Raider benchmark, which loops the game at a high resolution with all settings maxed out, delivered a stuttery 18 frames per second because the integrated Intel Iris X graphics couldn't handle it. We were able to achieve a 31 Frames per second after changing the graphics settings to Lowest. If you don't mind keeping visual settings low, you'll be fine. The same applies to basic photo and video editing.
This laptop comes ready for a full day on the road, enduring exactly eight hours on our intensive 4K video playback test and lasting much longer during casual on-and-off use. The Galaxy Book's run time falls right in line with the latest 14-inch MacBook Pro and Surface Laptop 5, though we got much longer endurance (but also much worse performance) out of the latest Surface Pro 9 5G edition, which lasted a whopping 11 hours and 43 minutes.
I don't use the bestWebcam you can find, but I found it to be reliable for my video calls, even though it wasn't the best. As an extra perk, there's a Studio Mode toolbar that pops up every time your camera is active, letting you do things like blur your background, apply various effects to your face and enable Auto Framing so you always stay in the shot. These features mostly worked fine, though Auto Framing isn't quite as smooth as Apple's similar Center Stage tech, and the app's HDR filter didn't seem to do anything to enhance how I looked.
I'll give the Book 3 Pro 360 props for being one of the few 2-in-1 laptops to include a stylus. There's just one problem: There's no secure place to store it. The S Pen can be put on the laptop's lid, but you don't want the stylus to fall off in your bag, or onto the floor of a crowded room, unless you are on the go. The Surface Pro 9 requires you to buy a keyboard and stylus separately, but Microsoft's Signature Keyboard comes with a nook for securely storing your Surface Pen when everything's folded up.
Despite its fast raw performance and plethora of software, using the Book 3 Pro 360 for my daily needs wasn't always smooth sailing. Basic programs like Zoom and Samsung's own Live Wallpaper app crashed multiple times, often forcing me to restart to get things working (for what it's worth, I noticed less issues after updating Windows). But the bugs I ran into weren't terribly frequent — I was much more let down by just how messy Samsung's preloaded software is.
As previously mentioned, there are more than a dozen preinstalled Samsung apps, and using them often results in a glut of disparate windows clogging up your screen. The Galaxy Book Experience software serves as a central hub for all of Samsung's offerings, but once you click on a feature — such as SmartThings or Samsung Flow — you're taken to a page that prompts you to open a new window just to use it. And while Samsung's laptop paired instantly to my Galaxy Buds, I had to install what was basically an emulated version of the Android Galaxy Buds app to adjust things like active noise cancellation and sound profile. Quick Share let me beam photos from my Galaxy phone to my Galaxy Book, but it took longer than, say, AirDropping content between Apple devices.
It all feels very disjointed and sloppy, and while the perks are there for Samsung users, the implementation is a far cry from the tight, seamless integration you'll enjoy as an iPhone user on a MacBook.