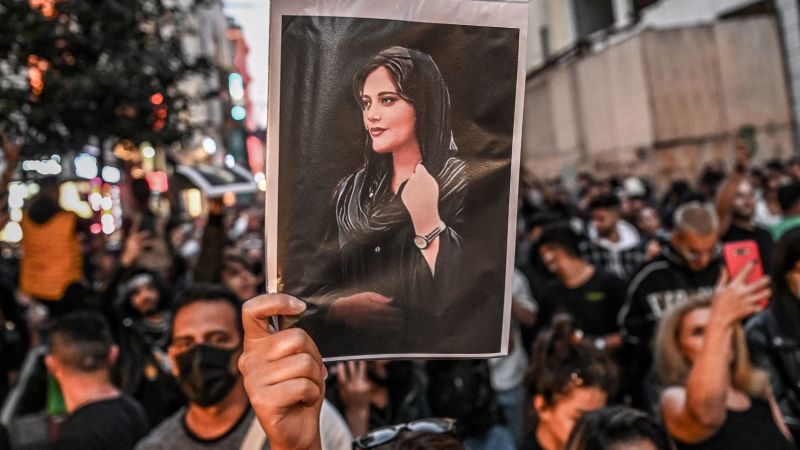 A U.S. special envoy talks to Iran on nuclear talks and protests over death of a woman
Iran's Foreign Minister, Hossein Abdollahian, and the 2011 Iranian Demonstration: Why Do U.S. Officials Tell Us?
Iranian officials occasionally have agreed to interviews with NPR, and Iran's foreign minister, Hossein Amir-Abdollahian, spoke with us on Sept. 26. Less than two weeks later, we played portions of that interview to Malley, creating a rare exchange of views.
The United States and other western powers have always been worried about supporting Iranian protesters, because the regime doesn't like people who oppose them. The Obama administration allowed such concerns to muzzle its response during the 2009 protests. The administration is trying to avoid making the same mistake. Already, Washington has spoken out repeatedly in support of the protest movement. On Wednesday, the State Department announced new sanctions against Iranians involved in repressing demonstrations.
Hossein Amir-Abdollahian said he had a message for U.S. officials to not to get involved in the demonstrations: "I am assuring them that there is not a big deal going on in Iran. There's not going to be a regime change in Iran."
Robert Malley: "What the United States wants is a government in Iran that is respectful of the fundamental rights of its people. It's not a policy of regime change. It's a policy of support. people who are protesting peacefully, because they want to be able not to wear a headscarf or to live their lives in ordinary ways, and yet they face an oppressive system… We hear Iranian officials blame the U.S. Blame Israel, blame others. They shouldn't look so far. They should look in the direction of home.
The United States, Iran and European nations were close to a nuclear agreement, said Iran's deputy defense minister, AmirAbdollahian. There are two issues remaining on the table that are very significant and important.
Amir-Abdollahian said his country is seeking some guarantee that the U.S. will not withdraw from the agreement again, as President Trump did in 2018. "The American side has taken some steps toward giving us guarantees. We just need the guarantees to be more complete.
Baquer Namazi was let live, there was no quid pro quo. He's an elderly man who needs medical attention… We are in indirect discussions with Iran to make sure that Emad Shargi, the son of Baquer, and Siamak Namazi aren't deported. But nothing was traded for the long-overdue release of Baquer Namazi… We're looking at what we can do on the humanitarian side, mutual steps to make sure that our citizens are in their home as soon as possible."
The courage of Iranians, young and old, risking it all for a chance at freedom, is defying the predictions of jaded foreign observers. Recalling previous failed protests, many have argued that the strength of this one, with its shouts "Women, life, freedom," was little more than a doomed social media mirage.
AlinejaD. Mahsa Amini was only 22 years old. … She came from Saqqez to Tehran for a vacation. She was arrested by the so-called morality police because I call them hijab police.
And for your audience, if they don't know what morality police means, they're a bunch of police walking in the streets, telling people whether their way of wearing hijab is proper or not.
What Matters: The Iranian Women's March on the Dawn of a Nation's Resurrection (Revolution 40 Years Before Mahsa)
WHAT MATTERS: The Iranian government is trying to do something about it. The videos from Iran of these protests are getting out. How have things changed since the death of Mahsa?
Alinejad. Look, this is not going to happen overnight. This is the beginning of an end. It takes time. It reminds me of the revolution 40 years ago. People were taking to the streets for like one month and were going back home and then coming back again. The national strike helped a lot. For me and millions of people, this is just the beginning to an end.
Source: https://www.cnn.com/2022/10/07/politics/iran-women-protest-revolution-what-matters/index.html
Nika Shahkarami – the first teenager killed by a forced hijab in Iran – a demonstration against the gender apartheid regime
More than 130 people have been killed according to reports. But it's strongly believed the number is much more than this. Only in Zahedan on only one day, they opened fire on those who were praying. Who were praying. They killed more than 80 people in Zahedan.
(CNN has not verified all of these claims. Students were injured, shot and held captive by Iranian security forces, according to witnesses.
CNN can't independently verify the death toll since it's impossible for anyone outside the Iranian government to confirm, and differing estimates have been given by opposition groups.
ALINEJAD: The Iranian regime wanted to stop the rest of the world from learning about the situation in Iran, so they cut off the internet in some cities.
But again. People were not stopped by that. Actually, it changed the tone of the protesters. They became more angry. They were holding the names and photos of those who got killed and the major slogan was this: 'We are ready to die, but we won't live under humiliation.'
One of the teenagers whose bravery and death has become a rallying cry is Nika Shahkarami, a 16-year-old who disappeared last month after waving her hijab in the air at a protest in Tehran, and then setting fire to another headscarf in front of a small crowd.
Alinejad. Don't say anything for a while. I don't accept that. It has been building for years. Women are pushing back against the anti-woman laws.
These women in the streets have been fighting back against the compulsory hijabs. Like lonely soldiers. The videos of women getting beaten by morality police were published under the #my cameraismyweapon. I want you to check it out. Women are being harassed by morality police and being told that you can't tell them what to wear.
This is being built up by women within the society practicing their civil disobedience in bravely saying no to forced hijab and the gender apartheid regime for years and years. That's my opinion. Mahsa's name became a symbol of resistance for women to take to the streets in large numbers. That's the new thing.
In an October 26 statement, a group of 12 female foreign ministers said they have a moral obligation to support this women-led movement. Even if symbols matter the people in Iran need more than symbolic support.
This time, women, and the men who have joined them, are crying out, "Death to the dictator." This is not about reform. This is about a fundamental change.
Is Iran letting its own people use social media? — A question of solidarity with the US and a concern with Iran's funding of extremism
WHAT MATTERS: In Iran, we have seen that social media can help spread the word and organize protests. Here in the US, it is often viewed as a threat to our democracy because that's where misinformation is spread. I wonder if you had any thoughts on that dichotomy.
ALINEJAD: I want to be very clear with you. Right now, the tech companies are actually helping the Islamic Republic. Iranians are not allowed to use social media because of the filters. Iran's supreme leader, who has banned 80 million people from using Social Media, and other leaders all have verified accounts. They have multiple accounts on social media. Iranian regime is cutting off the Internet for its own people in order to spread fake info and misinformation on social media.
(Accounts that appear to be associated with Khamenei are on Twitter and Instagram and have large followings. They aren't verified by either of the social media sites. The request for comment was not responded to. A spokesman for Meta said in an email that they hope the Iranian authorities restore their access soon, and that Iranians use apps likeInstagram to stay closer to their loved ones, find information and shed light on important events. In the meantime, our teams are following the situation closely, and are focused on only removing content that breaks our rules, while addressing any enforcement mistakes as quickly as possible.")
The thing is, at the same time, the US government, we're pleased that they're providing internet access for Iranians. This is good. We appreciate that.
They condemn the killings in Iran but still give billions of dollars to the same murderers. And I don't understand this contradiction.
(The US government could give Iran's government ​access to billions of dollars of frozen Iranian funds if it re-joins an agreement whereby Iran can sell oil in exchange for abandoning nuclear weapons capability. Recent talks, however, have not gone well. Read more.
People believe that the money goes to the benefit of the people. It isn't moved to the people. The money goes to Syria, Lebanon, to Hamas, Hezbollah, to terrorist organizations.
(CNN isn't able to confirm that all the money goes to terrorist organizations or that none of it goes to Iranian people. The US government says that Iran does fund terror groups outside of its borders and that its own Islamic Revolutionary Guard is a terror group.
Source: https://www.cnn.com/2022/10/07/politics/iran-women-protest-revolution-what-matters/index.html
Women in the streets: Why does the world want more oil? A counterexample to the repression and the abandonment of the Joint Comprehensive Plan of Action
WHAT MATTERS: I want to talk about another dichotomy you've pointed out. In The Washington Post, you wrote about the need for feminism to pay attention and take to the streets.
I want the female politicians to cut their ties and instead go on the streets to show their support for the women of Iran. When the Women's March happened here in America, like every single feminist around the world showed solidarity. I attended the Women's March in New York. The main slogan was 'my body my choice.'
It seems that my choice is not as important as it is in the West when it comes to Iran and Afghanistan.
What matters. You took part this week in an Oslo Freedom Forum event in New York with other dissidents from Russia and Venezuela. They are funded largely by oil, and they are also repressive. The US would like more oil on the market. I just wondered if you had any larger comments to make on this question?
Alinejad is a person. If we don't get united to end dictatorship, then the dictators will get united to end democracy. We are fighting for something more than ourselves. I'm not just fighting for Iran. Garry Kasparov is not fighting for just Russia. Leopoldo Lopez is not fighting just for Venezuela. We are trying to get rid of democracy. The rest of the world is at risk from these dictators.
Alinejad argued that the United Nations is useless. It's true the United Nations prioritizes inclusion of most countries over action. Iran and Russia are not on the Security Council but they are on the Commission on Women's Rights.
Global isolation may be damaging to the regime, but global integration would be dangerous, as Mr. Sadjadpour wrote. The regime might see its best chance of survival in maintaining repressive rule and "just the right amount of isolation." That is what the supreme leader of Iran wants to be, instead of North Korea andDubai. He wants to be able to sell Iran's oil on the global market without sanctions, but he doesn't want Iran to be fully integrated in the global system."
Then there's the matter of the abandoned 2015 nuclear deal – the Joint Comprehensive Plan of Action, or JCPOA – which the Biden administration has been working to reinstate. Currently, negotiations to revive the deal, designed to delay Iran's ability to build a nuclear weapon, are stuck because Iran keeps raising the stakes. Secretary of State Anthony Blinken has said he foresees no return to the JCPOA in the "near term." The goal of reviving it may still be alive according to the wording.
The United States, its other allies, democracies and any country that rejects the Regimes actions should join in isolating them diplomatically. As long as Iran is murdering protesters, diplomatic relations shouldn't be altered. Iran has been a member of the UN Commission on the Status of Women. It is a travesty that it is there.
The moral case has more than just the outrageous behavior of the clerical regime. It is also the fact that so much of the economic suffering of the Iranian people — rents that have multiplied, goods that have become prohibitively expensive, a currency that has plummeted so low that Iranians need stacks of bills to do everyday shopping — is the result of waves of American sanctions.
Editor's Note: This story was adapted from the September 18 edition of CNN's Meanwhile in America, the email about US politics for global readers. You can read the past editions by clicking here.
In June of that year, Obama did call for free speech, dissent and the democratic process after elections in Iran to be respected and said he was deeply troubled by violence.
"When I think back to 2009, 2010, you guys will recall there was a big debate inside the White House about whether I should publicly affirm what was going on with the Green Movement, because a lot of the activists were being accused of being tools of the West and there was some thought that we were somehow gonna be undermining their street cred in Iran if I supported what they were doing," Obama said. In retrospect, I think that was a mistake.
Obama's position changed but he still pulled punches in order to stay out of the way of a nuclear deal with Tehran.
Obama now feels that his initial stance on Iran was wrong, as he explained on Crooked Media's "Pod Save America" podcast, run by a group of his former White House aides.
The Flash of Hope: Thirteen Years of Biden's Support for the Era of Iranian Protests and the Implications for the Iran Nuclear Deal
"Every time we see a flash, a glimmer of hope, of people longing for freedom, I think we have to point it out. We have to shine a spotlight on it. We have to express some solidarity about it," he said.
It is a rare moment of public self-criticalism by a former president. They show the perspective that sitting presidents do not enjoy, because they have to make decisions in the middle of crises.
Thirteen years on, President Joe Biden, perhaps informed by his experience in the previous Democratic administration, has been more forceful in quickly supporting Iranian protests. His hopes of revitalizing the Iran nuclear deal are getting further away by the week.
On Friday, Biden told reporters that he was shocked by the reaction in Tehran to the death of Amini, a women who died while in police custody.
But while foreign policy partisans in Washington often seem to believe the weight of US words alone – backed up with sanctions – will topple the Iranian regime, things are a lot more complicated.
CNN Observations on Iran Protests: Amini Support of the Zhina-Preserving 21-Year-Old Freelanger in Amini
Frida Ghitis, a former CNN producer and correspondent, is a world affairs columnist. She is a weekly opinion contributor to CNN as well as a columnist for The Washington Post and World Politics Review. The views expressed in this commentary are her own. View more opinion on CNN.
In Amini's birthplace of Saqqez, where the 22-year-old also known as Zhina is now buried, thousands of people defied the police and turned out to mark an important day in the mourning process, even as security forces fired live bullets and tear gas to stop them.
Demonstrations also took place in numerous other cities: In Isfahan, women waved black scarves in the air, chanting "Azadi, Azadi!" In Farsi, the word freedom is used to mean freedom. In Shiraz, young women walked without veils on city sidewalks, violating Iranian law because of their hair flowing in the air. In Amol, where authorities have already shot and killed protesters, unarmed men and women marched directly toward armed security forces, kneeled, put their hands up, and declared themselves ready to die for their cause.
Source: https://www.cnn.com/2022/10/29/opinions/iran-protests-mahsa-amini-support-ghitis/index.html
The Iranian Revolutionary Guard Corps, Basiji militias, and Nongovernmental Organizations: What have we learned in the past seven weeks? The case of the Islamic Republic
But the protests are persisting. Seven weeks in, they have lasted longer than any uprising since the 1979 revolution toppled the Pahlavi regime and brought to power today's theocracy. These protests are not the same as their predecessors. In 2009, the Green Movement supported a reformist candidate. Protesters called out harsh economic conditions.
Let's be honest. This has been inspiring and terrifying to watch from the beginning. We have seen what the Islamic Republic is capable of. We fear for the safety of these brave people, and it can seem irresponsible to encourage them. The odds are against them. And yet, they have made the choice to continue the fight. They deserve our solidarity.
That is a good start. The Iranian Revolutionary Guard Corps, Basiji militias, and regime officials should all be banned from entering the US. Other countries should follow this example.
The situation with Iran can't continue, that's why Germany this week launched a wide-ranging diplomatic response, including support for nongovernmental organizations and expanded protections for vulnerable Iranians.
In conversation with people on the streets of Tehran, NPR heard that life in Iran sometimes felt impossible. They said an economy in which basic needs are expensive, unemployment is high, and there is a restricted internet left them feeling out of place.
Iran's riots: the nuclear prisoners of the Mahsa Amini era, and the UN High Commissioner for Human Rights
Four people have been executed and at least 14 others have been sentenced to death. The United Nations High Commissioner for Human Rights said last month that the executions violated due process and amounted to "state-sanctioned killings."
The Committee for the Protection of Journalists said that more than 90 journalists have been arrested since the beginning of the protests, but no journalist was ever arrested during the riots. He said they may have been re-designated as journalists after being held for an offense.
He brushed aside photographic evidence of protester injuries compiled by human rights activists. He said they have seen the same pictures. "But the question is, who has, in fact, fired those shots: the police or the rioters?"
The foreign minister maintained that "people can freely voice their ideas" in Iran. Asked about Iranians who declined to speak to NPR, citing fear of authorities and pointing to CCTV cameras, he joked, "You could have interviewed them in a blind spot." Later he said that there are very few cameras on the streets in Iran, which contradicts the observations by NPR journalists in Tehran this week.
Journalists who worked for well-known outlets in Iran were revealed by a sampling of the names on the list. They include Niloofar Hamedi of the Shargh Daily newspaper and Elahe Mohammadi of the state-run Hammihan Daily — two of the journalists who helped break the story of Mahsa Amini's death.
Source: https://www.npr.org/2023/02/09/1155490117/iran-protests-nuclear-prisoners-tehran-mahsa-amini
U.S. response to the Iranian decision to build a nuclear bomb: Amir-Abdollahian's frustration with the White House
According to the head of the International Atomic Energy Agency, Rafael Grossi, it has now amassed enough highly enriched uranium to build several nuclear weapons. Iran was not trying to build a nuclear bomb according to the deputy minister of state for Science and Technology.
"In order to respond to wrong American behavior and within the framework of reciprocity, we leveled up our nuclear activities at home," he said. "However, when it comes to our beliefs and values, we do not pursue the making of a nuclear bomb."
"There is confusion within the White House," said Amir-Abdollahian, accusing the U.S. of hypocrisy and mixed messaging. Is it pointless for you to say one thing to the media and another to the diplomatic corps if you want to return to the deal?
The Iranians are ready to swap prisoners, but there are some technical steps that have to be taken by the Americans, said Amir-Abollahian. He did not elaborate on what those steps were.